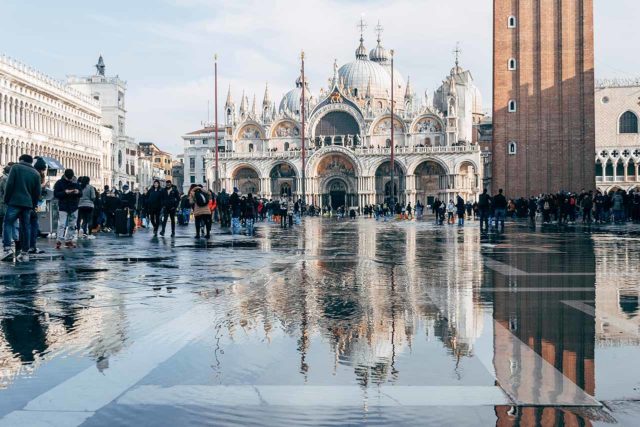 Venice in Winter | Venice is a city of art and culture lovers, lovers of Italian cuisine and romantics. There is no season for this, so there is nothing to stop you from visiting this fantastic lagoon city from November to March.
When visiting the Doge's Palace, a pizzeria, or spending the night in a hotel bargain, the weather doesn't matter, but nevertheless, I would like to start with the weather during my ramble through the winterly Venice.
✅ Tip: The winter days are short, like everywhere else, and if it gets too chilly in the late afternoon, you can also warm up with a visit to a museum with a baroque concert. More tips for the dark hours are in Venice at night. The days are short and the concerts in Venice are very popular. Here is a small selection:
An opera play in a historic palace on the Grand Canal is also something very special.
The weather in Venice in winter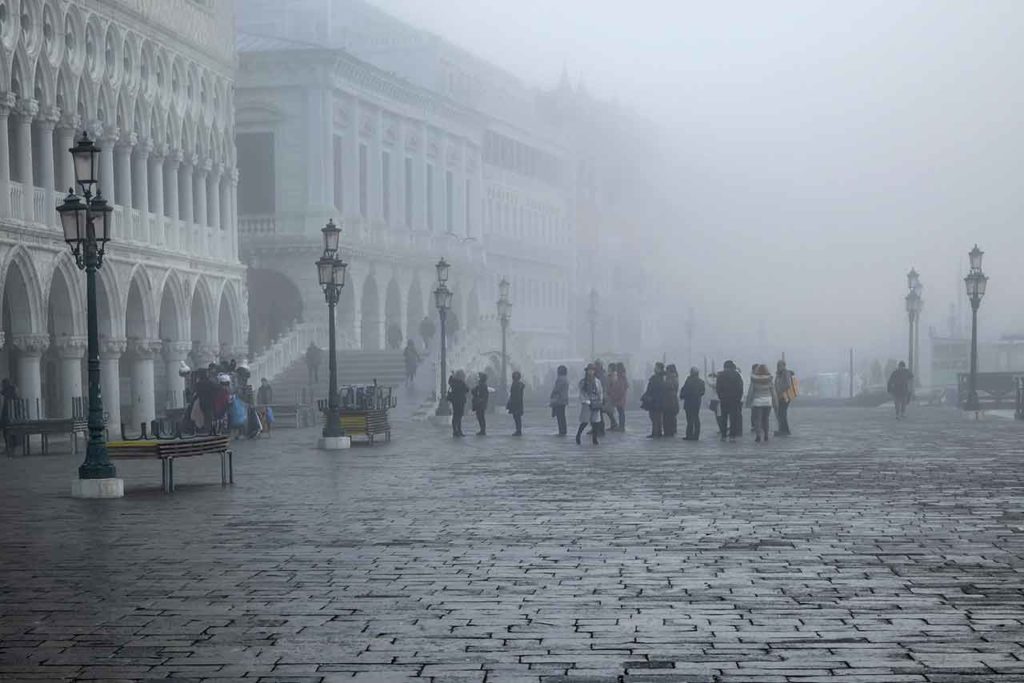 Climate change does not stop at Paris, Barcelona, Amsterdam or London. It's getting warmer everywhere. All these cities are increasingly becoming year-round destinations for city travelers. This also applies to Venice. Cold and snow disappear and almost every Winter month there are more and more pleasant days, even with lots of sunshine.
It can get cool, but because the city is close to the sea, temperatures usually do not drop below zero degrees. It is always changeable, from cold wind to springlike degrees.
What the official weather tables say:
Month
Temperatures
(max./min.)
Hours of sunlight
Days with rain
November
13º / 6º C
4 hours
7
December
9º / 2º C
3 hours
6
January
8º / 1º C
3 hours
6
February
10º / 3º C
4 hours
5
March
14º / 7º C
5 hours
6
The water temperatures are not important, what remains is now and then the famous Winter fog on St. Mark's Square or over the Canal Grande, which gives the city a very special atmosphere.
High water – During the rainy winter months, Venice can experience flash floods. The area around St Mark's Square, one of the lowest points in the lagoon city, is the most affected. Then, the well-known images of many people walking on raised walkways on the other side of the square, in front of St. Mark's Cathedral, are once again in the news.
To avoid getting your feet wet, you should now have "foldable boots" at hand, which are light and can also be easily stowed in a suitcase or backpack. It's best to get them in advance, for example at Amazon, because a hefty premium is due on the spot at the street vendors and the quality is extremely questionable. If you live in Germany and maybe think of a suitable travel plug adapter for type L sockets when you shop, you will also need one in Venice, not only to charge your smartphone.
✓ Information about Aqua Alta also in my article about safety in Venice.
The greatest advantages of Venice in winter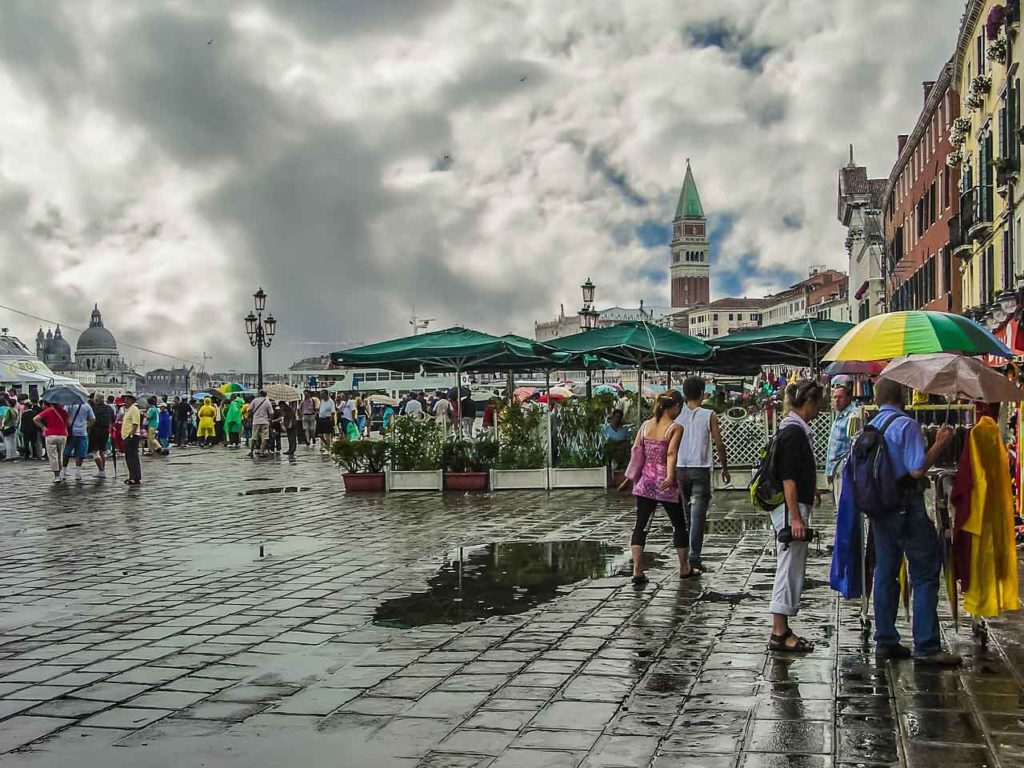 One of the most beautiful cities in the world has a unique atmosphere in winter, which can almost be described as mystical. Those planning a trip to the lagoon city will find here a list of the advantages and disadvantages of Venice in winter.
Venice in winter – Pleasant
Current art exhibitions

More sun than expected

Relaxed prices

"Carnevale" – the highlight of the year

Empty lanes, free places in the restaurant or café

Hotels are cheaper

Short queues in front of the sights

Time for relaxation
Venice in winter – Rather less pleasant
Less desire for a tasty ice cream

Lido is not worth it

Only a few gondolas are on the way

Times rain or fog
The winter months in detail
In winter you have the possibility to experience authentic Venice. The temperatures are lower. Perfect weather for a relaxing city trip. The winter fog often bathes the city in a special atmosphere. Now it's easy to find a place in your favorite restaurant.
You can feel the flair of the city day and night in the historical center of Venice. Now you can also afford a decent hotel room here.
✅ Top tip: Applies to all winter months – if you have enough time, you can consider a day trip to Florence in any weather.
Venice in November – Time for Museums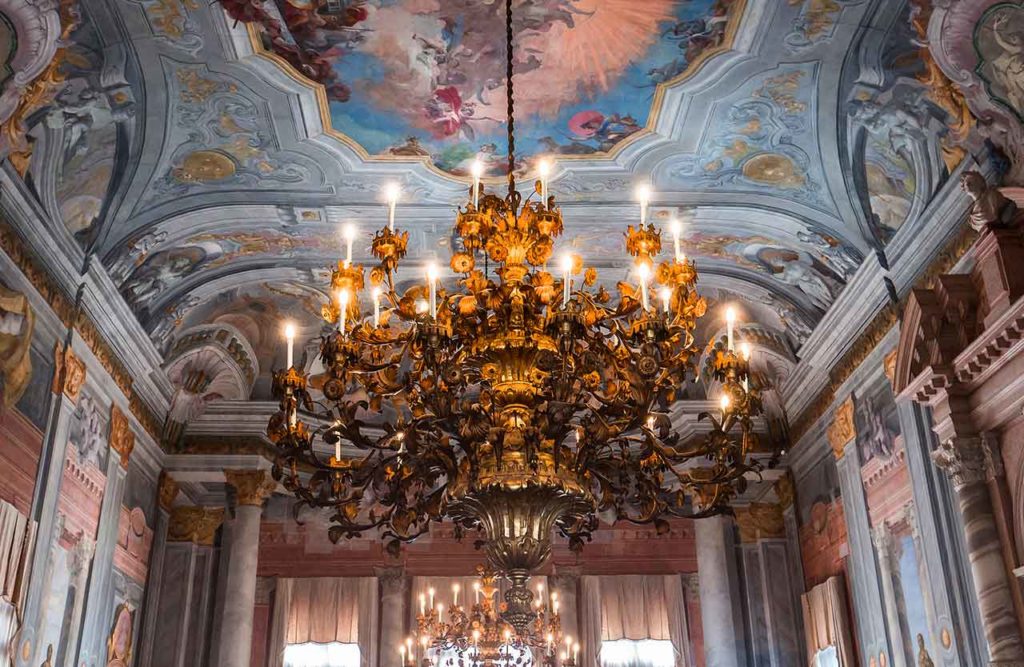 From November the number of tourists decreases noticeably. There are no school holidays. It is too uncomfortable for the Italian day tourists and winter tourists in the Dolomites with their day trips are not there yet. Also, the inhabitants of the city get some rest. In itself, the perfect travel time for art and cultural interests. Now the Venice Museum Pass & Ticket Doge's Palace is worth it.
For this, please have a look at my museum tips under Top Attractions. No queues at St Mark's Square for visiting the Doge's Palace and St Mark's Cathedral. It's best to live in the authentic quarter of Cannaregio and do everything you can under Culinary Venice.
Venice in December – New Year's Eve on St Mark's Square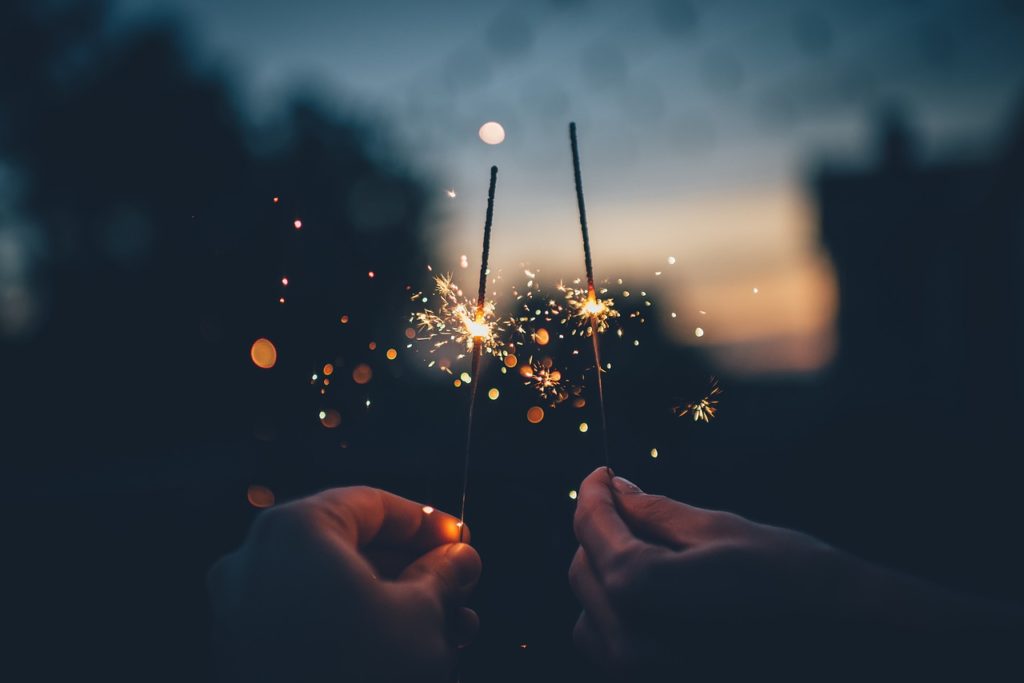 There is no hectic excitement before Christmas in the city. Here and there, you will find an animation of lights, Christmas music from a church, and some Christmas markets with Venetian specialties and delicacies. Especially evenings are special when some Christmas lights are reflected on the water. It is often cold and humid, there is fog and there are often floods at this time of year.
Today, Venice meets all expectations. There is tranquillity before the streets fill up again for the carnival. On New Year's Day, there is a lot of excitement as in summer. New Year's Eve is about eating and drinking, bars and clubs, gatherings in St. Mark's Square to hear the bells ring, and a big fireworks display. Firecrackers as we know them are prohibited for safety reasons.
Venice in January – Time for an Opera visit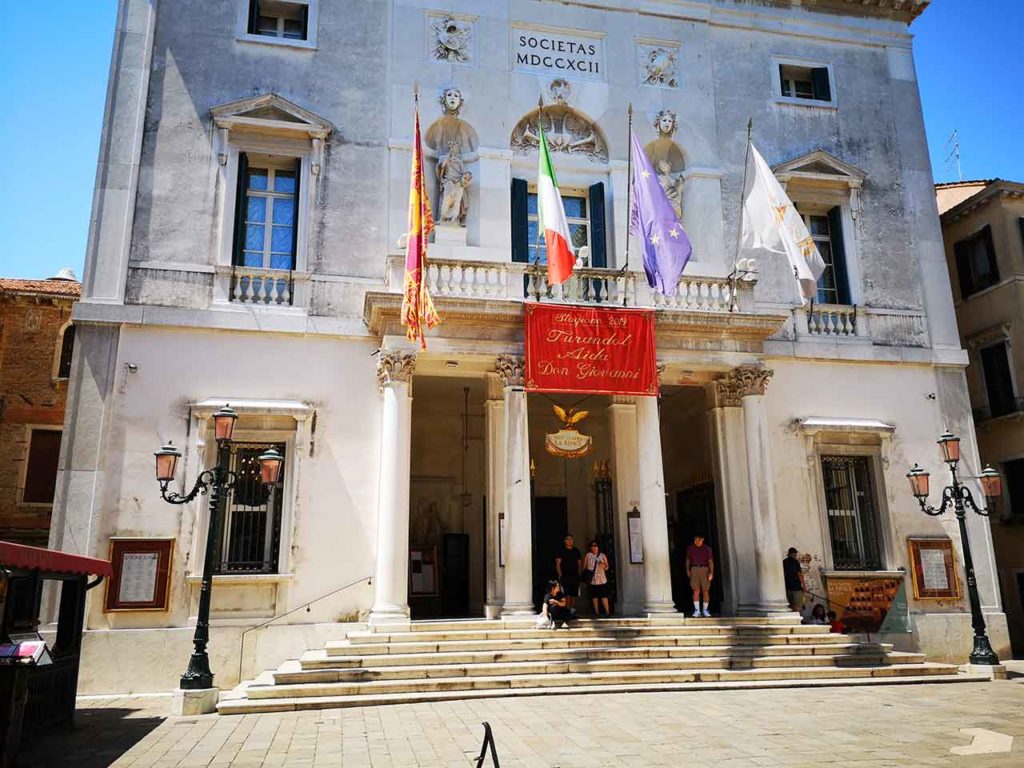 The year begins with empty lanes and you are almost alone on St. Mark's Square. At the Rialto markets, near the famous bridge, you almost only meet locals.
Also in January, opera performances and concerts take place in Venice's famous opera house La Fenice, although not in abundance as in the high season. The program for the 2022/2023 season is available on the Opera House information page. Tickets can also be booked on this site.
Venice in February – 'Carnevale' and the angel flight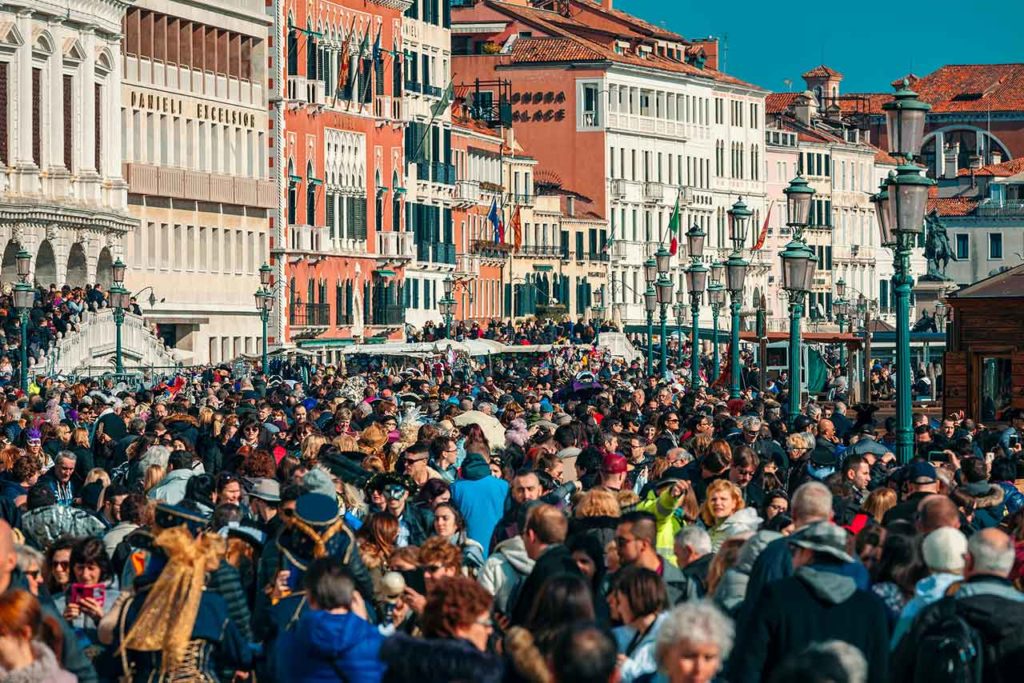 Relaxation in Venice in winter. There are still no big tourist streams. A good opportunity to experience everyday life in Venice. The only exception is the famous carnival, which will take place the next time from 4 February to 21 February 2021. Ash Wednesday is on 22 February. Everything is very touristy, but the colorful hustle and bustle in the alleys still spread a magical atmosphere. Don't forget to book your accommodation and possibly a parking space in time!
The carnival is officially opened 10 days before Ash Wednesday with the angel flight. A celebrity hovers secured by a steel cable from the Campanile down over the Piazza San Marco. The program is full of events and spectacular parades.
The origin of the carnival goes back to the 12th century. The traditional masks make it possible to remain unrecognized for a while and thus symbolically hide personality, age, social class, or position, as well as one's own economic situation.
If you have other things on your mind, you can also spend your time entertaining yourself at the Leonardo da Vinci Venice Museum, Campo San Rocco.
Venice in March – It gets warmer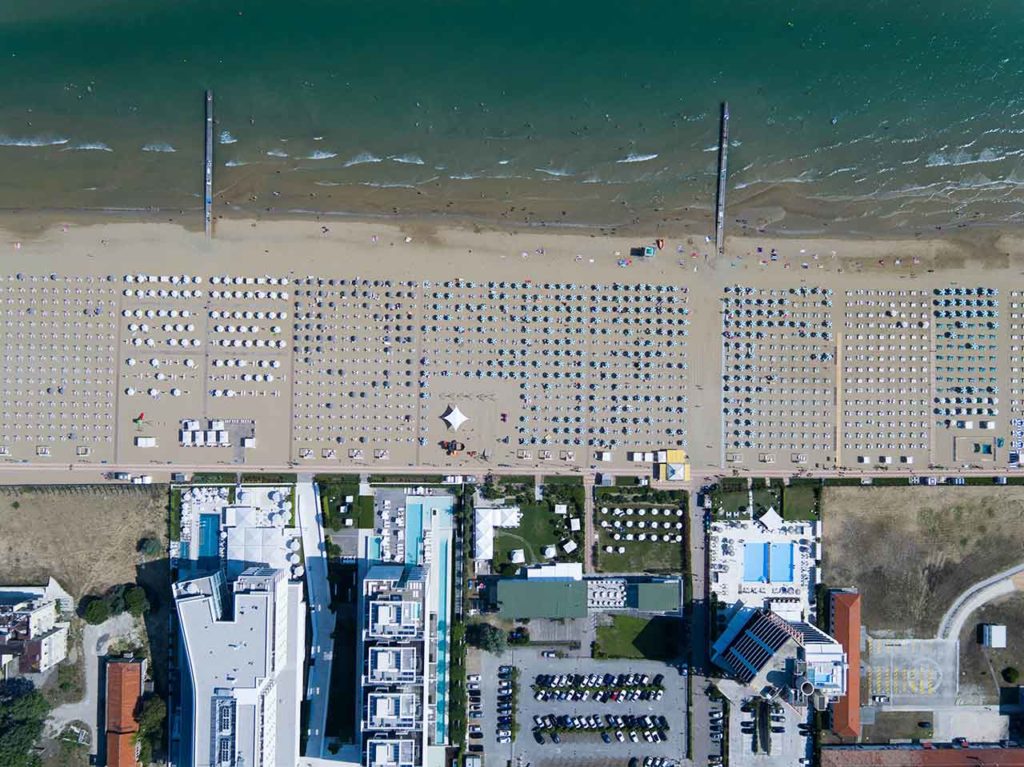 It's time for the first rays of sunshine. Now you can sit on a café terrace again and enjoy a cappuccino. At the latest at the beginning of the Easter season in April, the city is once again overcrowded.
In winter it is rather less pleasant, but nevertheless, the usual beach walkers can sniff fresh sea air at the almost empty Lido. Restaurants and cafés around the quickly accessible Vaporetto stop Santa Maria Elisabetta are open. Cars and buses drive on the Lido, the time tickets of the ACTV are also valid on the Lido, so you can use the bus to visit the island in more detail. Alternatively, you can rent a bicycle when the weather is fine.
Cheap accommodation in Venice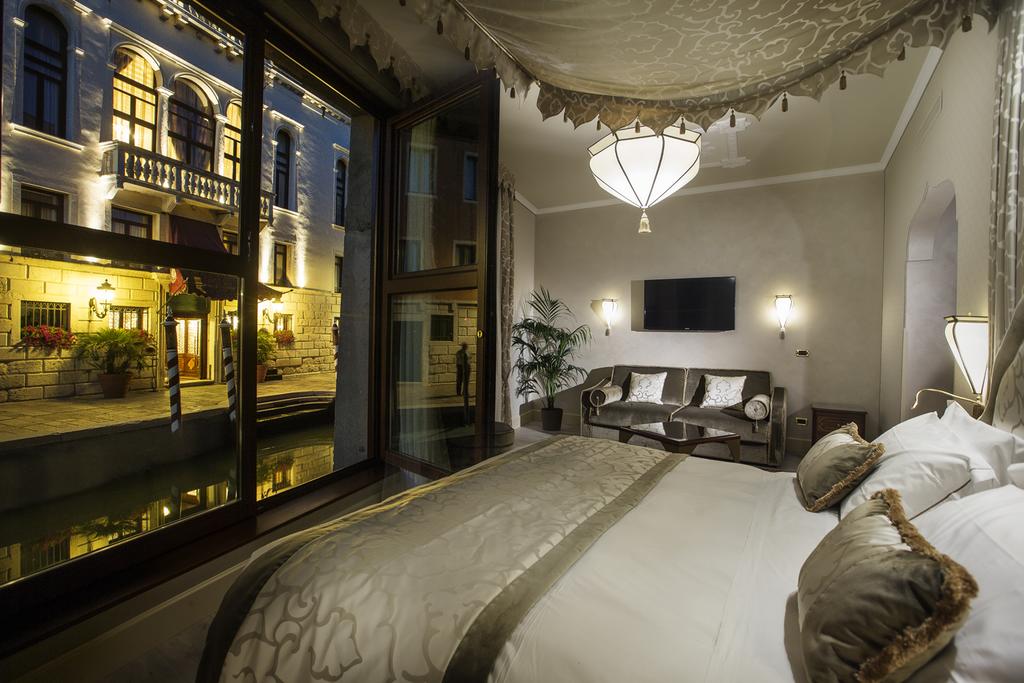 A big advantage of a city trip to Venice in winter is the, in comparison to the summer, cheap overnight prices, especially in the atmospheric part of the historic old town. Now it is time to book a nice hotel in the most romantic areas for 50 to 100 Euro per night in a double room. Top hotels at the Canal Grande naturally also have their price in winter.
❗ Very important: During the time between Christmas and New Year's Eve hotel prices are much higher than during the rest of the winter season. Early booking is also a must during the carnival, which attracts well over a million tourists every year. Check out my Top 10 Hotel Recommendations for early bookings in downtown Venice. Outside of Venice, it is also cheaper during the carnival season, for example in Mestre. Those who are looking for cheaper accommodations here, no matter at which time of the year, will surely find something in my suggestions for hotels outside the center of Venice.
Venice is a particularly expensive city – But not every season. If you visit the lagoon city in winter, you can also get a double room for 100 € in a luxurious Venetian hotel that is almost priceless in season. I would like to make three suggestions.
🏨 Hotel Ai Mori D'Oriente – In the heart of the district of Cannaregio lies the romantic hotel with a touch of Moorish style. Not far from the historical center, near the Jewish Ghetto, it is located in the most fascinating part of Venice. Quiet location, the next jetty of the water bus is 2 minutes away. 20-minute walk to St. Mark's Square. 4 stars with all amenities. Very good breakfast included in the price. For many a secret tip.
Address: Fondamenta de la Sensa, 3319, 30121 Venezia; 21 rooms; in winter double room under 200 € possible.
🏨 NH Collection Venezia Palazzo Barocci – Pure luxury on the Canal Grande with a view of the famous Rialto Bridge. Rooms with all comforts in Venetian style. Next to the Teatro La Fenice. Vaporetto stops directly in front of the hotel, otherwise, 10 minutes walk to St. Mark's Cathedral and Doge's Palace. A beautiful old palazzo at the Canale Grande!
Address: Corte Albero, 3878a, 30124 Venezia; 59 rooms; in season a few hundred euros, in winter double room under 200 € possible.
🏨 Hotel Bisanzio – Family-run hotel in the Castello district. Quiet side street near St. Mark's Cathedral and Doge's Palace. The next stop of the Vaporetto bus is 200 meters away. Rooms with all amenities in traditional style. A good breakfast is included in the price. The hotel scores above all with its fantastic location.
Address: Calle de la Pietà, 3651, 30122 Venezia; 40 rooms; In winter the price for a double room in this exceptional hotel is less than 150 €.
Note for the hotel stay: It may be a little creepy, but don't be afraid when a siren alarm sounds at night. It shows the Aqua Alta setting in. At a normal, harmless high tide only a simple tone sounds, at further rising water also additional tones can be heard.