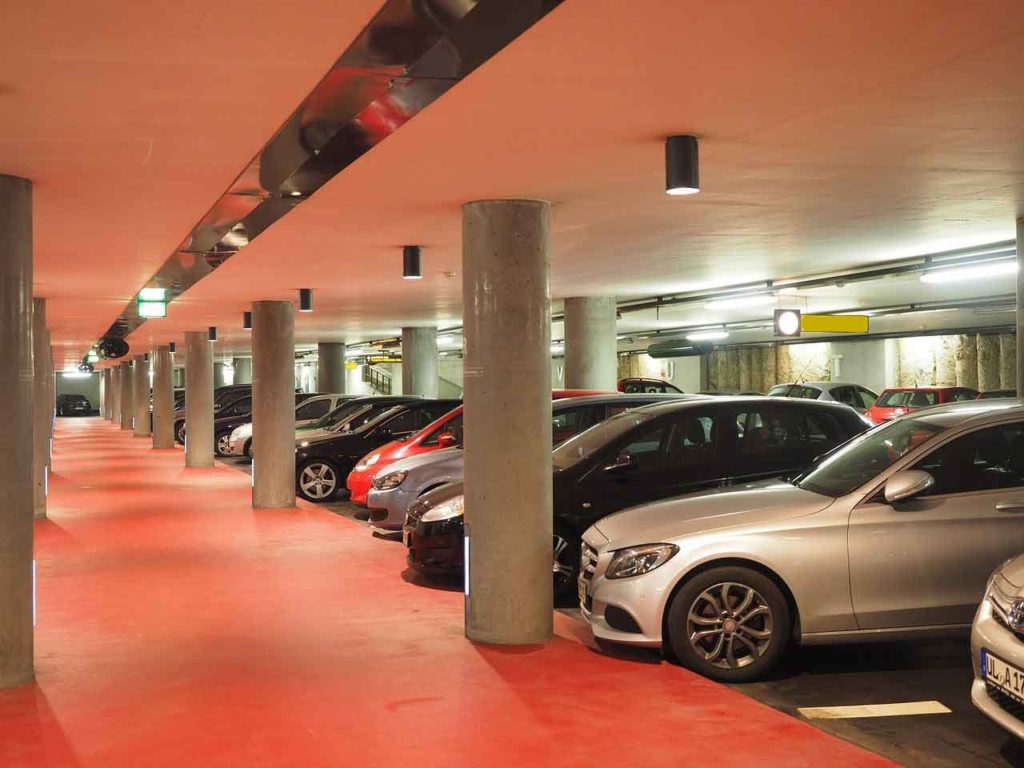 The city of Venice is located on the Italian Adriatic coast and is the capital of the Veneto region, one of the most popular tourist destinations in Europe. Venice has 260,000 inhabitants, 180,000 of whom live on the mainland, 50,000 in the world-famous old town and 30,000 within the lagoon.
The destination of all travellers, however, is the historic centre, built on more than 100 small islands in the Adriatic lagoon. In this part of Venice there are only narrow streets, narrow canals and waterways, for example for public transport. There is no room for cars here!
Should I park in Venice or on the mainland?
By the time they arrive in Venice, motorists often have a long and exhausting drive behind them. This also applies to travellers who are making an extensive sightseeing tour through Italy, which is well worth seeing, and for whom the stop in Venice is perhaps the highlight of their round trip.
Day trippers approaching the tourist stronghold should also consider early on whether they want to park on the island near the historic centre of the lagoon city or on the mainland. You can find a lot of reservation options in this text. You can't get to historic Venice by car, so where to go by car?
Parking on the "Island" of Venice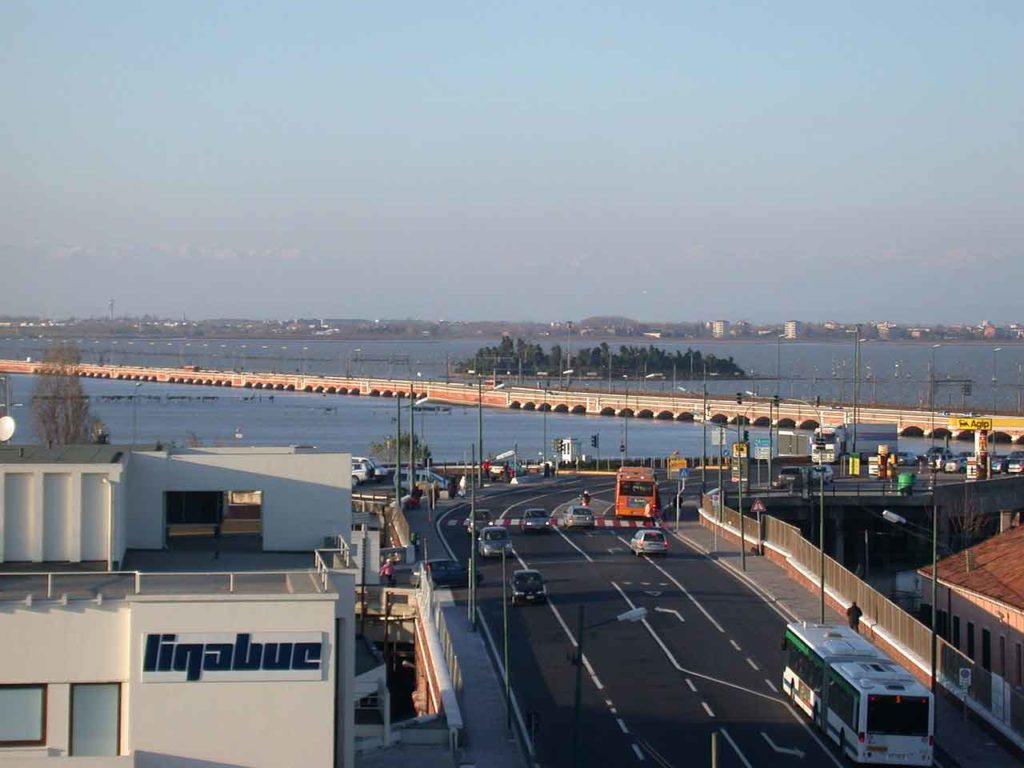 Parking in Venice doesn't have to be a challenge for motorists if you check out the different parking options here beforehand. Historic Venice and the mainland are connected by the 4km-long Ponte della Liberta (photo), which offers easy access to the island's car parks with two lanes in each direction.
At the end of the bridge, you should have decided where to park. Take the left lane to the expensive car parks at Piazzale Roma, indicated as P  p. le Roma. On the right is the cheaper Tronchetto car park, Tronchetto P  and the ferry to the Lido, for guests who want to park their car on the legendary Lido di Venezia. But more about that later…
The car parks at Piazzale Roma
There are three car parks at Piazzale Roma, the Autorimessa Comunale, the Garage San Marco and the Parcheggio S. Andrea. These are the most central parking facilities in Venice. Here, at the latest, all tourists have to leave their car in a car park and continue on foot or change to a water bus or water taxi. Tickets for the public water buses are available here.
Important note: For security and insurance reasons, you will be asked to leave your car keys at the Autorimessa Comunale and the San Marco Garage. This is a common procedure in Venice and is not a problem as long as you do not leave any valuables in the car. 
► Autorimessa Comunale – On the right-hand side, just before you reach Piazzale Roma. Comparable to our car parks in big cities, it offers over 2000 parking spaces, but only for standard cars, so no camping vehicles, caravans, etc… There are 180 spaces for motorbikes. The car park is open 365 days a year/24 hours a day. Very good security standards. Cost for parking spaces approx. 23,00 to 30,00 € for 24 hours.
Address: Santa Croce, 496, 30135 Venezia.
► Garage San Marco Srl – Large car park also directly on Piazzale Roma with 900 parking spaces for cars, minivans / buses and motorbikes. Video surveillance and open around the clock. Cost of parking spaces approximately €30.00 to €40.00 for 24 hours.
Address: Piazzale Roma 467/F – 30135 Venezia
✅ Very convenient: a parking space in the San Marco garage and unlimited use of the public transport network can also be booked directly in one ticket here – parking in Piazzale Roma + public transport
► Parcheggio S. Andrea – A small car park with approx. 100 spaces directly at Piazzale Roma. Rather something for short-term parkers who are only planning a day trip to Venice. The rate of €7.00 is valid for 2 hours. Always open, but no reservations possible.
Address: Piazzale Roma, 30135 Venezia, access via Rio Terà Sant'Andrea
✅ Very important: You are in good hands in the multi-storey car parks on Piazzale Roma. However, they are often full, even if they are expensive. It is therefore highly recommended to book in advance.
For guests staying in the historic part of Venice who want to park their car in the Piazzale Roma car parks, many hotels offer special deals where you can get a discount on parking fees. Ask at the hotel!
The Park Island Tronchetto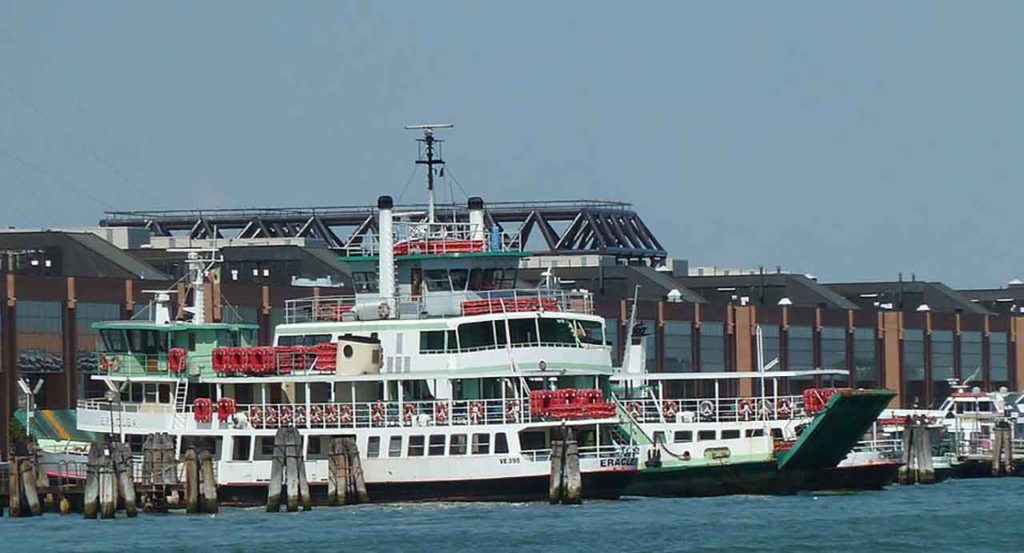 If you stayed in the right lane when approaching Venice via the Ponte della Liberta, you can quickly and easily get to the huge Tronchetto car park. Parking is a little cheaper here and there are also parking spaces for motorbikes, camper vans, buses and the like. Tronchetto (photo above) is an artificial island in a harbour area and the distance to Piazzale Roma is about one kilometer or a 10-minute walk.
This new car park with over 4000 covered parking spaces (including spaces with electronic connection) is open all year round and has a high security standard with staff and installed cameras. Bookings or advance payments are not required. Cost for a car is about €22.00 for 24 hours. One of the few car parks in Venice where the keys of the vehicle do NOT have to be handed in.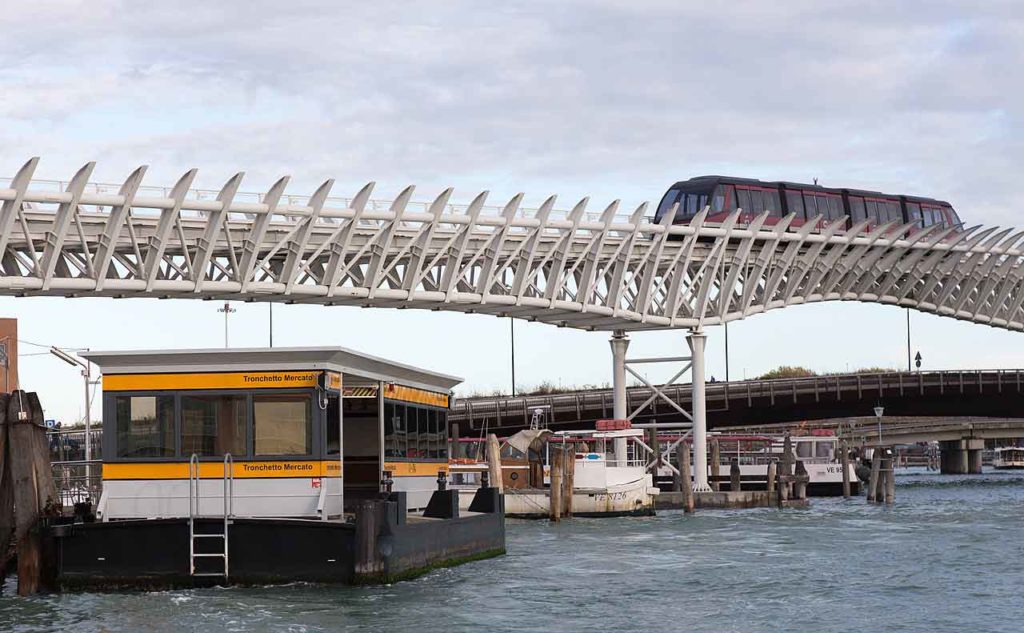 If you want to visit beautiful Venice from here, you have to walk a good kilometer to the old town, as already mentioned, or you can get on the Linea 2 water bus directly at the Tronchetto or Tronchetto Mercado stops (photo above). Ideal for day trippers who want to get to the world-famous Piazza San Marco as quickly as possible. It is best to book tickets for the Vaparetto here in advance.
Otherwise, you can also take the 'People Mover' (see photo above), a modern driverless elevated train, from the Park Terminals directly to Piazzale Roma for €1.50 (not included in the parking fee). This can be a great help if you have to lug a lot of luggage to your hotel. Piazzale Roma is right on the Grand Canal, Venice's largest and most important waterway.
The Hop-On Hop-Off boat tour also docks at the Park Island. An ideal way to explore Venice at a leisurely pace. Click here for more information.
Parking on the mainland
Parking in Mestre, a part of Venice on the mainland that has little in common with the famous lagoon city, is much cheaper. You can park your car there and then take a bus, tram or train for little money across the bridge into Venice to Santa Lucia central station or to the bus station on Piazzale Roma.
The mainland of Venice has excellent public transport connections, so there are plenty of opportunities to park on the mainland and get to the historic center of Venice quickly by local transport.
Car parks in Mestre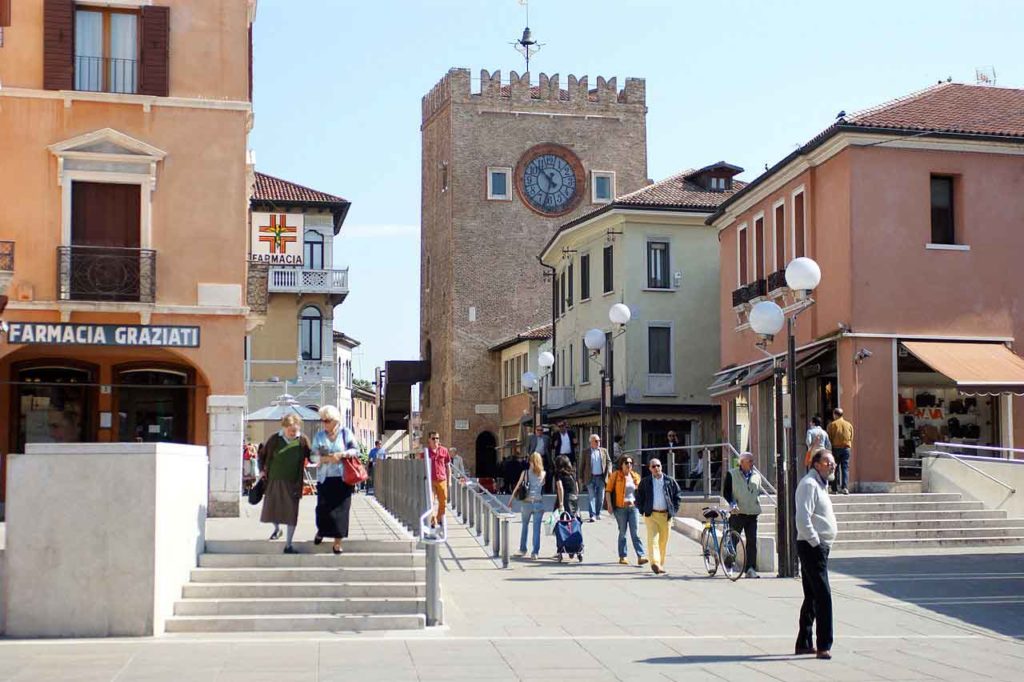 There are several parking garages in Mestre, which are much cheaper than on the island of Venice. The parking fee is between 15 and about 20 euros per day. Some offers that you can book directly here are a little more expensive, but include a shuttle transfer to the center of Venice. A service you should not underestimate if you have a lot of luggage. Directly at the train station in Mestre are the following parking garages, among others, with a fee of max. € 16.00 for 24 hours.
► Parcheggio Saba Stazione Venezia Mestre, Viale Stazione, 10, 30171 Venezia
► Parcheggio multipiano Cà Marcello, Via Ca' Marcello, 8, 30172 Venezia
► Parcheggio gregory mestre, Viale Stazione, 23, 30175 Venezia
From the car parks it is only a few meters to the train station and you can reach the center of Venice in 10 to 15 minutes by bus or train. A ticket to Santa Lucia central station or Piazzale Roma bus station costs no more than €1.50 per person, one way. If you want to use the water buses of Venice's public transport system afterwards, it's best to get the aforementioned day or multi-day ticket directly, which also includes all means of transport such as the tram and bus in Mestre.
Park & Ride on the mainland
In itself, the term Park & Ride does not apply to Venice. But the principle is the same: you look for a public car park and take local transport to your destination. One of the cheapest solutions to park your car in Venice. Security is ok here, but of course no guarantee.
There are many very cheap parking options on the mainland if you are willing to travel up to 30 minutes to Venice. My suggestions include:
►  Marive – Parking + Ferry – A convenient way to park right near Venice and take the ferry to the island of Venice. Also direct boat service from here to Lido di Venezia. Monitored. Advance booking recommended. Address: Via S. Giuliano, 86, 30173 Venezia.
► Venice City Parc – Only 5.50 per day, monitored 24 hours a day, not covered, several bus lines go from here directly to Piazzale Roma in 10 to 15 minutes. Advance booking recommended.
Address: Via dei Petroli, 5 Marghera Venezia.
► Green Park – Top car park that is very easy to get to, no key drop, open 24 hours. Right next to the bus stop for several bus lines to Venice, only 6,00 €/day! Bus ticket to Venice € 1,50 or day ticket in advance including water buses.
Address: Via dell' Elettrotecnica, 1, 30175 Venezia
Parking at Marco Polo Airport – Tessera
In addition to the usual expensive airport parking rates, some secure car parks a little further away offer the possibility of parking your car for a daily rate of € 4.00 to 10.00, including a shuttle bus to the airport. This applies, for example, to AliPark Marco Polo, FlyPark, Looking4 Parking or ParkingGo.
From the airport, you can continue your journey to Venice by bus transfer or on the spectacular waterway. You can find all the options under Airport Transfer. If you don't necessarily want to be picked up near your hotel by water taxi, you should also take a look at the Alilaguna boat transfer. It runs inexpensively between Venice Marco Polo Airport and the historic center of the city. You can also find other parking options near the airport via the following link.
Parking at the airport in Treviso or Padua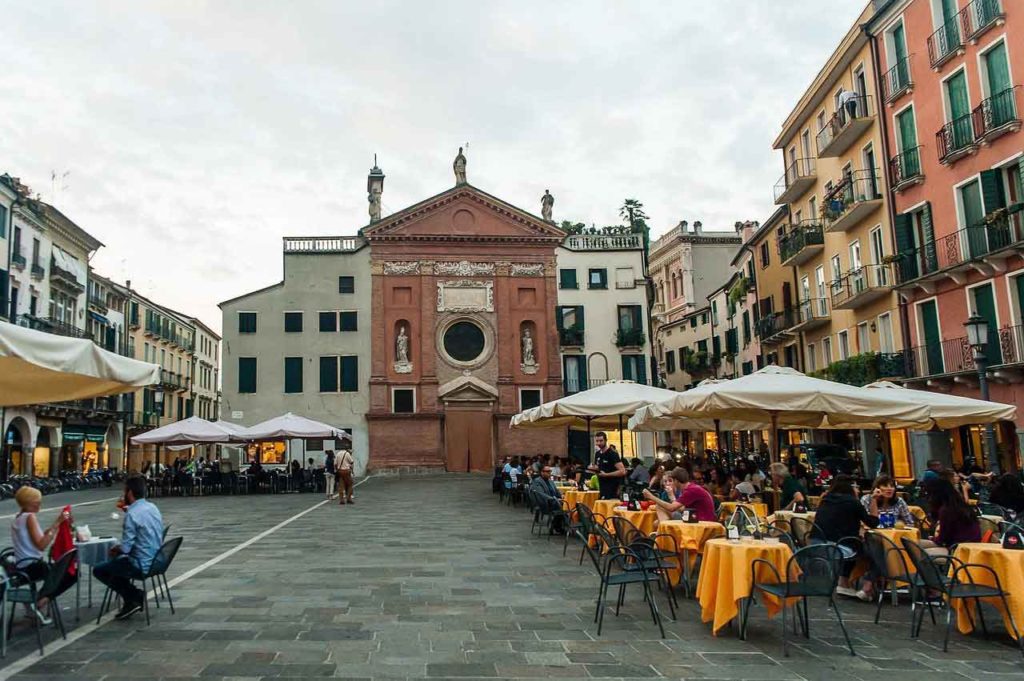 You can also park cheaply at Treviso airport, but the extra cost of the long journey by bus or train via Treviso to Venice makes this parking option less attractive.
✅  Tip: Park in a chic Padua hotel with free parking, max. 15 minutes walk to the train station, 30 minutes train ride to Venice for approx. 10.00 € return. You'll find this convenient and stress-free accommodation. Casa Lucia Valentini Terrani or Hotel Casanova.
Is it possible to park on the Lido?
The historic center of Venice is completely car-free! But this does not apply to the Lido di Venezia, the central part of a spit off Venice. You can find out all about the fashionable Lido, including ferry crossings and accommodation, under Lido. There is plenty of parking, but the ferry fare alone makes parking expensive.
The exception is if you book a hotel where parking is already included. From my list of hotel recommendations on the Lido page, this applies to the accommodations Villa Tiziana, Villa Delle Palme or Hotel Biasutti, among others.
Parking in Punta Sabbioni
Parking on the mainland in Punta Sabbioni is particularly popular with tourists from the seaside resorts of Bibione, Caorle or Jesolo, who make a day trip to Venice during their holiday. For motorists, it is important to know that the journey to Punta Sabbioni can only be made via these coastal towns on the Adriatic. So be prepared when and where you have to leave the motorway!
If you want to stay longer in Venice, you should only book a guarded parking space in advance. One option is Auto-Moto Parking.it, Via Fausta, 5A, 30013 Punta Sabbioni VE, approx. 7.00/day. You should also book in advance the appropriate day tickets for public transport in Venice. The tickets already include the transfer from Punta Sabbioni to the famous lagoon city. For more information and how to get from Punta Sabbioni to Venice, see my separate article Punta Sabbioni.
Free parking in Venice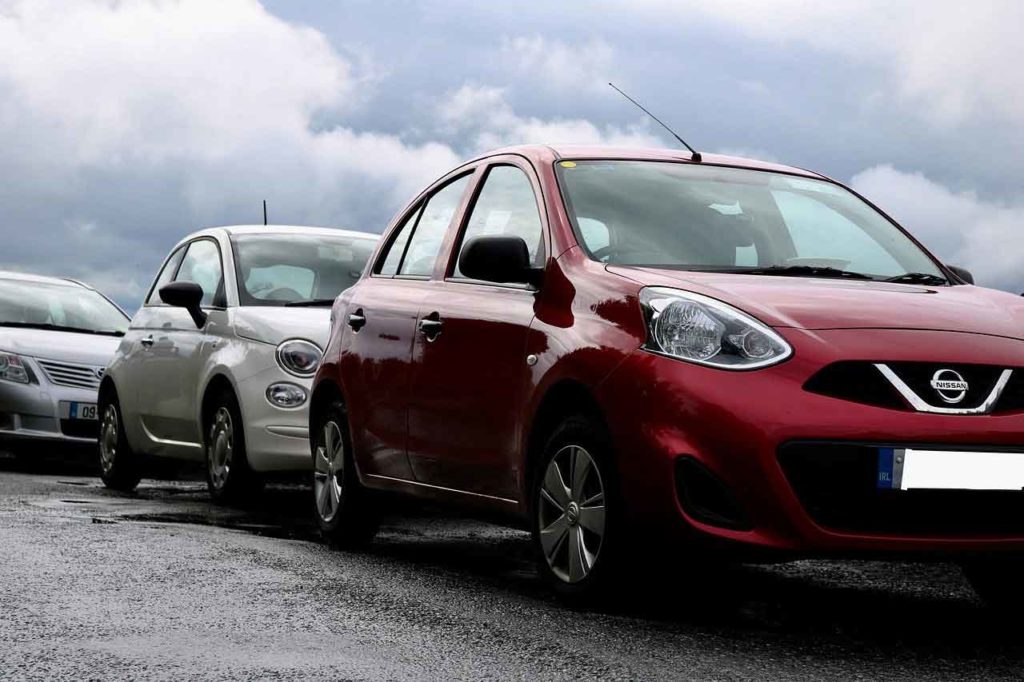 As in many other cities, it is still possible in Mestre, with its almost 200,000 inhabitants, to simply park the car at the side of the road in a residential area and then continue by public transport to the city center. Don't forget the many risks involved, as you won't understand the exact parking rules in a foreign country with a different language and will lose sight of the car for a while.
It's not so easy to just check that everything is OK with the car. Again, always leave the glove compartment open to make it clear that there are no valuables in the vehicle.
✅ Note: There is hardly any free parking around the Mestre railway station.
Free parking at the hotel
Especially for travellers who are on the road by car and spending several days in Venice, parking in Mestre is an option. Since parking fees with or without a transfer to the city center always put a strain on the holiday budget, the option of booking a hotel with a free parking space and a quick transfer to Venice, which is well worth seeing, remains an attractive solution. For this purpose, I have the following suggestions for hotels where the parking is included in the accommodation price.
► Hotel Antico Moro – Just outside the centre of Mestre lies this hotel in typical Venetian style (photo below). The rooms offer sufficient comfort. Wi-Fi free of charge. The bus stops 50 meters away and you can be in the center of Venice in 20 minutes. Free parking!
Address: Via Castellana 149, 30174 Zelarino, room 14, double room from € 65.00.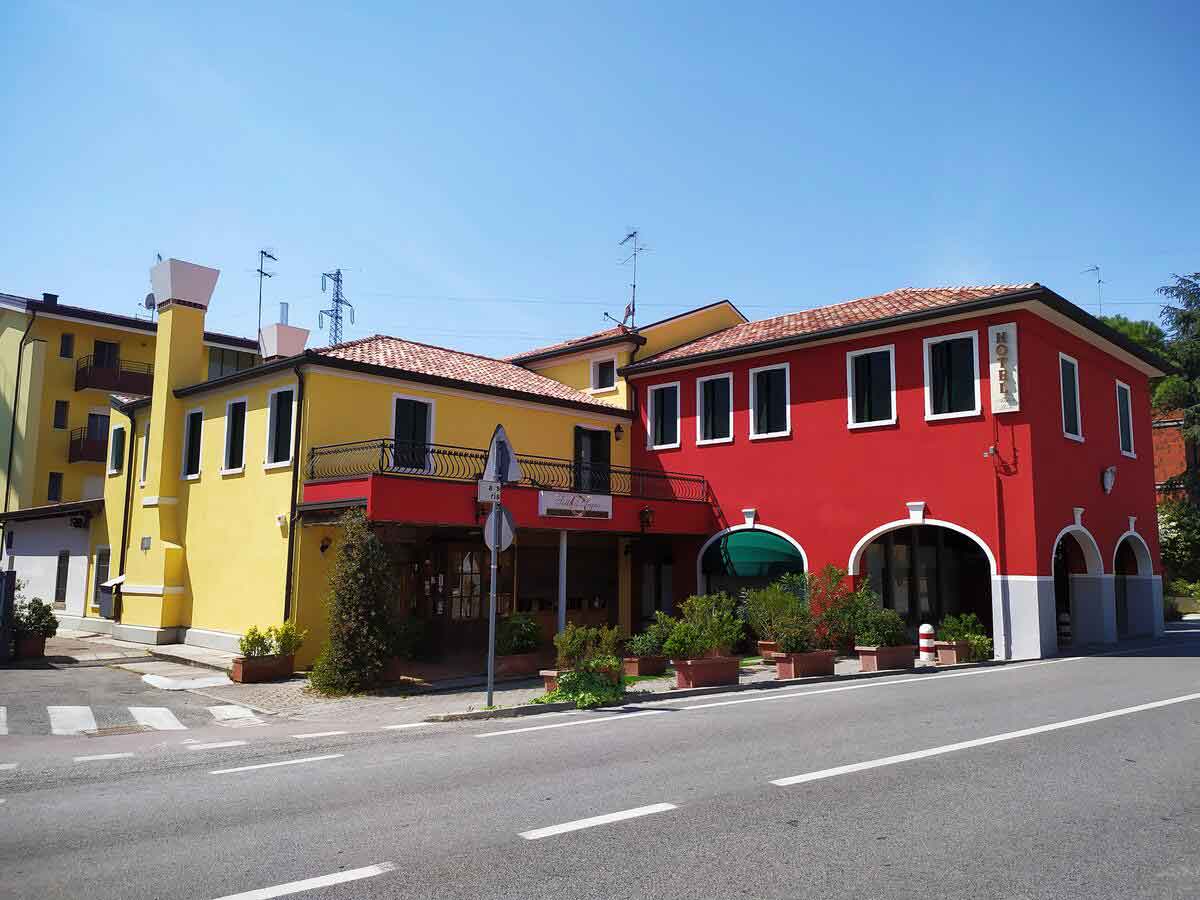 ► Park Hotel Ai Pini – Nice hotel quietly situated in a park. Sufficient parking spaces available. Bright and clean rooms, free Wi-Fi. The bus for the 15-minute trip to Venice stops right in front of the hotel.
Address: Via Miranese, 176, 30174 Venezia VE, Italy
► Villa Barbarich    Villa Barbarich – Elegant 4-star hotel with pool, quiet and tastefully furnished rooms, breakfast included, approx. 30 minutes by bus and train to tourist Venice. The accommodation offers a lot of relaxation. Ample free parking.
Address: Via Molino Ronchin 1, 30174 Mestre, room 31, double room from € 100,00.
Villa Barbarich online booking
My personal tip from my list of hotel recommendations in Venice – Outside the center is Casa Lunia Guesthouse, parking also free.
Parking for motorhomes, camping buses and caravans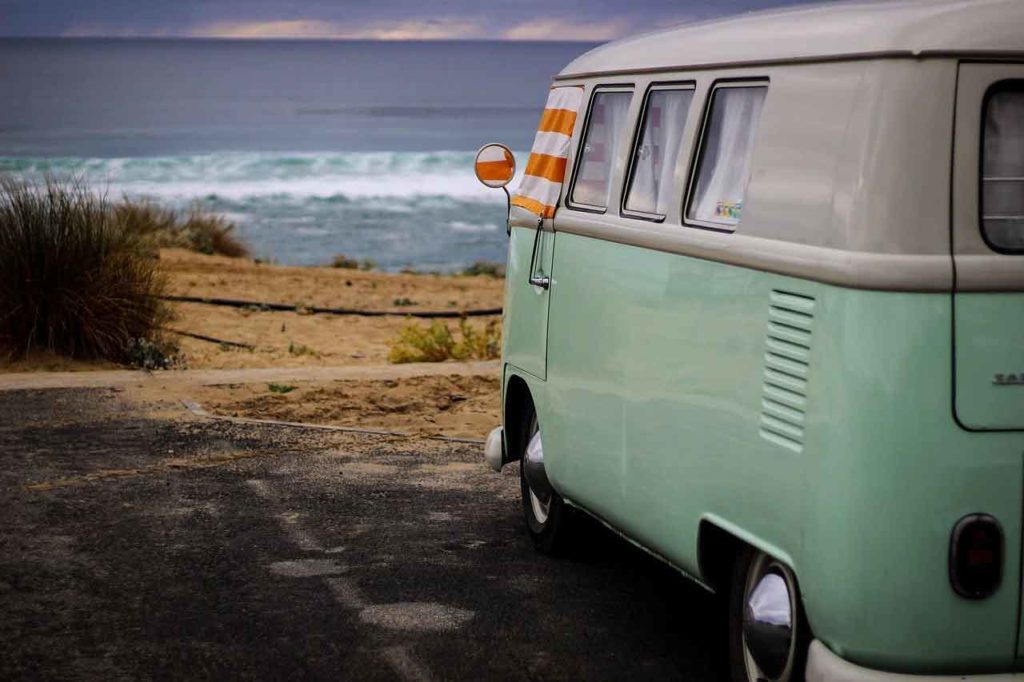 Owners of camping vehicles are very familiar with the parking problems on city trips. Only a few car parks or car parks in larger cities or tourist strongholds allow access for wider and, above all, taller vehicles. Of course, no one wants to miss out on a visit to the world-famous lagoon city. Here are some parking or camping suggestions with quick access to historic Venice.
► Camper Parking Area, Via del Sorgo, 19, 30173 Venezia – From here it is a 10-minute walk to the tramline T1 stop, San Dona`Rielta, which goes directly to Piazzale Roma.
► San Giuliano Venice, Via S. Giuliano, 19, 30173 Venezia – Top location, 10 minutes by bus to Venice. Or for swimming, take the boat directly to the Lido di Venezia.
► Parkinsel Tronchetto, Isola Nova del Tronchetto, 33/m, 30135 Venezia – The Tronchetto car park already recommended above also offers parking facilities for camping vehicles of all kinds.
► Camping Miramare, Lungomare Dante Alighieri, 29, 30013 Punta Sabbioni and Marina di Venezia Camping Village, Via Montello, 6, 30013 Cavallino-Treporti – both campsites are almost on the seafront and no more than a 20-minute walk from the Punta Sabbioni ferry port for the obligatory trip to Venice.
Venice Cruise Port Parking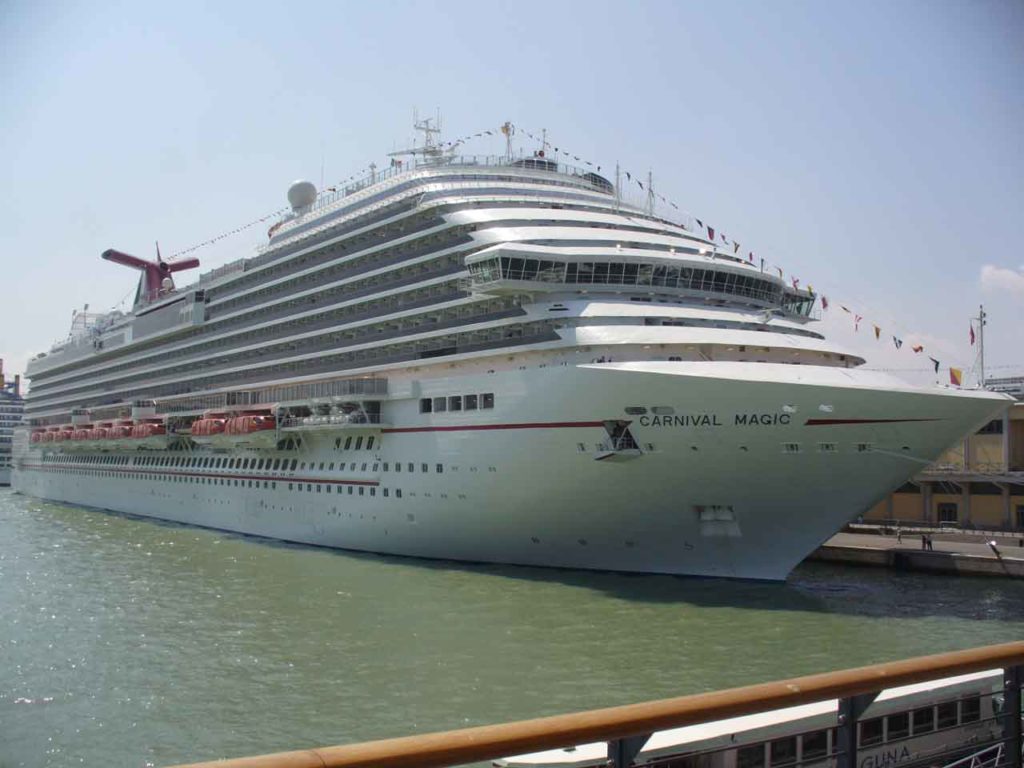 If you are travelling to Venice in connection with a cruise, you should try to find a suitable parking space for the duration of your cruise in good time. It is also important to reserve a secure parking space for your car in advance. All parking facilities are either directly at the cruise port or a maximum of 10 minutes away by shuttle transfer. So that the cruise can begin stress-free, you can already make your parking reservation here.
What do you have to watch out for when parking in Italy?
Firstly, there are different parking regulations in every country and secondly, the rules often change. In the meantime, you will find many parking machines in Italy with a numeric keypad for entering the number plate. Often the entry process is a bit tricky, especially for foreigners, and then it is best to ask a local for help.
Otherwise, the rule is that parking spaces outlined in white are free of charge, blue lines indicate spaces for which a fee is charged, and everywhere you see yellow or black-and-yellow lines, parking is prohibited. Tickets for simple offences start at around €40.00 and should be paid quickly at the Tabacci shop or the post office.
How much does parking cost in Venice? – Summary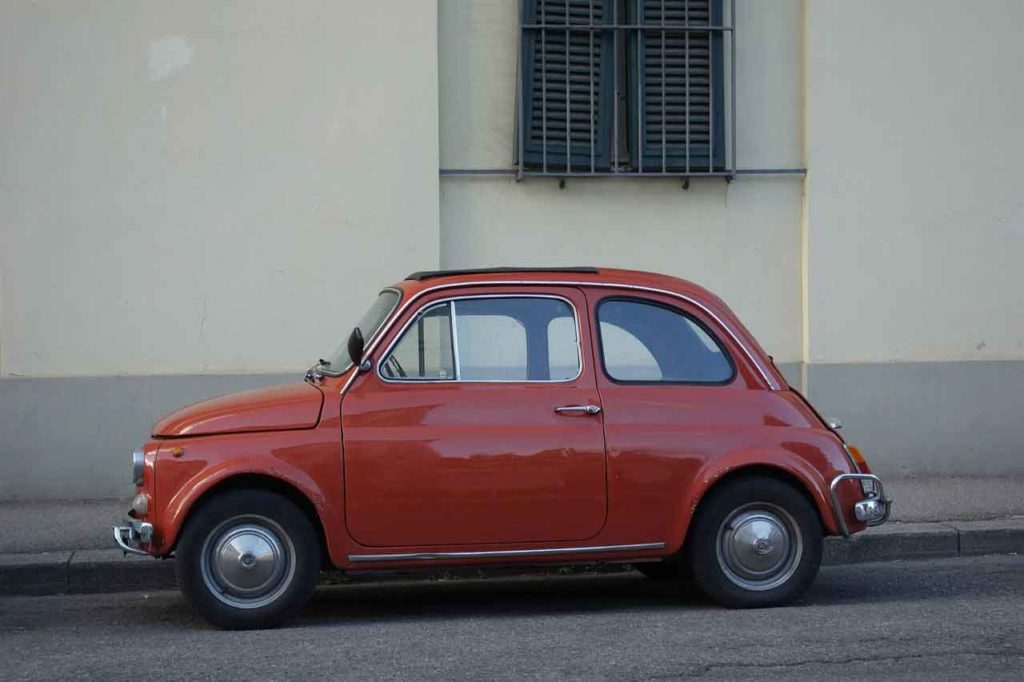 There are no surprises in this overview. Convenient, safe, fast and expensive is the way to go on the island. With the other suggestions, visitors who are staying a little longer in Venice should primarily pay attention to the safety of the individual parking spaces. My tip remains to stay overnight outside Venice with free parking.
For the cost-conscious, for example, at the Hotel Venezia in Mestre – tourist hotel, 3 stars, quiet, clean, breakfast included, free parking, 15 minutes to Venice Old Town for €1.50 per person per way or book a day or multi-day ticket for all of Venice in advance.
Parking
Fee / day
Transfer to Venice
Car parks Piazzale Roma / Tronchetto
€ 22,00 to 40,00
On foot
Car parks Mestre
€ 15,00 to 20,00
€ 1,50 / pers. / one way
Parking Mestre - cheap
€ 5,00 to 7,00
€ 1,50 / pers. / one way
Parking  Marco Polo Airport
€ 4,00 to 10,00
€ 8,00 bus
Parking Treviso Airport
€ 4,00 to 8,00
€ 12,00 bus
Parking Padua
€ 5,00 to 6,00
€ 5,00 / pers. / one way
Parking Lido
€ 0,00 to 25,00
€ 10,50 day-ticket
Parking Punta Sabbioni
€ 5,00 to 10,00
€ 10,50 day-ticket
Hotel Padua
Free, if included
€ 5,00 / pers. / one way
Hotel Mestre
Free, if included
€ 1,50 / pers. / one way
Hotel Lido;
Ferry only car
€ 13-26
Free, if included
€ 10,50 day-ticket
✅ Important: Always book a parking space in advance, especially in high season, at holiday times, on public holidays and during Carnival in Venice. It is always crowded in Venice and parking spaces are scarce. Travelling by train and bus is cheap everywhere. It is a great experience to stay overnight in the old town of Venice. Just always remember that you have to bring your luggage there. The walk across the many bridges is exhausting, the water busses are packed, the porters at the train station are expensive and not everyone can afford the luxury of a water taxi.
---
Image sources:
Ponte de LIberta: Gvf (https://commons.wikimedia.org/wiki/File:Venezia_-_Ponte_della_liberta.jpg), "Venezia – Ponte della liberta", https://creativecommons.org/licenses/by-sa/3.0/legalcode
Tronchetto car park: Abxbay (https://commons.wikimedia.org/wiki/File:Tronchetto_harbour_Venice.JPG), "Tronchetto harbour Venice", https://creativecommons.org/licenses/by-sa/3.0/legalcode
Tronchetto stops: GodeNehler (https://commons.wikimedia.org/wiki/File:Venedig_ACTV_Stop_Tronchetto_Mercato-5991.jpg), "Venice ACTV Stop Tronchetto Mercato-5991", https://creativecommons.org/licenses/by-sa/4.0/legalcod
Mestre: Didier Descouens (https://commons.wikimedia.org/wiki/File:Mestre-Tour_de_l'horloge.jpg), "Mestre-Tour de l'horloge", https://creativecommons.org/licenses/by/4.0/legalcode
Cruiser: Thomas doerfer (https://commons.wikimedia.org/wiki/File:Carnival_Magic_in_Venedig.JPG), "Carnival Magic in Venice", https://creativecommons.org/licenses/by/3.0/legalcode
All other Pixabay