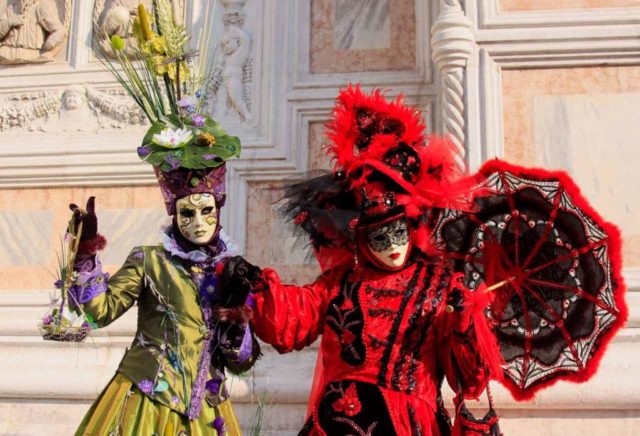 Activities for Kids in Venice | The lagoon city on the Adriatic Sea is a must-see for art and culture enthusiasts, museum and church visitors and romantic lovers, but also for families with children. There is no amusement park, no children's attractions, and no zoo.
However, if the parents have decided to go to Venice, there is also the possibility of a varied program for young and old. St Mark's Basilica in the morning, Doge's Palace in the afternoon and the Peggy Guggenheim Collection in the afternoon, of course, no child will enjoy that. So one half of the day belongs to the sightseeing program of the adults and the other to a spectacle for the younger visitors of the city. As one often doesn't spend many days in Venice, my selection for everyone from 3 to 15 years certainly includes something for a balanced travel program.
If in a country pizza and ice cream belong to the national specialities, then one does not need to have any reservations for an excursion or city trip with children to Venice.
Of course, the 5-year-old girl would rather eat ice cream, the 10-year-old would rather take part in the boat tour and the 15-year-old would like to experience something he can tell his friends about. So here are a few tips on what to do with children in Venice.
Important to know in advance!
Venice with its many stairs and steps is not suitable for prams or buggies. If you want to explore Venice with small children, you should have a carrying strap or a back stretcher with you. You have to cross many bridges, some are unsecured, as well as the roadsides along the numerous canals. If the little ones prefer to walk and run themselves and absolutely want to chase through the alleys, please pay attention to the many canal banks.
1. St Mark's Square with its doves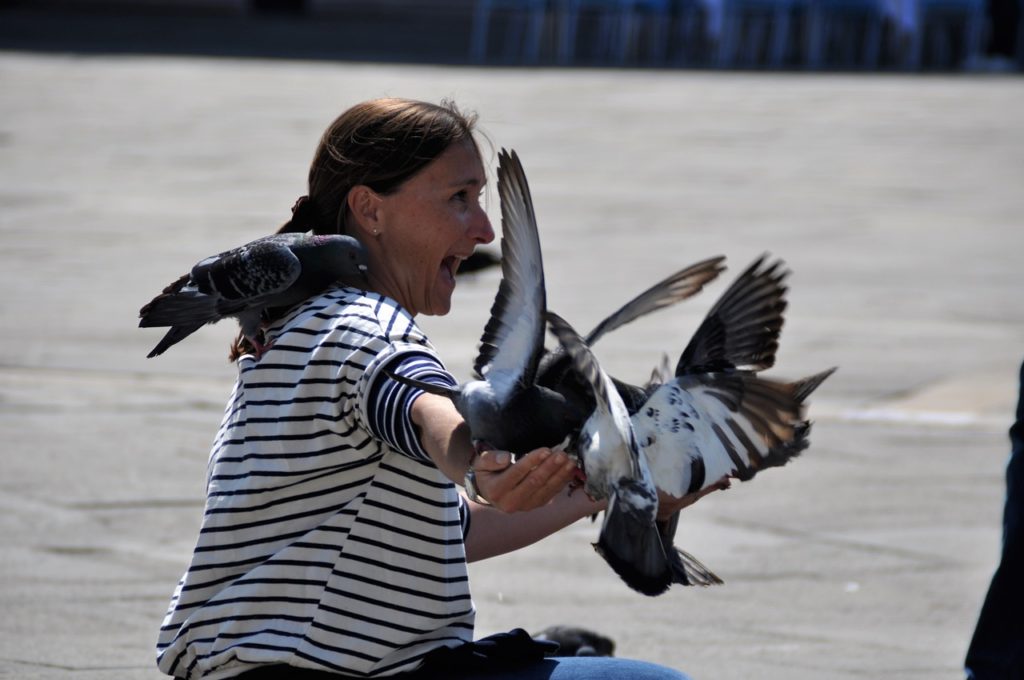 Somehow everything always begins with St Mark's Square. While the adults marvel at the imposing buildings, the children always have only one thing on their mind to hunt the many pigeons there. This is a tourist highlight of which everyone tries to get the best photo. If one parent pays attention, the other might be able to take a quick look at St. Mark's Cathedral free of charge.

❌ Please don't forget, feeding the pigeons on St Mark's Square is forbidden!
The adjacent Doge's Palace with its famous Bridge of Sighs is of course also worth seeing, but a visit should not be too enthusiastic for children. But if one does not want to miss this most important sightseeing in Venice, one should absolutely buy in advance tickets with direct access in order to avoid the otherwise usual long waiting times. With a little haste, one has seen almost everything in one hour in the Palazzo Ducale.
2. Lift ride in the Bell Tower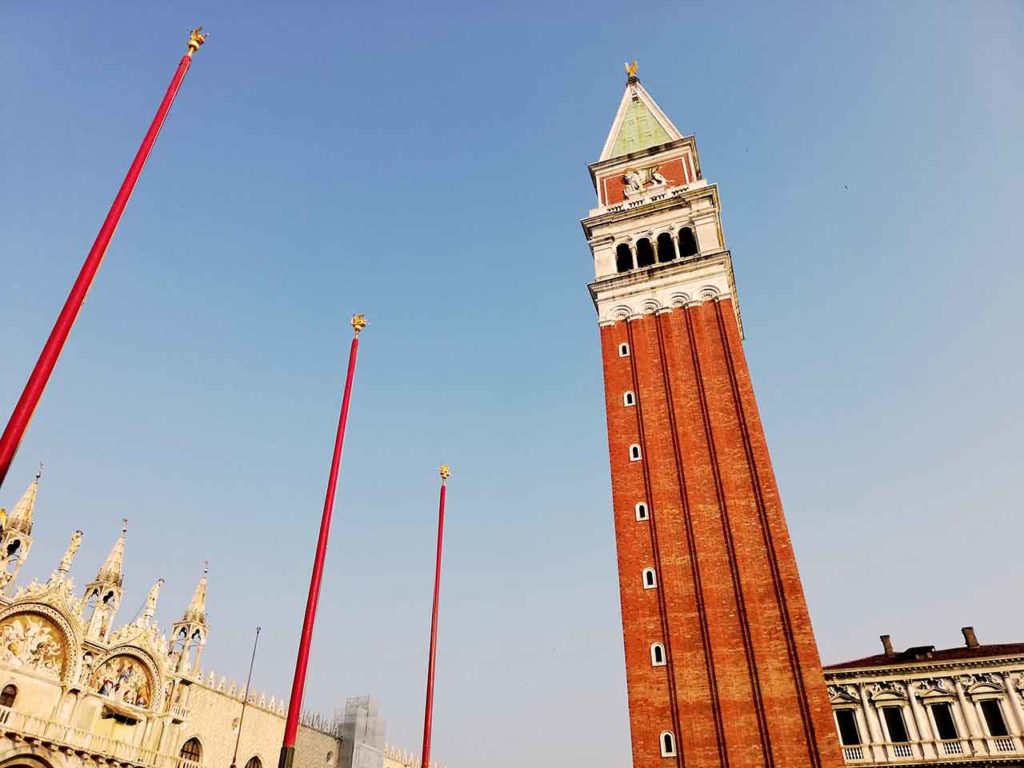 The ascent of the Campanile di San Marco with a panoramic view is ideal for many children. It is the bell tower of St. Mark's, the independent bell tower of St. Mark's Basilica, which is also located in St. Mark's Square directly in front of the basilica. Almost 100 metres high and the only vantage point over Venice far and wide. With children, you should definitely avoid long waits and buy fast-track tickets in advance. Tickets St. Mark's Tower
3. Hop-On Hop-Off Boatstour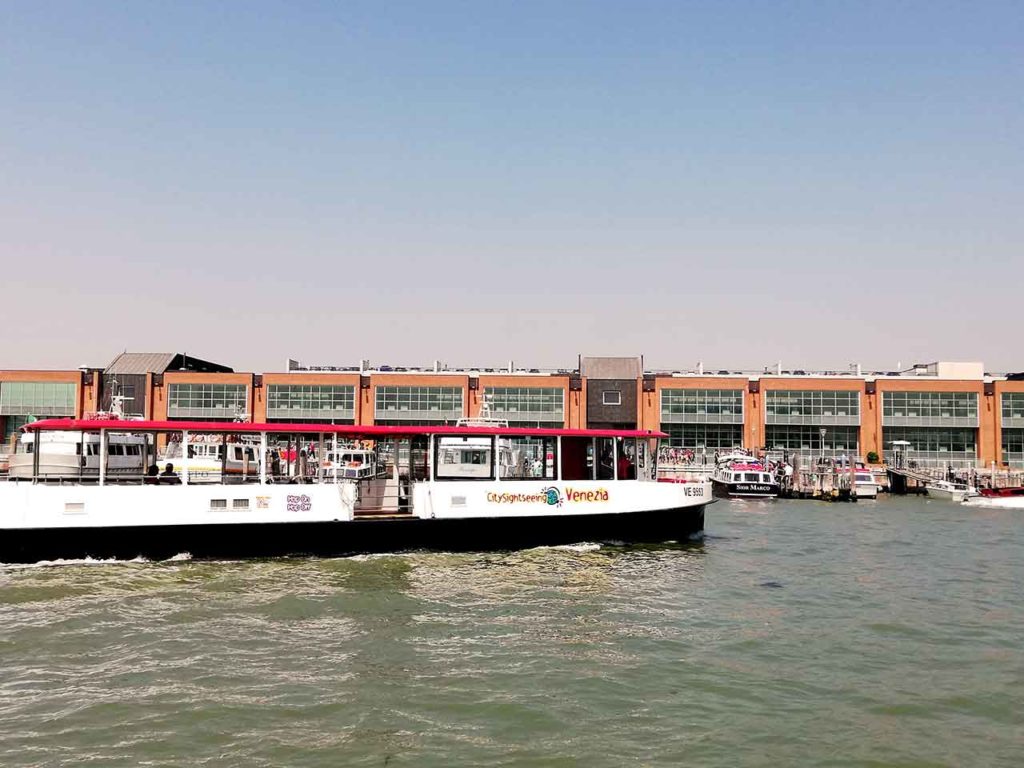 Everything that has to do with boat trips is always an experience for children. In Venice, there is the very expensive trip by motorboat, the typical gondolas, the "Vaporetti", thus the everywhere visible water buses of the public local traffic and the round trip with the Hop-On Hop-Off boat tour which is rather cheap, especially for a 48-hour ticket.
We will come to the gondolas later in a separate tip. The trip in the water buses is, in any case, an adventure. Get in, take off and drive on to the next stop. There is always something going on. Unfortunately, these boats are almost always overcrowded, seldom offer seats and progress only slowly due to a multitude of stops. Single trips with the Vaporetti are very expensive, so it is better to get a day or several day tickets in advance.
The Hop-On Hop-Off boat tour is much quieter, more comfortable and more pleasant. Here there are fewer passengers, a lot of space and fewer stops, so longer travel times. All important stops are regularly visited, so you won't miss any of my tips for Venice with children. If you decide on the Hop-On Hop-Off boat tour, you should bring some time with you. The tour can also be booked directly for two days at a reasonable price. A rather stress-free trip on the water for parents and children!
4. Lido – Finally beach!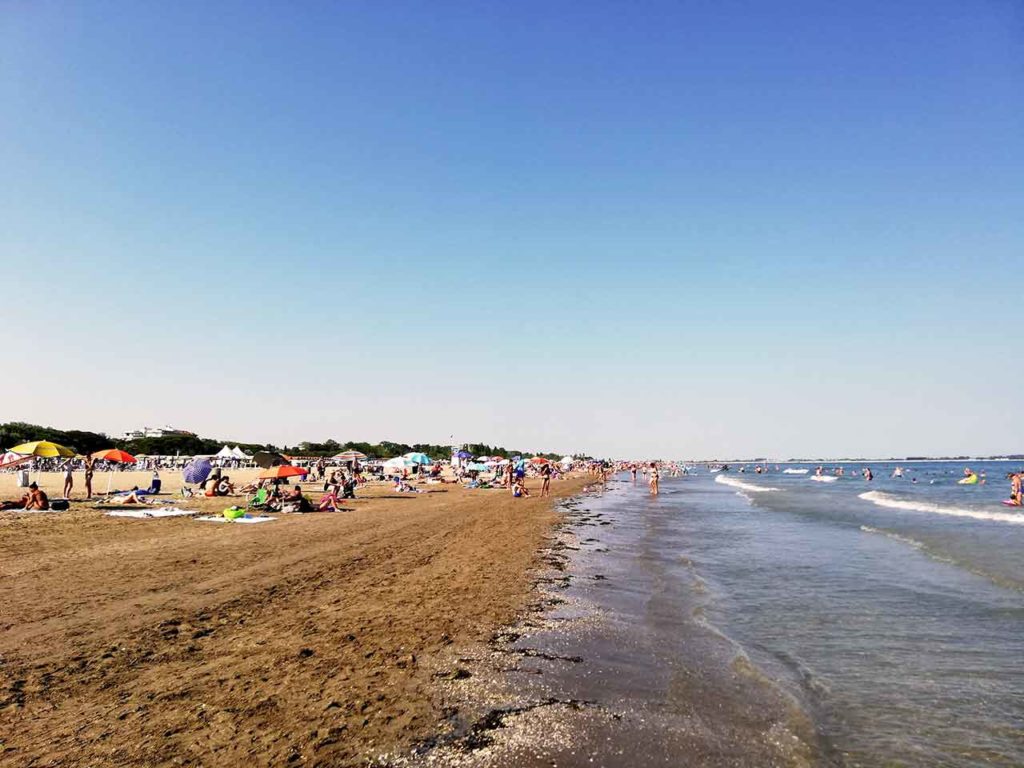 A children's paradise from June to October is the beach of Venice. First, you have to take the water bus or the Hop-On Hop-Off boat to the ferry terminal at the Lido di Venezia. Then, one first strolls, along the promenade with numerous restaurants and cafés and after having walked across the island, one gets to the beach. Long, fine sandy and wide – ideal for swimming for families with children.
On the way to the beach, you pass many bicycle rental shops, a great suggestion if the weather permits and also otherwise an ideal change for children. If you stay longer in Venice, a stay at the Lido di Venezia can quickly become a perfect beach day.
Many Venice visitors with children also book their accommodation here and undertake from here their sightseeing tours in the lagoon city or on the nearby islands. There are also suggestions for overnight stays in my detailed information about the Lido di Venezia.
Those who travel as a family and want to combine beach holidays, animation for children and city trips, should read my article on Chioggia.
5. Burano's colourful houses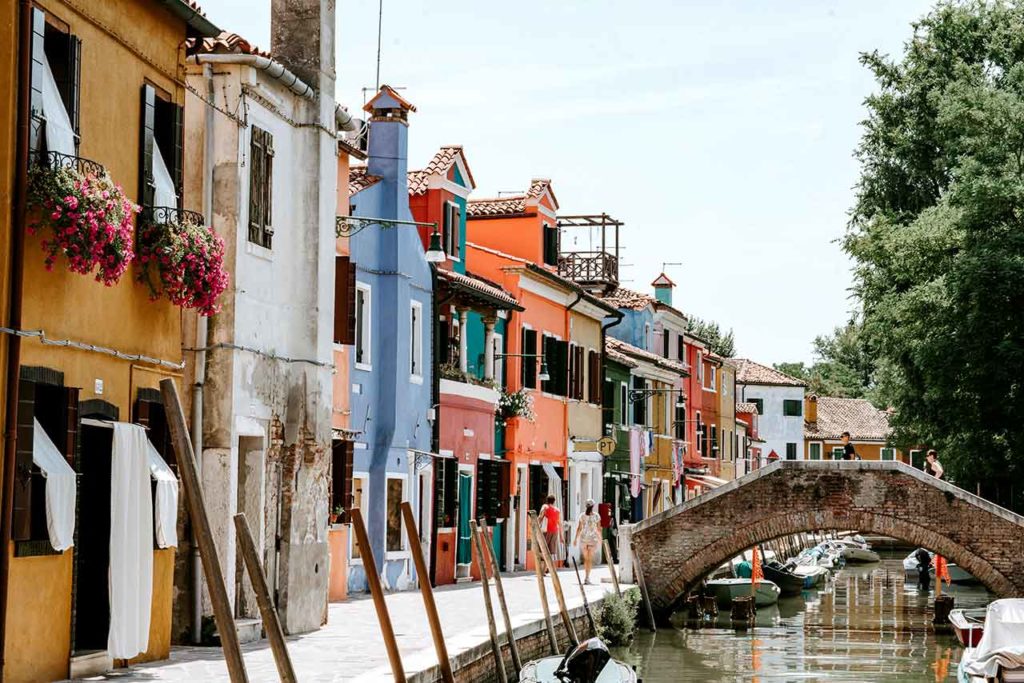 A trip to the lagoon island Burano is entertaining. Where the island is located, how to get there and what one can see is written in my article about Burano. In summer, the island can also be reached with the above-mentioned Hop-On Hop-Off boats. Boating, eating ice cream and looking at the colourful houses of Burano, of which none of the same colours is found, certainly have an effect on the children.
Those who book with children one of the numerous offered organized boat tours to the three islands of the lagoon will have done everything right.
6. Pizza and ice cream of course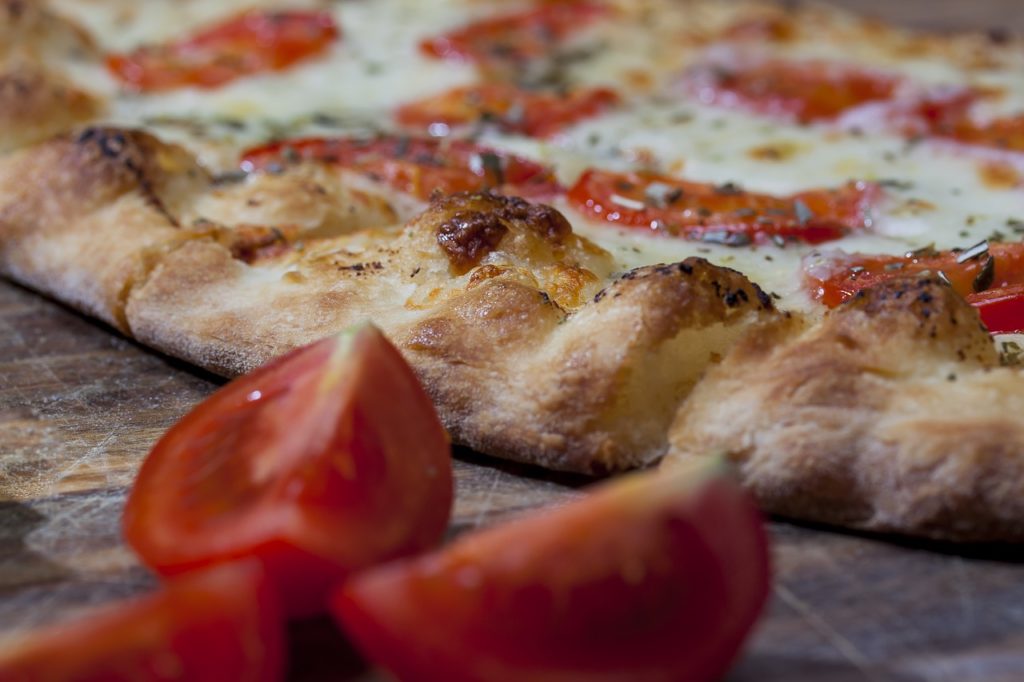 All children love pizza, the classic par excellence in Italy. Once a poor people's meal, today the simply prepared Pizza Margherita is an indispensable part of many children's lives, but also of course of adults' lives. Pizza is available as a tourist menu, cut into pieces by the large pizza plate or, of course, in the original Italian pizzeria.
This typical 'flatbread with tomato sauce and cheese' always tastes good in the classic pizzerias in Venice. The prices for a pizza are between 9 and 10 €. The size is always sufficient so that smaller children can also share a pizza.
How do you eat a pizza skillfully and appetizingly? In a restaurant, pizza is eaten with a knife and fork. In the pizzeria, among friends or in the family circle with the children, you can also eat the pizza by hand. Adults do not cut the individual pieces at once. After cutting a piece, place the knife on the plate. For the first bite, help yourself with the fork by holding up the soft tip. Then put the fork down. This is repeated for each individual piece.
Only pre-cut the pizza when you're doing it for others, like the kids. When ordering, you will often be asked if the pizza should be pre-cut for children in the kitchen, which is of course very practical.
Information about eating in Venice can also be found in my article Culinary Venice.
The walk to the Italian ice cream parlour around the corner also inspires enthusiasm at home among all children. Especially during the stressful Venice trip, because a visit to the "Gelateria" does not only mean super delicious ice cream but also a little break and relaxation. The ice cream tastes everywhere, no matter whether the recommendation is Grom, San Giacomo dall'Orio or Gelato Fantasy.
7. Natural History Museum on the Grand Canal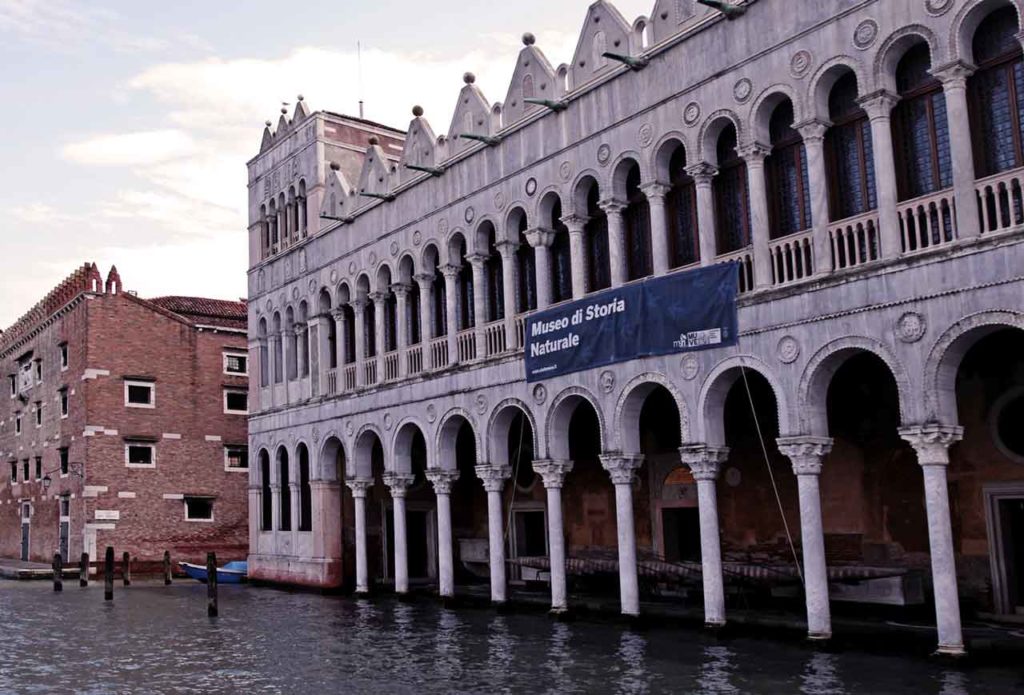 The majority of museums in Venice might not be particularly exciting for children. But with dinosaurs and wild animals, it will be different. The most famous object in the Natural History Museum in Venice is a huge skeleton of a dinosaur from Africa. Parents are surely glad about this tip, because also in Venice it can rain sometimes. Some things in the museum are also interactive.
The Museo Civico di Storia Naturale di Venezia is located in the Fontego dei Turchi, a splendid old city palace at Venice's Canal Grande, with the address Santa Croce 1730, 30135 Venezia.
Opening times: Nov to May Tue-Fri 9:00 – 17:00, Sat+Sun 10:30 – 17:00; Jun to Oct, Tue – Fr 10:00 – 18:00, Sat + Sun 10:30 – 8:00, last admission always 30 minutes before closing time, closed Mondays, Dec 25, Jan 1 and May 1.
Admission fees: 8,00 € for adults; 5,50 € for children (6 to 14 years), pupils, students and seniors 65+.
Access: Canale Grande, water bus line 1 San Stae stop
8. Ride with the Gondola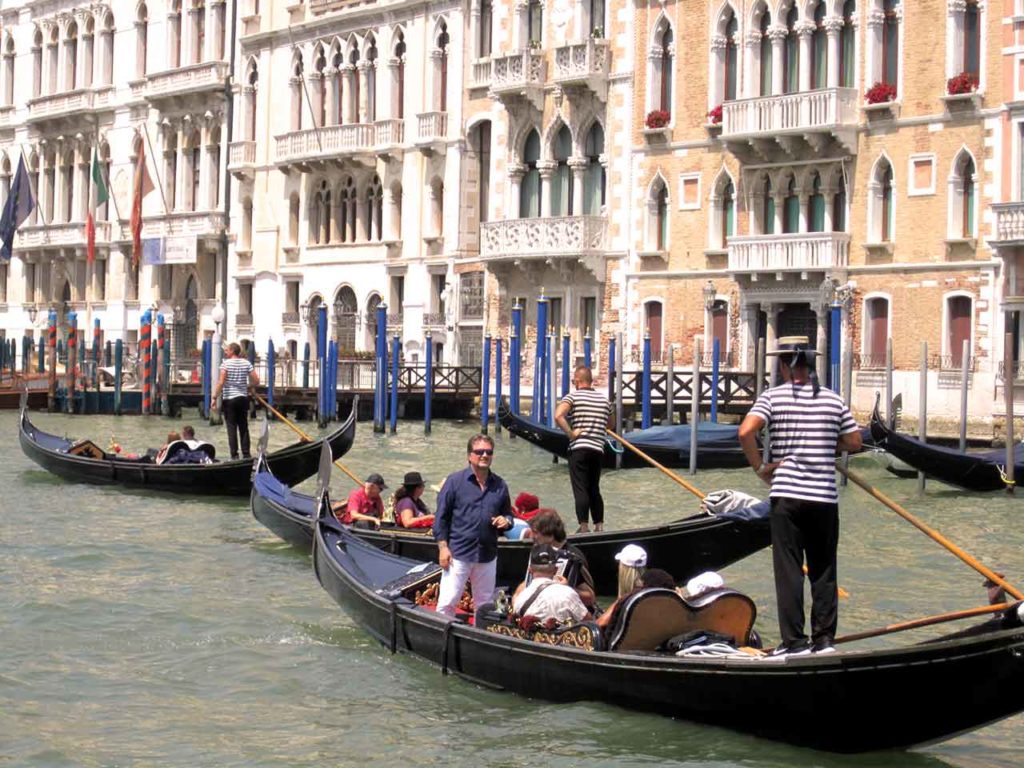 A classic Venice experience not only for romantics and lovers but also for families with children. Unfortunately, the family box office is strained here badly. Everything about costs and reservations can be found in my article Gondola trips. For those who are afraid of the high costs and also have problems with the price-performance ratio, there is still an inexpensive possibility to not completely do without a gondola feeling.
A short ride with a gondola ferry, also called Traghetto, to get to the other bank of the Canal Grande. Approx. 3,00 € for 2 to 3 minutes, but at least the kids also drove a gondola. Several gondola ferries at the Canal Grande. Easy to find as there are enough signs.
9. Hard Rock Cafe – Burger for young and old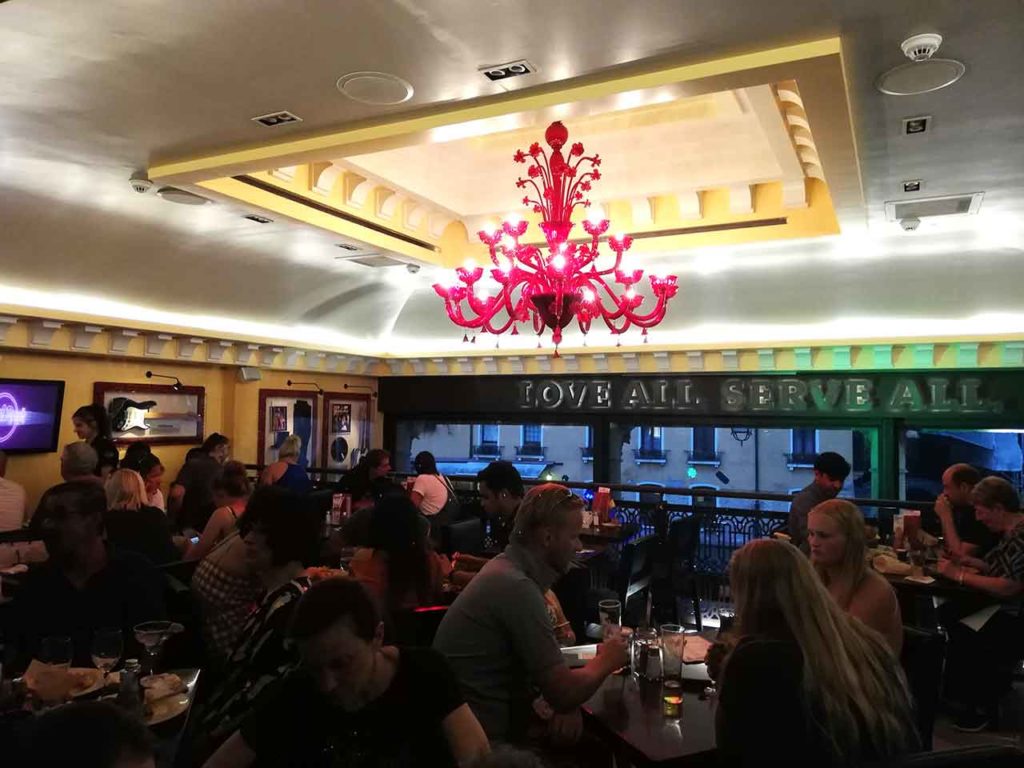 During my last trip to the Hard Rock Cafe in Venice. I saw more families with children than couples eating burgers. Whether Mum, Dad or the children were the initiators of the visit is still unclear to me.
The cafe is close to St. Mark's Cathedral, loud and always full. Who does not want to risk waiting times with the children, books are a priority entrance already now.
The Legendary Burger is a classic version with fries or salad, all a little cheaper.
There is a kid's menu which can be ordered and paid for separately on-site.
10. Paint mask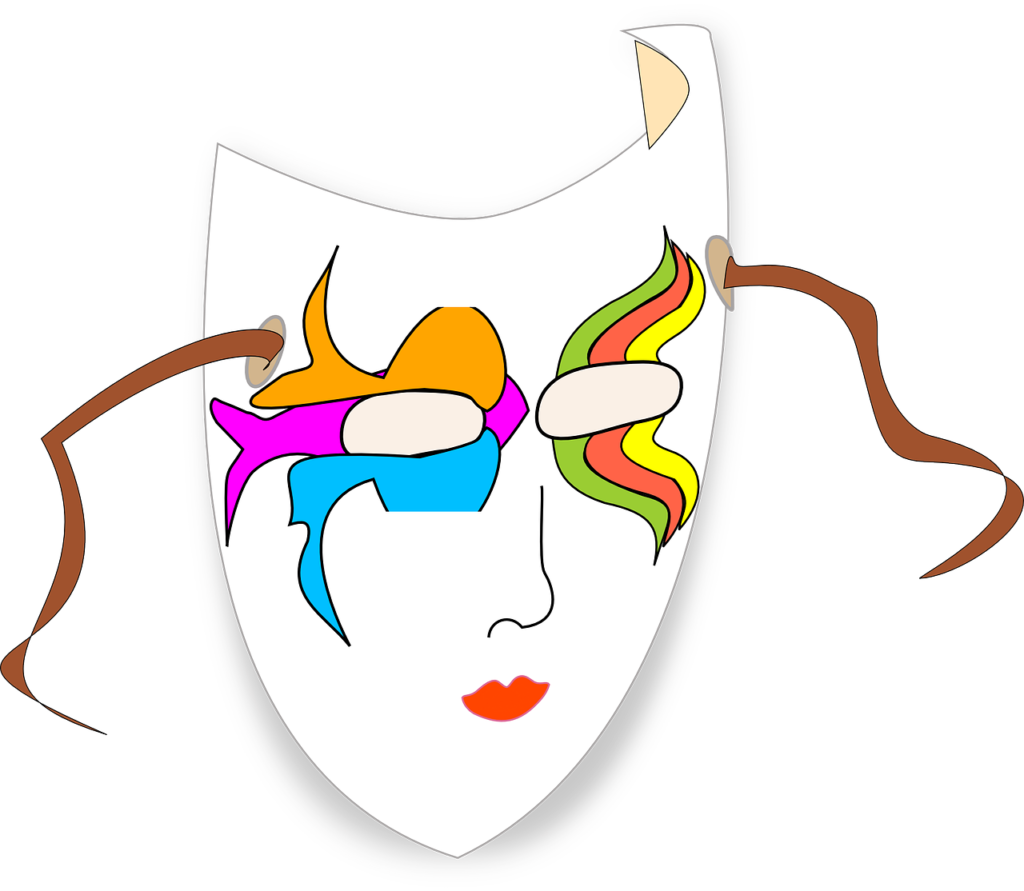 Actually, apart from the gondola rides, nothing else belongs to Venice like the colourful carnival masks. These handmade masks can be bought all year round. But it is something special to design a colourful mask yourself, which is a pleasure, especially for children. It is also a unique holiday souvenir.
There are enough offers. At least one parent stays with the children. Mum or Dad can certainly help with the translation, if at all necessary.
*All prices quoted are subject to change. The current offer of the provider always applies. Times and meeting places are also on the site of the offerer.
Practical hints
Here is some practical information for a Venice trip with children with things that are often underestimated.
► Luggage transport – Everything in Venice is within walking distance. Those who live in the historical centre of the lagoon city must drag their luggage and naturally also that of the children over bridges and by narrow lanes even to its accommodation. Expensive luggage carrier services can be booked at the station. Therefore always pack sparingly.
► Water – A lot of walking is exhausting, especially for the children, so always make sure you have enough water in advance. The water in Venice is drinking water. Those who do not want to pay the high prices in the centre for a water ration should equip themselves, like many other tourists, with empty plastic bottles for filling at the numerous wells.
► Online Tickets – If parents, of course rightly so, don't want to miss out on a visit to the great sights of Venice, they should buy tickets beforehand. Often there are extremely long queues. Hour-long queuing is not pleasant then, particularly for the children and wastes senselessly valuable vacation time. Here you can find everything about the Waiting Times and in Online Tickets for Venice, there is a list with recommendations for the most important tickets for an entrance without queuing.
► Sun protection – Especially in the summer months it can get very hot. If it comes to waiting times at an attraction, at the ferry terminal or also to a beach visit with a bicycle tour, sun cream and headgear are absolutely necessary for children.
► Name badges – Venice is not dangerous. But crowded tourist crowds, narrow and winding streets and suddenly a child is no longer visible. So children with name tags or notes. The name, the accommodation, and a mobile phone number are written on it. So much drama is quickly prevented.
Where to spend the night with children in Venice?
That the Venice trip is not cheap and not with children should not be a surprise. Even if there are enough hotel recommendations for overnight stays outside the centre, I consider accommodation in the historical centre of the city to be more advantageous. Trains, buses, and trams are always full, multi-storey car parks are expensive and further away.
If children need a break during the day, you don't have to go too far to get their accommodation. In addition to my classic list of the Top 10 hotels in the centre of Venice, here are suggestions that are especially suitable for families with children.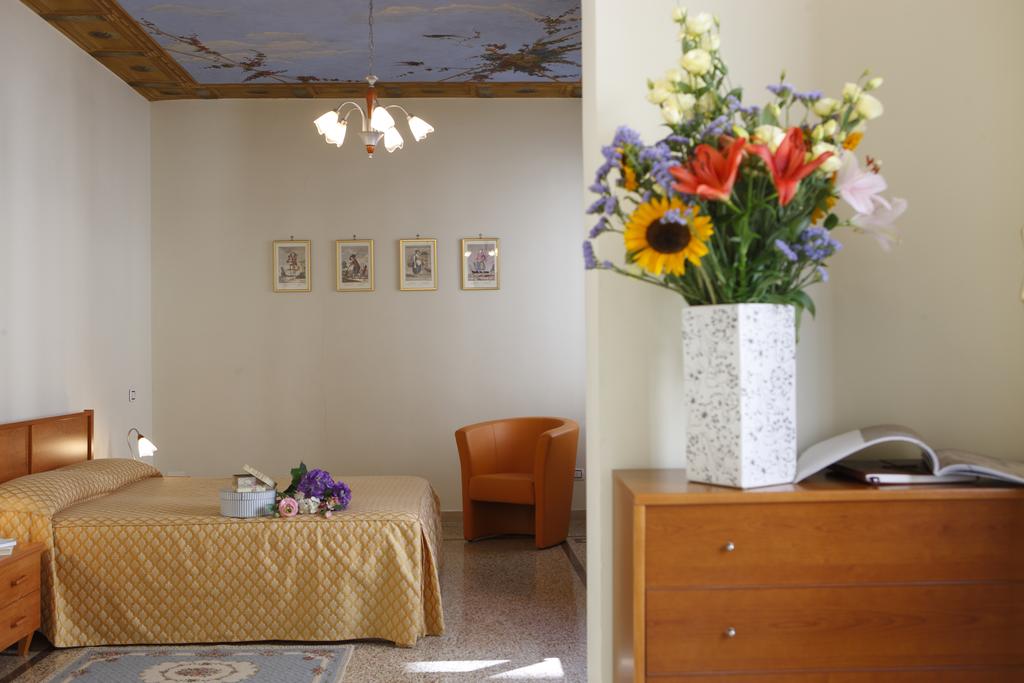 Hotel Casa Melograno – This pretty, small hotel is situated directly at a small canal and a bridge. Not far from Santa Lucia train station. Vaporetto stop San Marcuola is only once around the corner, shopping is good, and for Venice convenient in the nearby Strada Nova. Important for guests who have booked an apartment with a kitchenette. Rich breakfast. Garden with slide for toddlers. Ideal for families with children looking for cheap accommodation in Venice.
Adresse: Casa del Melograno, Cannaregio 2023, Cannaregio, 30121 Venedig, Bed & Breakfast und Apartments, ca.125,00 €.
Book Casa del Melograno online
Hotel Palazzo Giovanelli – A tastefully designed luxury hotel on the Canal Grande. Very convenient directly at the stop 'S. Stae' of the boat line 1, is pleasant for children, as all sights of Venice, are within walking distance. Very good breakfast, family room.
Adresse: Hotel Palazzo Giovanelli, Santa Croce, San Stae, 2070 – Venice, Zimmer ab 250,00 €
Book Palazzo Giovanelli online
Otherwise, there is the possibility of booking from a variety of holiday apartments offered. Here are a few suggestions for families with 4 people: Serenissima Apartments, Castllo; Alberghiera Venezia, Cannaregio; Grimaldi Apartments, Cannaregio & Dorsoduro.
Conclusion – Venice is fun even with children
Venice remains a fascinating event and with a little preparation, you can also spend a long weekend or a few days with children. In the airport transfer, there is also helpful information about parking in Venice, so that one is not already totally stressed and rushed after arrival. But a tasty pizza and an ice cream compensate for everything.