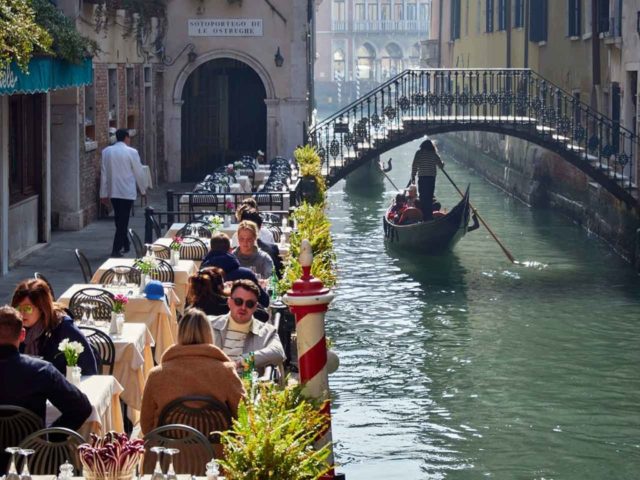 What to eat in Venice | Venice is one of the most beautiful cities in Italy and everyone has to go there at some point, whether as a family with children, romantic lovers, or as art and culture enthusiasts.
The stay in the lagoon city is expensive but worth it. There are plenty of sights to see, there are plenty of suggestions for overnight stays, and ideas for Venice by night. Only tips and advice on food and drink are missing.
Dining out in Venice – Traditional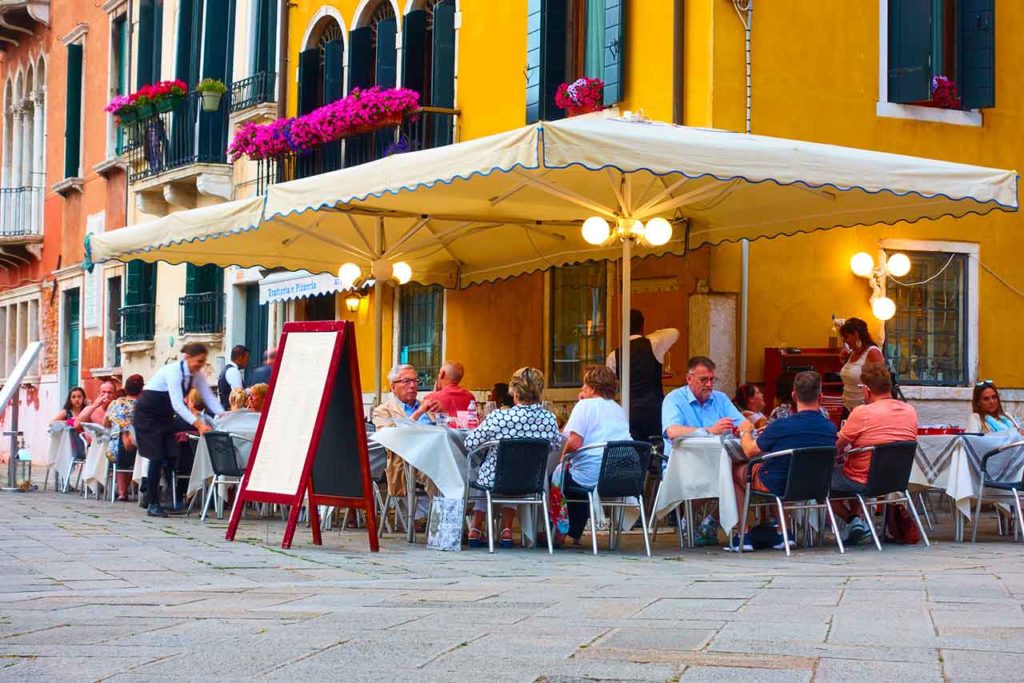 Italian cuisine is known far beyond the borders of the country. And that Venice is expensive is also known. Even if the offer of very good restaurants is more than sufficient, most visitors need to find practical solutions before falling victim to the typical tourist traps of poor quality and high prices. But more about this later.
While many visitors praise Venetian cuisine for its traditional and fine recipes, others are cautious about the high prices and the influence of mass tourism.
Art and culture enthusiasts then tend to spend their money on visiting museums and churches. Lovers tend to spend a little longer at a romantically located table, and for families with children, it all comes down to pizza and pasta anyway.
Different types of restaurants in Venice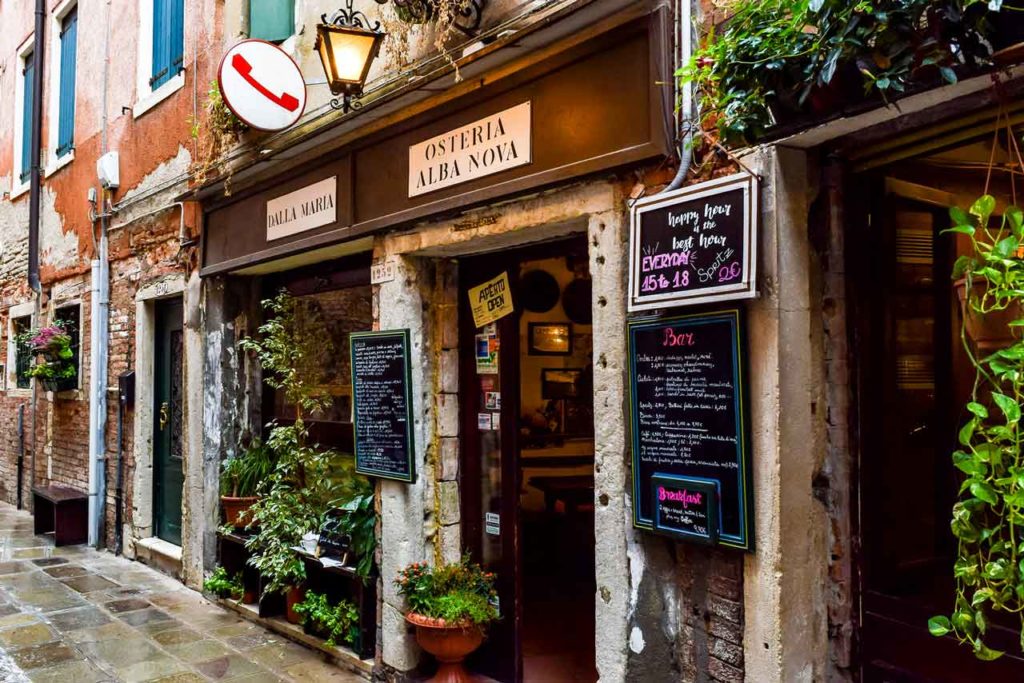 Here is a little help for the different localities:
Bacari – Authentic for the gastronomic landscape of the lagoon city is, for example, the Bacari, a rather unknown form of stopover. Perhaps comparable to the tapas bars from the last Spanish holiday. For the Venetians, these simple stand-up bars are an institution where they drink their "Ombra", the glass of house wine, from early morning to evening and eat delicious thin slices of white bread with a topping, Cicchetti, in all variations. Take a look at the counter display, where the small delicacies, topped with aubergines, tuna, anchovy rings, or ham, are offered for consumption well seasoned.

Bacaro Food Tour online booking
In larger Bacari, you can also sit down and eat like in a normal restaurant.
Osteria and Trattoria – The Osteria is originally a small inn or tavern, which is mainly found in small towns and is visited by locals. The menu usually consists of a few simple dishes. In former times it was rather comparable to the village pub, although in Italy it is more common to have a glass of wine than beer. The trattoria is more comparable to the traditional and middle-class inn. Compared to the Osteria, therefore, a somewhat higher level with very good cuisine with local and regional dishes, but cheaper than in the restaurant. Especially in a tourist stronghold like Venice, the original character between 'Osteria' or 'Trattoria' blurs very much.
On the classic menu cards, you will always find the starter (antipasti). Then follows a primo piatto (first course). A soup, a pasta dish, or a risotto. The main course (secondo piatto) then consists of a fish or meat dish. Vegetable salad or other side dishes must always be ordered separately. As usual, a dessert (dolce) or some fruit is the conclusion. As a drink, the recommended house wine (vino della casa) is often the best solution, besides the thirst-quenching water from the carafe or the bottle of sparkling mineral water.
ℹ️ Tip: Bacari, Osteria, and Trattoria have naturally adapted to the needs of tourists. Many of them are not interested in a longer stay in these places for reasons of time or cost, but only want to satisfy their hunger and have a drink. Thus, those who are satisfied with a first course, for example, a plate of noodles with salad, will not get a light sniff in the historic old town of Venice and will be served without any problem.
Restaurants – The 'Il Ristorante' is often more of an upscale restaurant. The choice, including exclusive gourmet temples, is large, whereby the travel budget is considerably strained. For recommendations, I rather refer to the relevant internet pages or even better to the tip of my local host.
How much will it cost?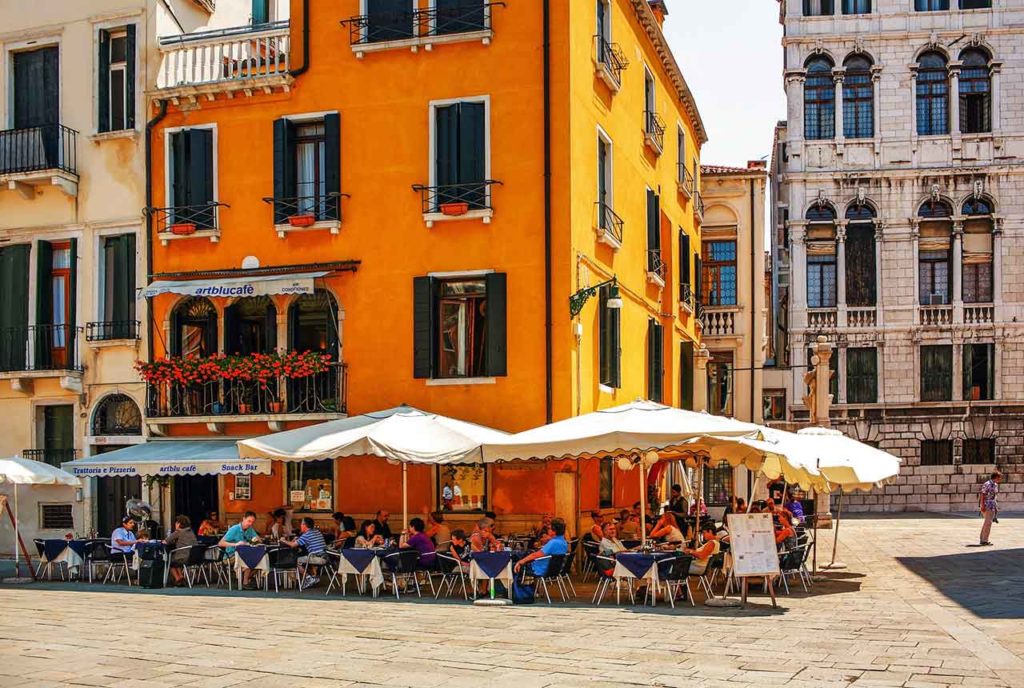 If you avoid the typical tourist traps mentioned below and get as far away as possible from the tourist centers, such as St Mark's Square or the Rialto Bridge, the cheaper it gets.
This is also true for the area around the Strada Nova, a straight and tourist pedestrian artery that leads from the train station towards the Rialto Bridge before continuing to St. Mark's Square. Although the prices vary from place to place, one can approximately expect the following price level:
ℹ️ Coperto – If one sits down in a restaurant, then one has already spent something before the first order. Almost always, a so-called cover charge is charged, the so-called "Coperto". This is mostly between 2,00 € and 3,00 € per person and is independent of the order value.
ℹ️ Menu – Let's have a look at the menu at the Osteria Doge Morisini, Campo Santo Stefano, 2958, 30124 Venezia. Classified with €€ from possible €€€, good to very good ratings and outside the tourist mass businesses. The antipasti cost between 16 € and 18 €, the first course between 12 € and 19 €, and the second course between 20 € and 28 €. You can read everything on the menu of the Osteria. In addition, there is the cost of wine or beer, water, and espresso. Maybe even a dessert or a grappa. Of course, one can also do without one or two courses, but as already said several times, Venice is expensive.
ℹ️ Service fee – Also at the end of the meal there is something on top of the invoice amount. An obligatory service fee (Servizio), which is between 10 and 13 % depending on the restaurant. Surprises cannot be ruled out, as there are no uniform national rules.
ℹ️ Tipping – With the payment of the service fee, tipping is rather unusual in Venice! In cash, one can at best leave some small coins on the table. Rounding up the bill generously is rather considered inappropriate.
But in a touristic city like Venice, one should not be confused by the manifold offers of the possibilities to stop for a rest. Many times, the restaurants are also called Bar Osteria Trattoria, so that everybody finds something for a little snack or a substantial meal.
No Italy without pizza!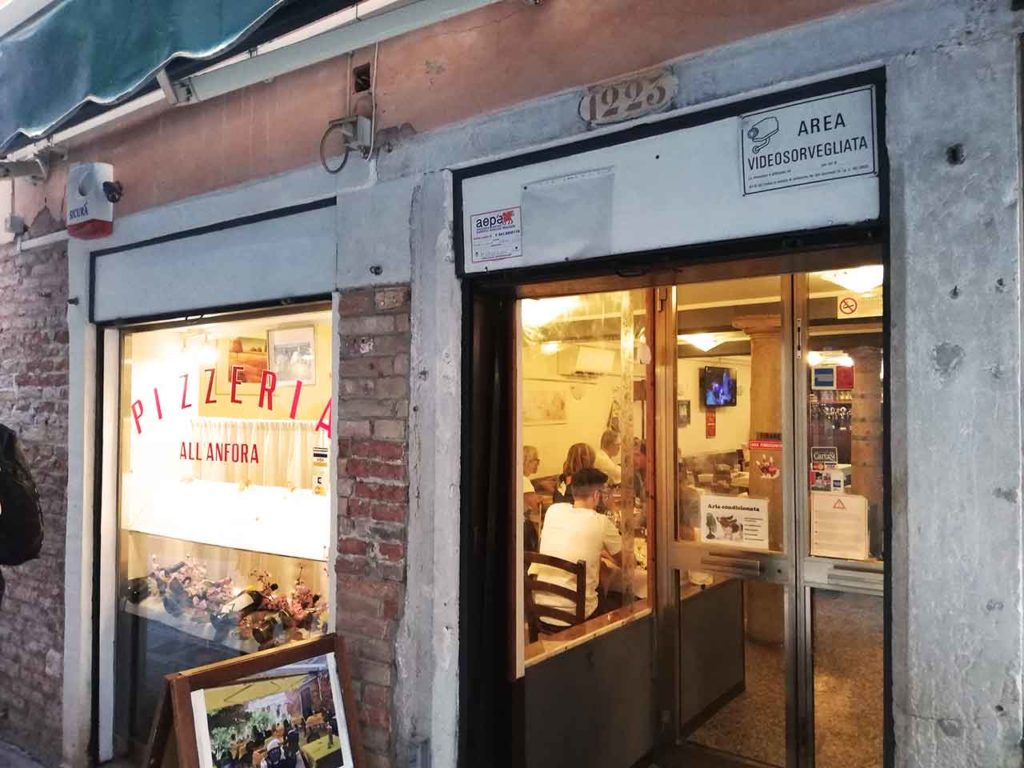 A pizza is one of the most popular meals in the world for young and old and if you are already in Venice, then a visit to a pizzeria is an absolute must! According to experience, all pizzerias in and around the lagoon city offer good to very good quality.
Away from the main routes, there are many nice little pizzerias in the center of Venice, often with outside catering in a hidden backyard.
Last time I was at the Pizzeria All'Anfora, a simple trattoria with specialty pizza and a "Gardino". Delicious big pizza 10,00 €, for dessert homemade Tiramisu 4,50 €, wine, beer or a bottle of water 5,00 €, Coperto 2,00 €, Servizio and some tip 3,00 €. Of course, this means approximately 50,00 € for 2 people, but it does not get much cheaper elsewhere and the excellent pizza was worth it. Many locals also eat here.
📍 Address: Trattoria-Pizzeria All'Anfora, Calle Larga dei Bari, 1223, Open daily except for Wednesdays from 12:00 – 15:00 and 17:00 – 22:30. Distance to the nearest Vaporetto ferry terminal is about 50 meters, line 1, 5.1 and 5.2.
On foot, it is 10 minutes from the railway station or from Piazzale Roma for bus and tram departures. It is therefore also well situated for visitors staying outside the historical center.
A few more tips for visiting the restaurant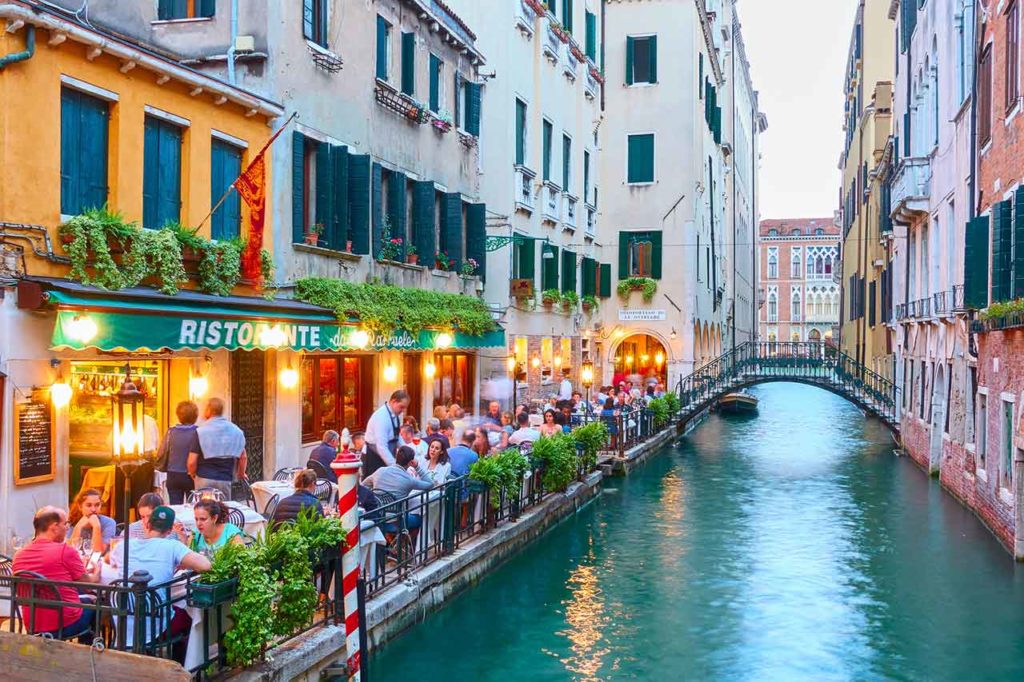 Always look at the small print of the menu to see if there is anything too 'Servizio'. If 'No Servizio' or "Servizio compreso", i.e. no service charge is calculated, then a small tip is more likely to be expected. If you are not sure, just ask the waiter (Servizio compreso?). Also applies to the Coperto.
At the counter, the Coperto is omitted! Thus, one often sees young people especially many locals who drink a glass of wine or beer at the bar while standing and thus save the Coperto.
The different restaurants are usually open at noon from 12:00 to 15:00 and in the evening from 18:00. Continuous opening hours on the main routes and sights of this unique tourist stronghold in the lagoon on the Adriatic Sea can be expected, however.
Many tips for the local visit can also be found in my article Rules of Behaviour & Tipping.
Which restaurants should you rather avoid?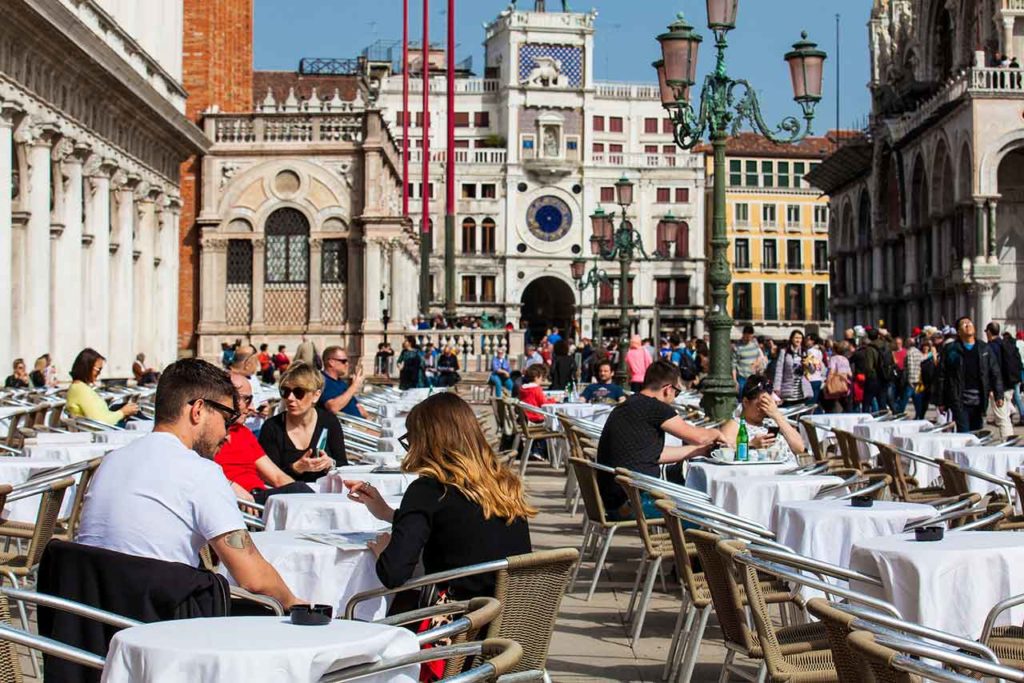 Of course, it is always expensive in the nearer surroundings of the tourist highlights. A few hundred meters further on in the side street it often gets a lot cheaper. And do not worry, there are no dangerous quarters in Venice!
Locations in front of which one is addressed. Surprises are usually guaranteed. Special places to stop for a bite to eat fill up on their own.
Beware of the tourist menu with many colorful pictures. Either the bill increases as described above or, if the dish is served at a unit price (coperto and servizio included), the price-performance ratio becomes a risk.
More interesting facts about the tourist trap restaurants and where you suddenly pay 40,00 € for two cappuccinos and two glasses of water can be read in this article.
What more do you need to know?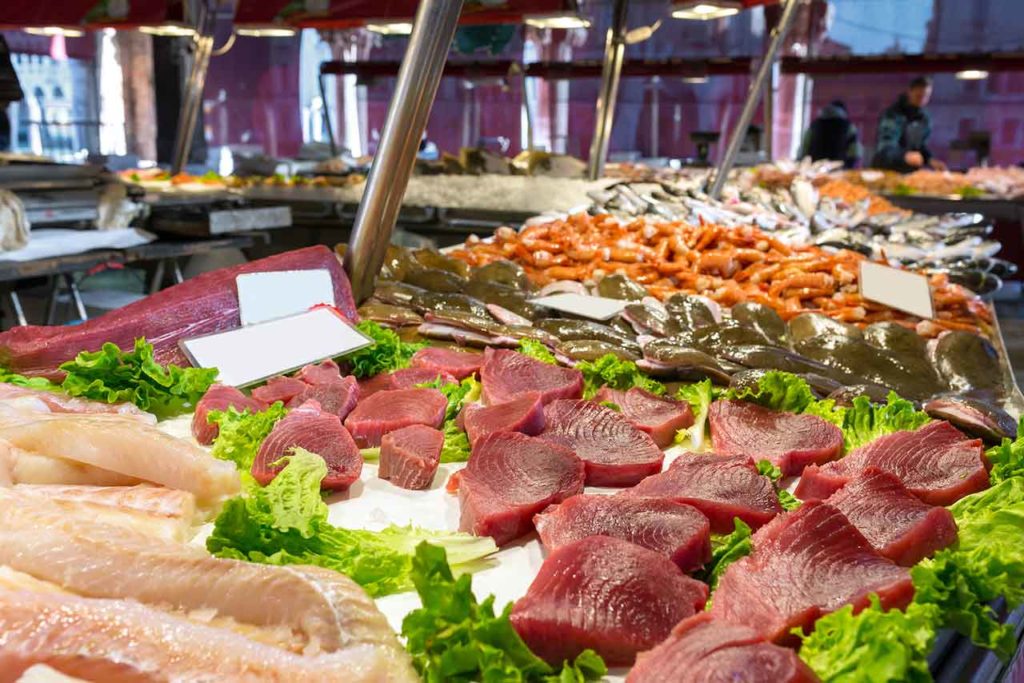 A 'Panini', i.e. fresh bread with a tasty topping or a suitable piece of pizza from the big tray for on the way can be found everywhere.
ℹ️ Saving tip: The tap water in Venice is drinking water. The many tourists who often gather around a watering hole and fill their small plastic bottles are striking. So don't forget your water bottle, it saves a lot of money, especially in the hot summer months.
If you have booked an apartment, a holiday flat, or with Airbnb, you can, of course, cook for yourself. But the ingredients on the Lagungeninsel for self-catering are more expensive. The usual supermarket does not exist for architectural and delivery reasons. Small minimarkets supply mainly tourists.
The colorful street markets, such as the famous Rialto market, tend to attract photographers and tourists who are eager to pay. Surely, one will also have dinner here, as such a restaurant visit in Venice is simply a must!
Recommendations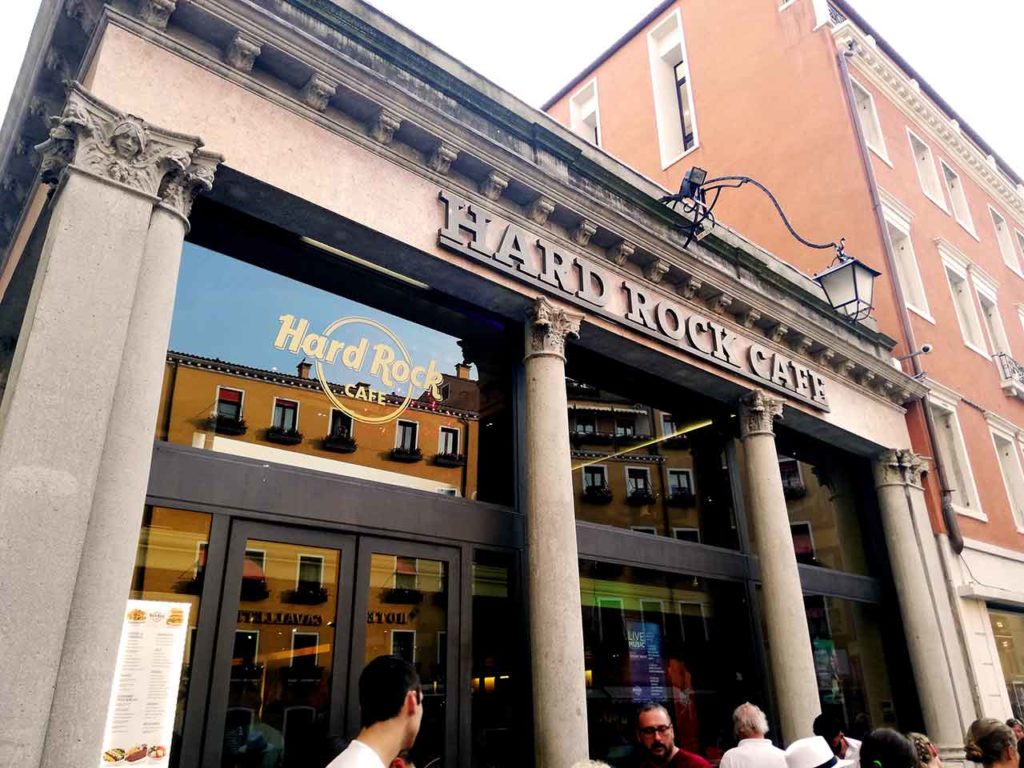 Here, I am always a little cautious, as with each recommendation, of course, the circumstances have to fit, such as the suitable location of the restaurant, reserved table, friendliness of the service, current prices, waiting times, etc. I have experienced often enough that many recommendations can quickly turn an insider tip into a disappointment. The best is to have a look on the net or, as already mentioned, ask the host, the employees of the hotel reception, or simply a local person for a tip.
This may not be Italy, but the Hard Rock Cafe near St. Mark's Square is one of the best known and best of its chain. The burger menu and drinks are about 30,00 €. Or test the Legendary Burger!
Saving money in restaurants in Venice is difficult. One possibility is The Fork. You go to the website and find a restaurant with a discount offer. If you like the offer, you reserve a table in advance and get a discount as described in the text. The website is very popular with city travelers in Europe.
It is very user-friendly, in English but easy to understand and very clear – so no problem for a gourmet experience in the lagoon city on the Adriatic Sea. You can see in advance if you have chosen a good restaurant by looking at the respective restaurant reviews on The Fork's website or similar review sites. I myself have never had bad experiences with this.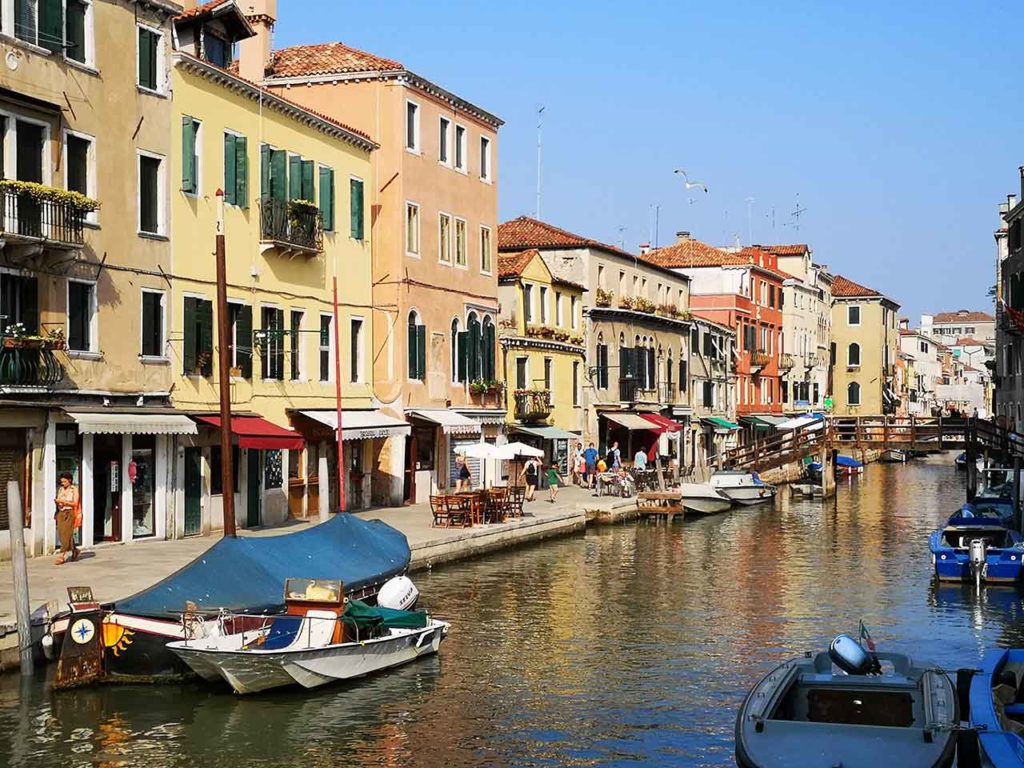 The Cannaregio district is also quiet. There you will find some suggestions for traditional Venetian restaurants, which are also very popular with locals. The Osteria al Cantinon was already mentioned above.
Culinary Tours in Venice
Those who want to get acquainted with the culinary Venice have, of course, endless opportunities to participate in organized tours with Cicchetti tastings, street food, visits to restaurants, cooking courses, or wine tastings with or without dinner.
*All prices quoted are subject to change. The current offer of the provider always applies. Details of the respective offers are also on the page of the provider. 
ℹ️ Tip: For romantics, of course, the unforgettable candlelit Galeons dinner in the Venice lagoon.