Venice is an expensive place. There is hardly any cheap accommodation in the historic old town and life here is not exactly cheap either. At great expense, everything is transported by water. But there are still some ways for tourists to save money, which of course we won't get into when we talk about water taxis. It's a sinfully expensive experience, but if you treat yourself to a taxi boat, you won't regret it!
What are water taxis in Venice?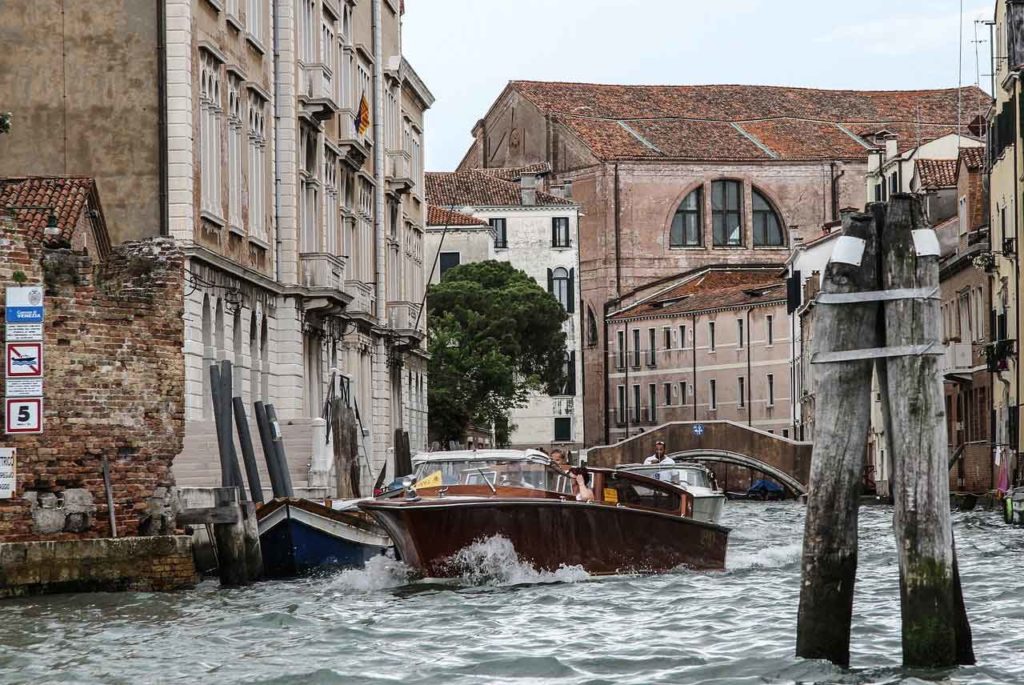 You can easily do everything in Venice on foot. Otherwise, the water buses of the public transport system will take you everywhere. The gondolas are more for the romantics and since there are only canals in the water city, only the water taxis remain if you want to get around more quickly and easily. The more than 100 taxi boats in Venice are an important means of transport for a quick connection in the historic city centre, between the islands of the lagoon, to the airport and to the cruise terminal.
The sleek water taxis can also enter the narrow side canals of the Grand Canal. But don't confuse water buses and water taxis! Water buses, also called vaporetti, are part of local transport, have a fixed route, a precise timetable and fixed fares. Water taxis are comparable to taxis on our streets.
Where are most of the water taxis located?
You are most likely to find a motoscafo, as Italians call a water taxi, at a taxi rank at the train station, Piazzale Roma, the Rialto Bridge (photo above) or San Marco. Plus, of course, the airport or the cruise terminal. Despite the horrendous prices, however, it is often not so easy to find a free taxi boat. With 30 million tourists a year, that's understandable. Traditionally, families and couples from Japan or America, and recently also from China and India, have different cost ratios. After a long journey, the dream of a romantic Venice finally comes true and then the price of a gondola or water taxi hardly matters.
You can always try to get a free taxi on the water by shouting and waving. Whether the Motoscafi captain steers his boat to you or stops at all will be noted in your Venice experience list. Otherwise, book a water taxi in advance, as described later, or perhaps try a reservation via this phone number: +39 041 240 6711.
How much does a water taxi cost?
Here, first of all, an important difference, which is especially noticeable in the price. There are private taxi boats, which means you have the boat all to yourself. Or you can book a water taxi in advance and share it with other passengers.
Water taxi with other passengers
This service is particularly popular when travelling to Venice via Venice Tessera Airport, i.e. the main airport Aeroporto Internationale Marco Polo di Venezia (VCE). These prices are for taxi boat transfers with other passengers.
If you arrive at Santa Lucia station or Piazzale Roma, there are collective water taxis to the Lido to the Santa Maria Elisabetta stop for onward travel.
More tickets for taxi boats with other passengers:
Various
Price
Ticket
Murano Private Taxi +
Glass Blowing Demo 
€ 45,00
Book online
Murano & Burano
SHARED TOUR
€ 114,00
Book online
Private taxi boat
When booking a private water taxi, prices can vary widely, but everything starts well above €100.00. On top of that, there can be luggage and night surcharges. Even for a short trip, such as from the Rialto Bridge to St. Mark's Square, you will still have to pay between €70.00 and €80.00. The only price certainty for private water taxis is for pre-booked private journeys. The following prices apply here.
The prices are already pure luxury. A tip to the captain of the Motoscofo at his discretion is of course allowed, but not essential, except for special or additional services.
Advantages and disadvantages of a water taxi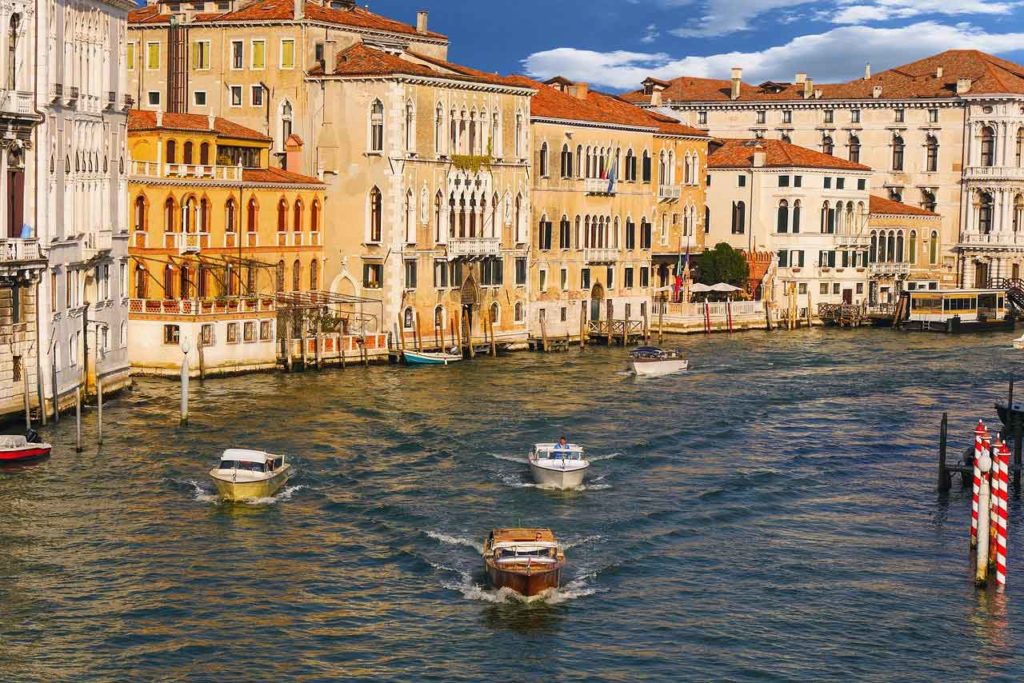 Why not take a water taxi for a change? When considering the advantages and disadvantages of a taxi boat, it is very simple at first. The disadvantage is of course the extremely high price. But it becomes surprising when you take a closer look at the advantages. A lot of it has to do with the special features of Venice.
✅ Bypassing public transport in Venice. Water taxis are not crowded like water buses, no waiting, no queuing.
✅ Water taxis are the only way to get directly to accommodation in the historic part of Venice via the canals at your leisure. Of course, they can also take you to sights, restaurants or for sightseeing tours of the city's waterways.
✅ Luggage transport easily to the hotel, which is a real luxury in the lagoon city with its many bridges and stairs. Especially in the hot months of the year.
✅ Taxi boats can be pre-ordered and you don't have to rely on a timetable. The boats on the water run 24 hours a day, 365 days a year.
✅ Water taxi drivers are the first source of information about Venice for many visitors. The ride on the private boat is also already the first sightseeing tour of the city of canals. Perhaps the captain will make a small diversions for the first glimpse of the Rialto Bridge?
✅ Comfort and safety, even from pickpockets, who unfortunately are also up to their mischief in Venice.
✅ For bigger families and small groups of about 6 people, the price of the comfort of a private water taxi quickly softens.
Practical advice
Water taxis offer space for six to ten people depending on size and equipment. The usual luggage for travellers who want to take the taxi boat from the airport or train station to the centre of Venice can be transported without any problems. People with reduced mobility can of course use the taxi boats, although getting on and off may not always be easy. All public water taxis in Venice are licensed, comply with the respective safety regulations and are regularly inspected.
Water taxis and photo motifs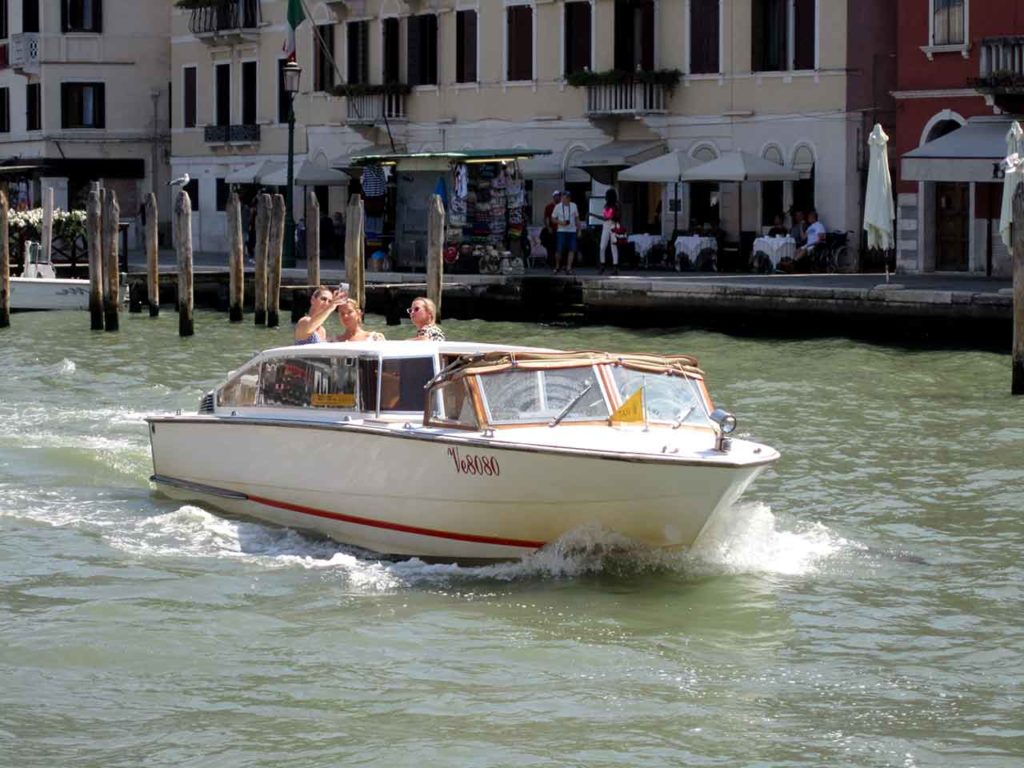 Nowhere can you find better photo motifs in Venice than from a taxi boat. Some users of these motoscofi even keep their smartphone video recording the entire ride, in rapture. If you want to see and photograph the Grand Canal, for example, you should treat yourself to a ride on a water taxi. Unlike on a crowded vaporetto, you have enough space, freedom of movement and an unrestricted all-round view to take beautiful photos. Actually, this is the only way to capture the authentic Venice in a picture.
Venice taxi boats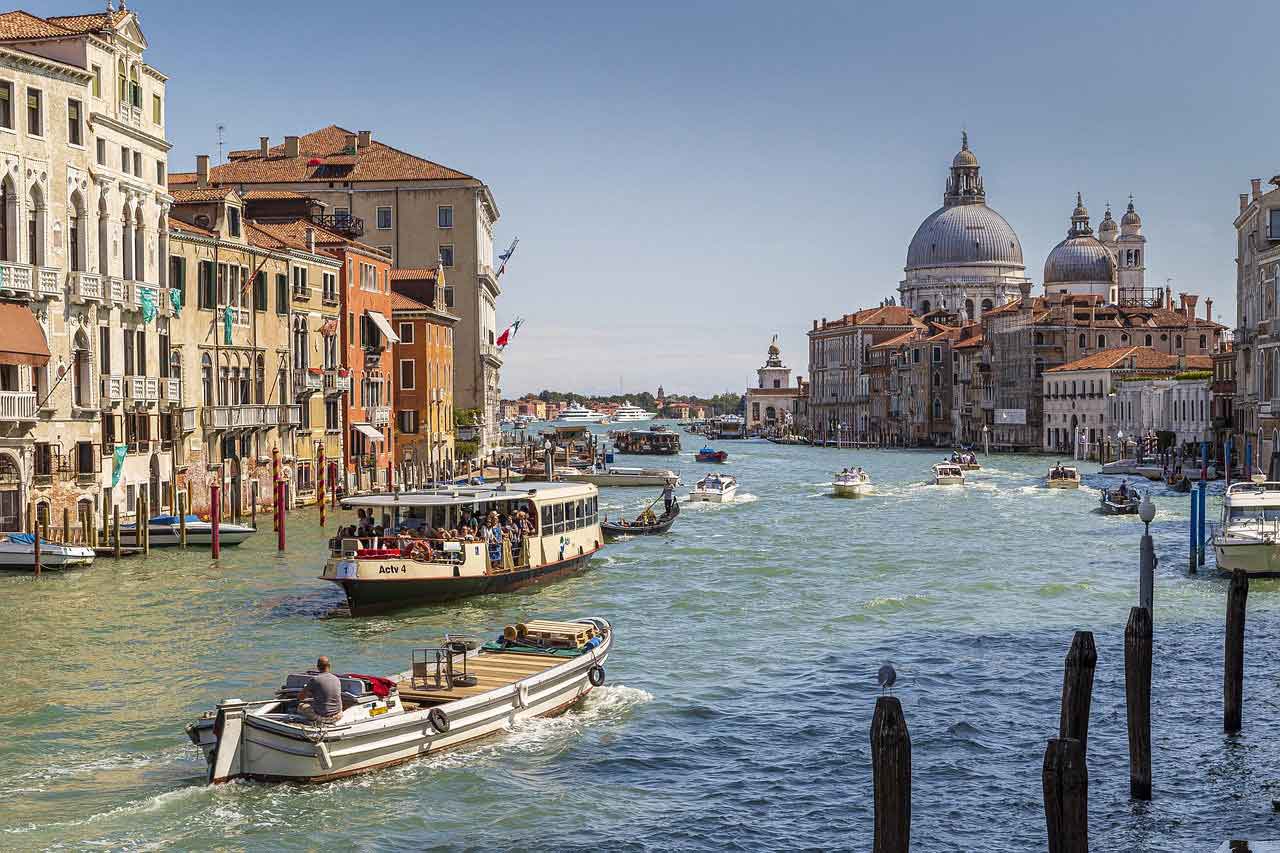 Looking at pictures of the traffic on the Grand Canal, almost everything seems traditional. The gondolas, the aging vaporetti, old barges and of course the almost iconic wooden water taxis. Many of them are already over 20 years old, yet lovingly maintained and always perfectly painted. The boats have changed as little as Venice itself.
Many boats come from the Serenella shipyard on the nearby island of the same name. Here, wood is still processed as it used to be. The boats are about nine metres long and just 2.20 metres wide. That is enough for the dimensions of the narrow canals on which they are allowed to sail. They can even meet another boat or a gondola and just turn right at the next waterway crossing.
Expensive water taxis and expensive hotels
Venice's wooden water taxis are traditionally always surrounded by an air of elegance as stars are chauffeured through the canals of the lagoon city and dropped off directly at the city's most luxurious hostels. Honeymoons, anniversaries or those who want to have a real blast in addition to the water taxi, opt for one of the two most famous luxury hostels in the middle of the typical hustle and bustle of Venice. But just dropping by is also allowed.
Hotel Cipriani
The Belmond Hotel Cipriani is located on the island of Giudecca, directly opposite the lively St Mark's Square, in seclusion and with a beautiful garden. The hotel's own shuttle boat regularly sails across the Bacino di San Marco and after a few minutes you are already in the middle of the tourist hustle and bustle. With accommodation prices starting at €800 to €1000 for the cheapest room with a garden view and a lot of tradition, there should be no lack of amenities. Breakfast is included in the price.
Address: Hotel Belmond Cipriani, Giudecca 10, Giudecca, 30133 Venice, no. of rooms 96
Hotel Danieli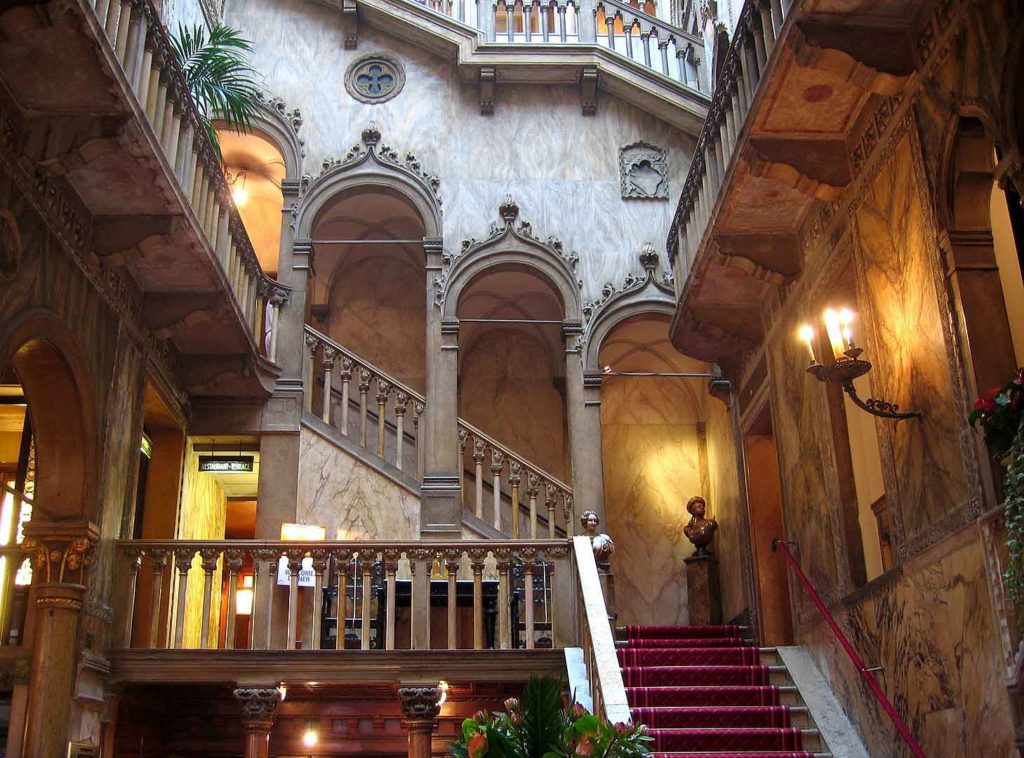 A real Venetian palazzo, lots of velvet, curlicues and gold. The absolute "MUST HAVE" in Venice is the great roof terrace with a fantastic view. Breakfast is served here for in-house guests, otherwise you can have a not-so-cheap prosecco here in the afternoon even without a reservation. The historic rooms offer all comforts, but are not particularly large. Located almost next to the Doge's Palace, the hotel's staircase (photo above) is a popular Instagram motif today. If the hotel looks familiar, it's certainly from the James Bond films Moonraker and Casino Royal. The riveting thriller The Tourist starring Angelina Jolie and Johnny Depp is also set in this pompous luxury hotel, where they both check in after the obligatory water taxi ride.
Address: Hotel Danieli, Riva degli Schiavoni, 4196, 30122 Venezia, no. of rooms 204, double room from € 350
---
Image sources:
Water Taxi Stand: User:Nino Barbieri (https://commons.wikimedia.org/wiki/File:Venice_-_Water_taxis.jpg), "Venice – Water Taxis", https://creativecommons.org/licenses/by-sa/2.5/legalcode
Hotel Danieli: No machine-readable author given. Galileo~commonswiki suspects (due to copyright claims). (https://commons.wikimedia.org/wiki/File:Danielli_Hotel_in_Venice.jpg), "Hotel Danielli in Venice", https://creativecommons.org/licenses/by-sa/3.0/legalcode
All others: Pixabay