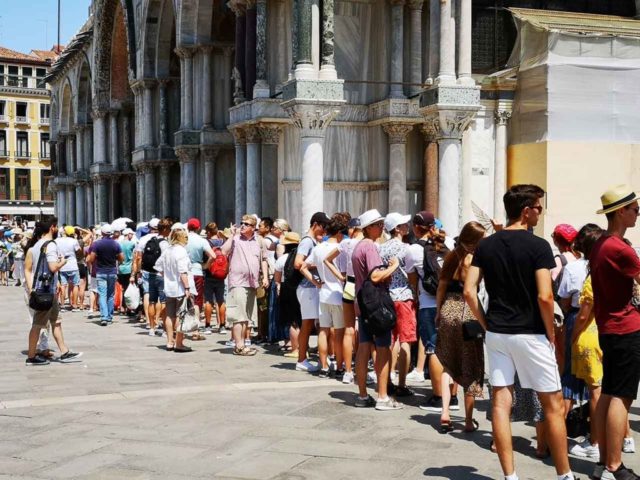 Waiting times in Venice | There is always something going on in this world-famous lagoon city in the Adriatic. Cheap airlines from all over Europe not only land at the nearby Marco Polo airport but also use Treviso airport, a little further away, to cope with the crowd of tourists.
The new cruise terminals can accommodate several ships at the same time and motorists will find additional parking spaces on the artificial island of Tronchetto, which is close to the city.
Unlike Paris, Rome, or London, Venice is a smaller metropolis and, for this reason alone, has fewer exceptional monuments. But many museums and churches are unique and attract countless art and culture lovers. And then there are the romantics who want to visit this fantastic city because of the famous canals with their picturesque bridges and authentic districts.
This is not the only reason why there is always an enormous crowd of tourists in front of the main sights of Venice. Venice is a must-see destination for city travelers with its sea location and the many surrounding lagoon islands as tourist magnets.
✓ Of course, you should not miss a trip to Venice. Therefore I will explain to you how to avoid waiting times in order to better plan your stay in this unique historical lagoon city.
Waiting times at the most visited sights in Venice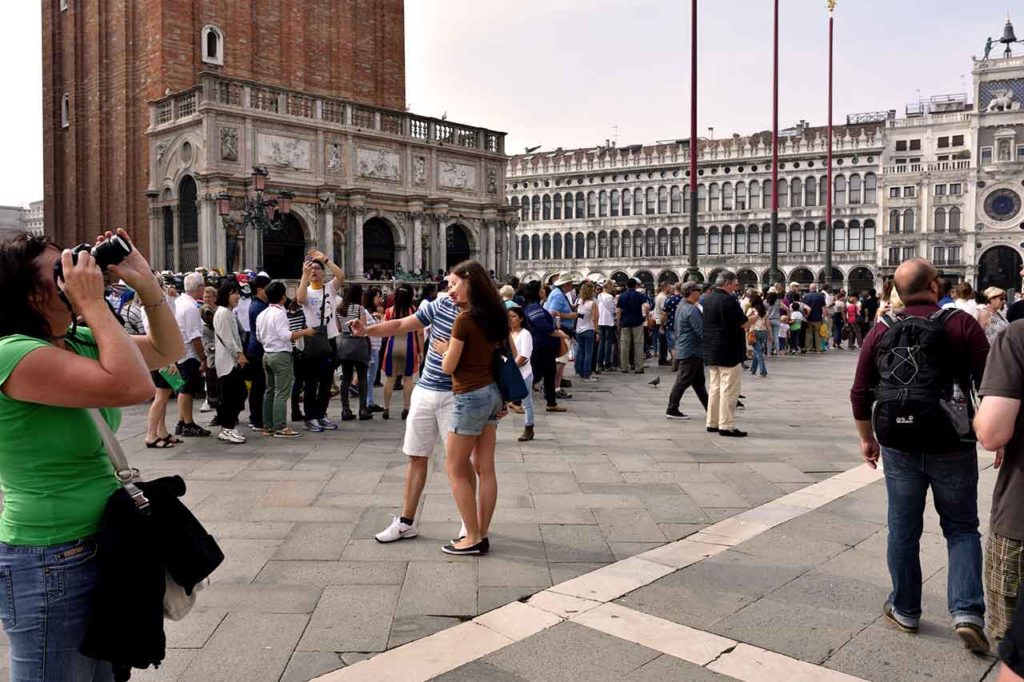 Without a doubt, St. Mark's Square with the golden Basilica di San Marco, the Bell Tower, and the adjacent Doge's Palace with the world-famous Bridge of Sighs are among the most important sights of the city. A visit to the Basilica of St. Mark with its five domes is free of charge and the crowds of visitors are magnificent.
Even if there are no exaggerated security checks at the entrance, a long queue has to be reckoned with all the time. Waiting times of more than one hour are not uncommon…
Access to St Mark's Basilica – without waiting time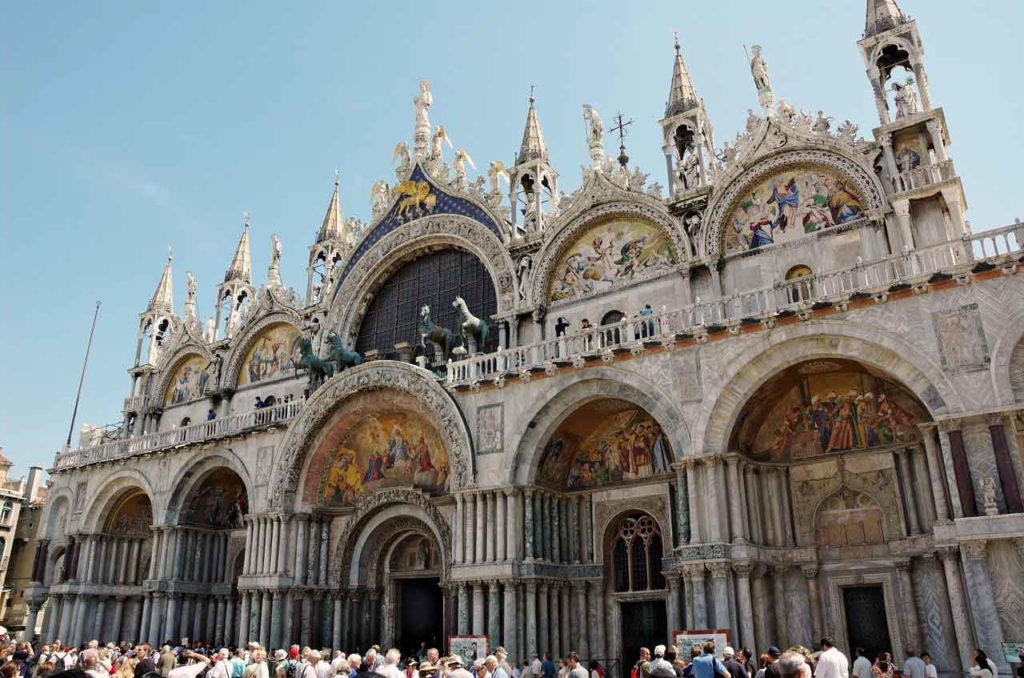 Only those who book a guided tour through St. Mark's Cathedral have direct access to the church at the time mentioned. So if you don't want to queue, you can book a guided tour directly here. It gets a bit more expensive if you just want to treat yourself to skipping the queue.
Venice visitors come from all over the world. The number of guided tours in English is therefore limited and demand is correspondingly high.
Guided tours of the basilica are only permitted with appropriate clothing. Shoulders and knees should be covered. Rucksacks, bags, and other bulky or large objects must not be taken into the church and a depot nearby is indicated.
Please remember that photographing and filming are not allowed in St. Mark's Basilica either. Everything you need to know about St. Mark's Basilica, such as sightseeing, opening hours, and other things can be found in the St. Mark's Basilica section of this blog.
Ascent to the St Mark's Bell Tower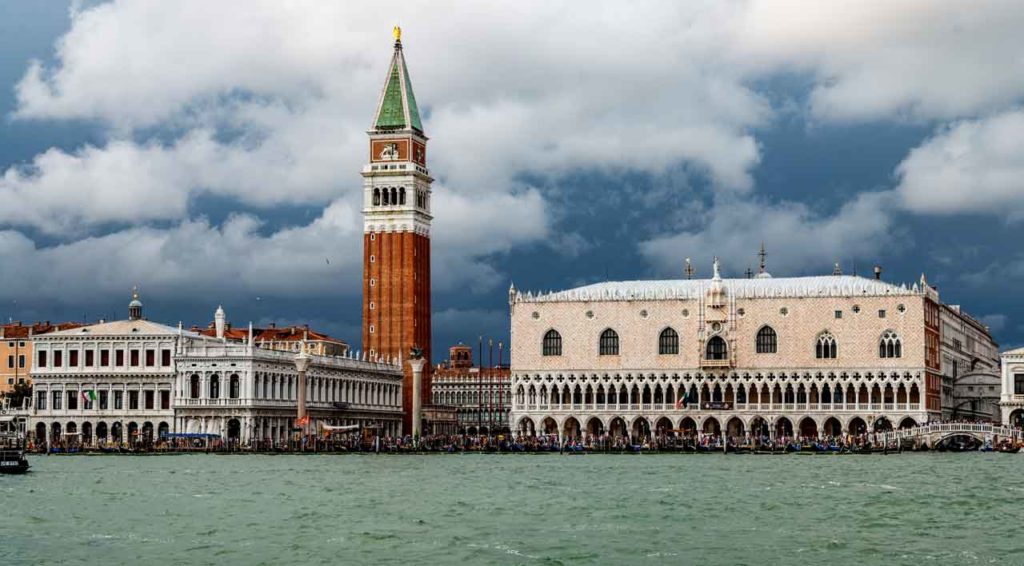 There is also a separate article on my blog about the St Mark's Tower, which is the campanile of St Mark's Basilica. Here, too, there can be long waits when waiting to go up in the lift.
In order to enjoy a fantastic view of historic Venice and the islands of the lagoon, you should allow some time. Tickets can be purchased cheaply on-site, or in advance online for reserved access. They can also be purchased directly in connection with a visit to the Doge's Palace.
Bell Tower
Price*
Online Tickets
Reserved Entrance
16,00 €
Book online
Children 0 - 5 years
free
Reserved Entrance +
Doge's Palace
51,00 €
Book online
Waiting times at the Dogenpalast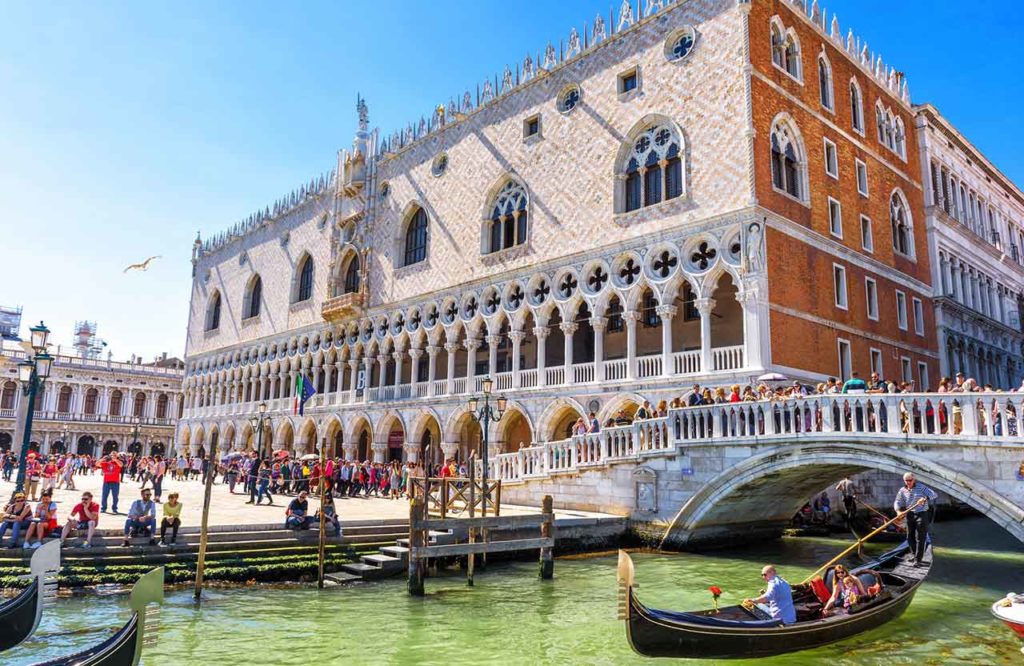 For those who want to get to know the great history of Venice, the Doge's Palace is one of the absolute top sights of the city. The Palazzo Ducale is one of the most famous buildings in Venice. For over 800 years it was the seat of the Doge and the government of the Venetian Republic. No building in the lagoon city embodies more the different sections of the historical Venice.
A sightseeing tour is, in fact, a must here and a walk on the famous Bridge of Sighs is a highlight during a visit to Venice. The queues for an entrance are therefore long.
Some people talk for about 3 to 4 hours, but I think you should be prepared for 1 to 2 hours. So it's much faster with tickets bought online in advance with priority access – without queuing.
Admission fees Doge's Palace – Admission without queuing
The entrance fee to the Doge's Palace includes a visit to the Correr Museum, the National Archaeological Museum, and the Biblioteca Nazionale Marciana. All information can be found in the Doge's Palace section.
For holders of the Venice City Pass, the normal entrance fee to the Doge's Palace and its museums is already included in the purchase price. Here, too, priority admission without queuing applies. All information about the Venice City Pass is also available in the Venice Passes section. The same applies to the Venice Pass and the Museum Pass.
Why should waiting times be avoided?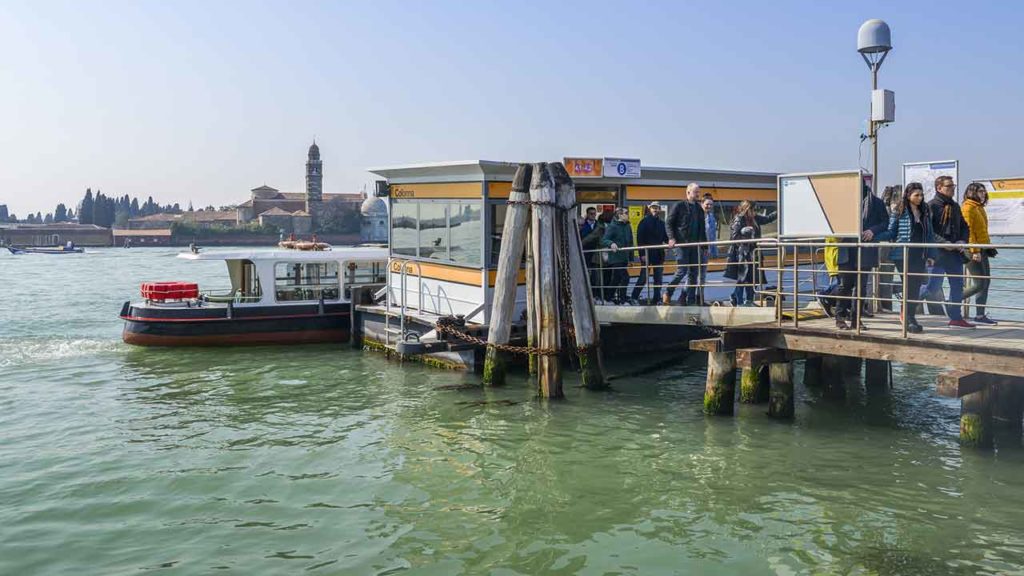 Countless day visitors, crusaders, hotel guests from Mestre, and many tourists staying in the city center start their sightseeing tour of Venice mostly in the early morning at the Santa Lucia train station, at the Piazzale Roma bus station, or at one of the public water bus stops. The island is completely car-free, so no matter if comfortably on foot or eventful with the popular water buses with their numerous stops, up to the Piazza San Marco, one should plan 30 minutes or maybe even 45 to 60 minutes.
If the visit to St. Mark's Cathedral, Doge's Palace, and Bell Tower takes one hour each and that is still in connection with an hour waiting for the time each for the entrance, then it is perhaps already 17 or 18 o'clock and the day is already approaching the end. So there is no time left for a photo of the world-famous Rialto Bridge, one or two museums or church visits, a stroll through the picturesque district of Cannaregio, or perhaps even a short detour to the Lido.
There is also the possibility of combined tours for St. Mark's Cathedral and Doge's Palace. In 2 hours you have visited everything and then you can enjoy the rest of Venice in a different way.
Guided tour
Duration
Price*
Tickets
Doge's Palace +
St Mark's Basilica
2 hours
80,00 €
Buy online ticket
How to estimate waiting times correctly?
As already mentioned, Venice is completely car-free. Thus, there are no buses, trains, or other means of transportation. On the waterways around Venice, with numerous stops as public means of transport, there are only water buses that are here called "Vaporetti".
It always takes longer to moor, get out, get in, and get out than it does to travel by metro in Paris or London. Thus, one should not underestimate the duration of the transport from one attraction to the next with a Vaporetto. Here are a few examples:
Station Santa Lucia / Piazzale Roma – Rialto Bridge – Approx. 20 Minutes

Station Santa Lucia / Piazzale Roma – St Mark's Square – Approx. 45 Minutes

Station Santa Lucia / Piazzale Roma – Lido di Venezia – Approx. 60 Minutes

St Mark's Square – Lido di Venezia – Approx. 15 Minutes
Of course, the values are only valid for one distance, i.e. without a return journey.
Thus, those who want to experience some things in Venice should therefore, in any case, avoid unnecessary waiting times in front of the different sights. Many tickets cost on the spot as much as in the case of booking in advance. This is a great way to make your city trip the best it can be.
Where can waiting times be expected?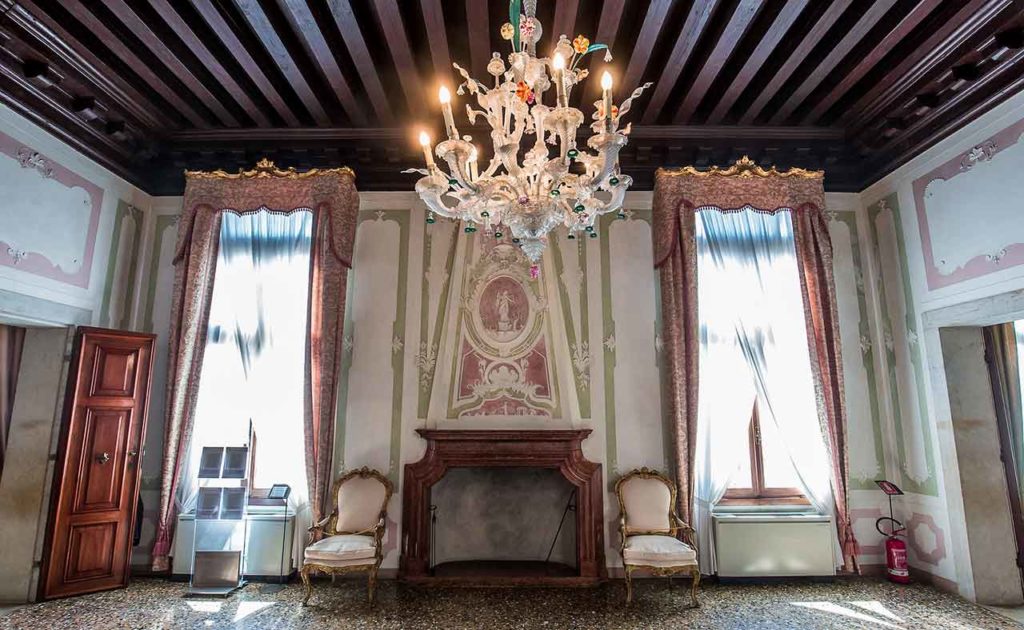 Depending on the season, weather, day of the week, or special exhibitions, there may also be waiting times at the most popular museums. Here, too, priority access is guaranteed when purchasing online tickets booked in advance.
The following is a list of the most popular museums in Venice. The greatest demand for tickets is currently for the modern art collection Peggy Guggenheim Collection.
Conclusion on waiting times in Venice
I hope I have helped you a little with this article and given you a good overview of the problem of waiting times in the lagoon city. Don't forget that Venice is one of the main tourist destinations in Europe and is completely overcrowded with visitors almost all year round. Unfortunately, the problem of waiting times is often underestimated. Also, the classical travel guides very rarely point this out.
A summary of online tickets, highly recommended, recommended, or other online tickets, can be found in detail in the separate article Venice Online Tickets.
*All prices mentioned in this article are subject to change. In principle, the current price of the respective supplier counts. Discounts for prices for teenagers, children, or other groups of persons can also be found on the website of the provider.