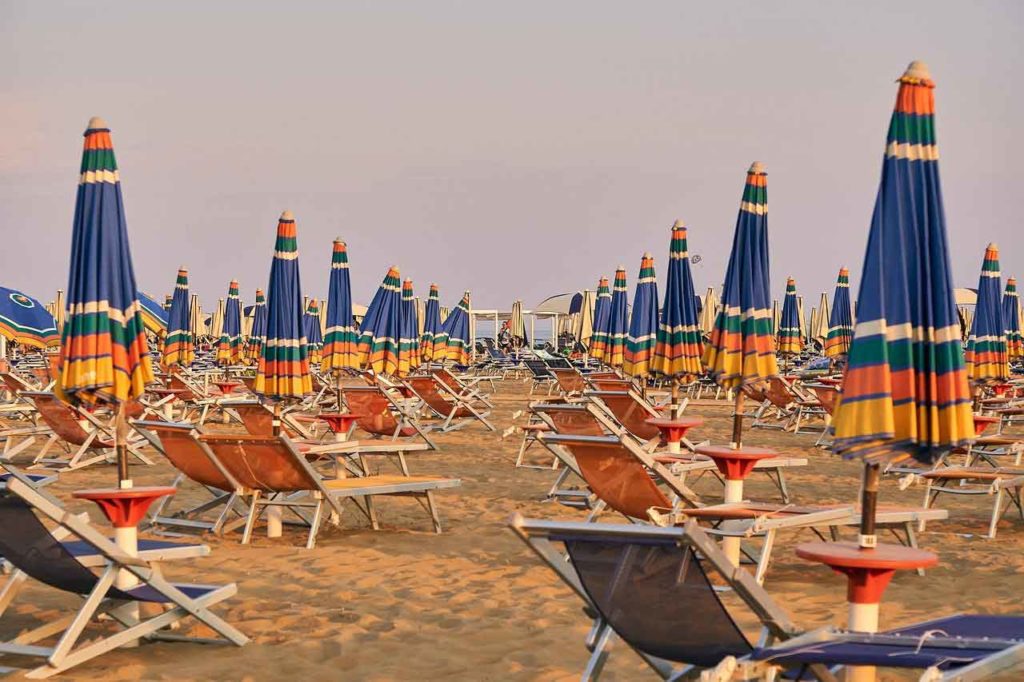 The Venice Lagoon is a lagoon separated by headlands and islands in the north of the Adriatic Sea. In it lies historic Venice, which is the destination of an eternal stream of visitors. For tourists, Venice means above all canals with gondolas, pigeons in St Mark's Square, and the Grand Canal with Rialto Bridge.
Art and culture in St Mark's Basilica and Doge's Palace and stories about the Bridge of Sighs. But everything that surrounds the capital of the Veneto region is also a unique experience with lots of nature and history.
Location of the beaches
Venice visitors looking to cool off or see more of Veneto take day trips to the nearby beaches. Beach holidaymakers from well-known seaside resorts on the Adriatic naturally don't want to miss out on a sightseeing tour of the world-famous lagoon city. Here is a small overview of well-known and lesser-known beaches in and around Venice.
Lido di Venezia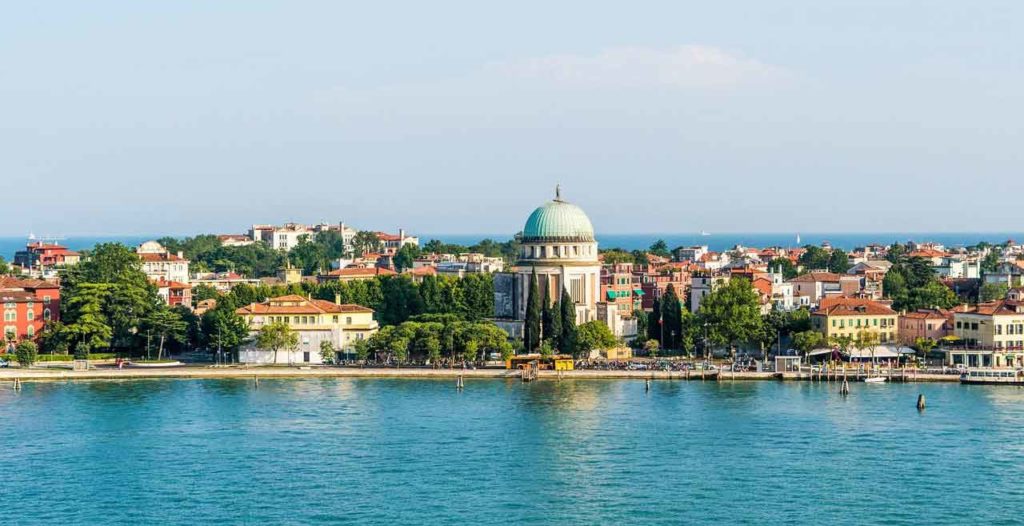 From the tourist center of Venice, you can see an offshore part of a spit, the Lido di Venezia (photo above). It separates the Venice Lagoon from the Adriatic Sea. Lido di Venezia is a fashionable beach paradise, adjoined to the north and south by popular tourist beaches and wild and relaxing natural beaches.
In the Venice lagoon, there are a large number of inhabited and uninhabited small islands, all of which are more or less part of Venice's tourist catchment area. However, Torcello, Murano, and the other islands in the lagoon are all no bathing paradises. So the beaches on the open sea side to the Adriatic are more or less far away from Venice.
Bibione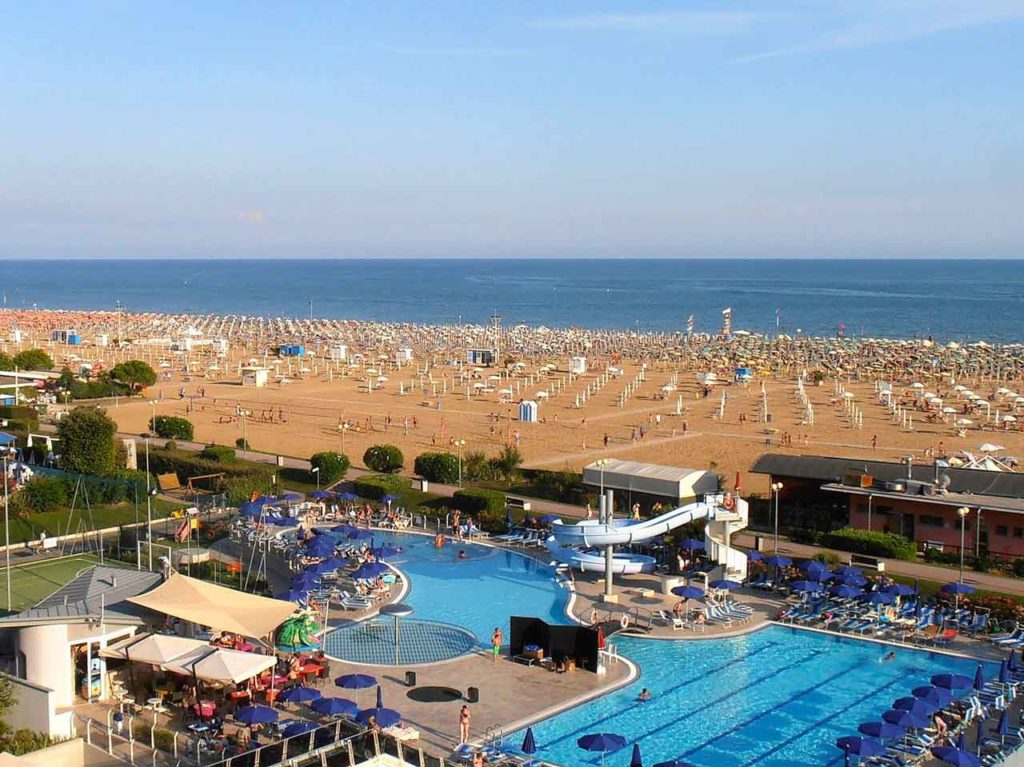 It is about 100 kilometers or 1 hour and 15 minutes by car from Bibione to the central Tronchetto car parks next to the historic old town of Venice. With almost 10 kilometers of sandy beach, Bibione is a popular holiday resort on the Adriatic Sea among Germans and Austrians.
The very clean sandy beach, which slopes gently into the water, is particularly popular with families. Bibione is known for its environmentally friendly tourism, safe beaches, and clean sea. Pure holidays, mainly with beachfront accommodation in campsites, flats, and hotels. The only reason to leave this beach paradise is at most a day trip to Venice.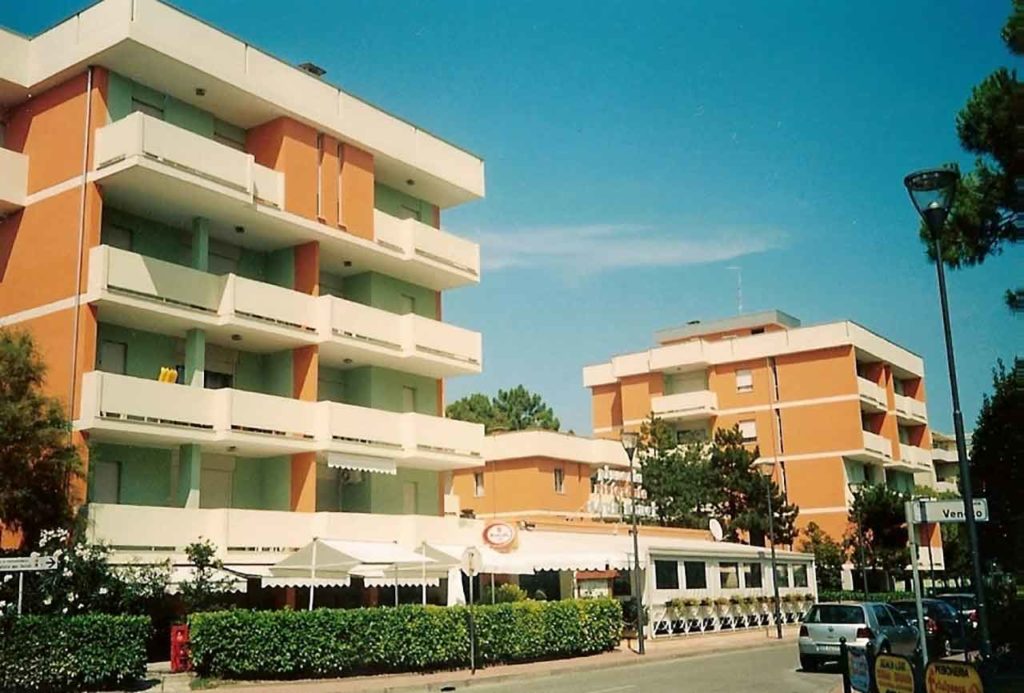 ✅ Tip Accommodation: Apartments Cormoran Bibione Lido del Sole – Typical accommodation in Bibione, private parking, free WiFi, top location, only 100 meters to the beach. The supermarket, several pizzerias, and gelaterias are just around the corner.
Apartments Cormoran online booking
Caorle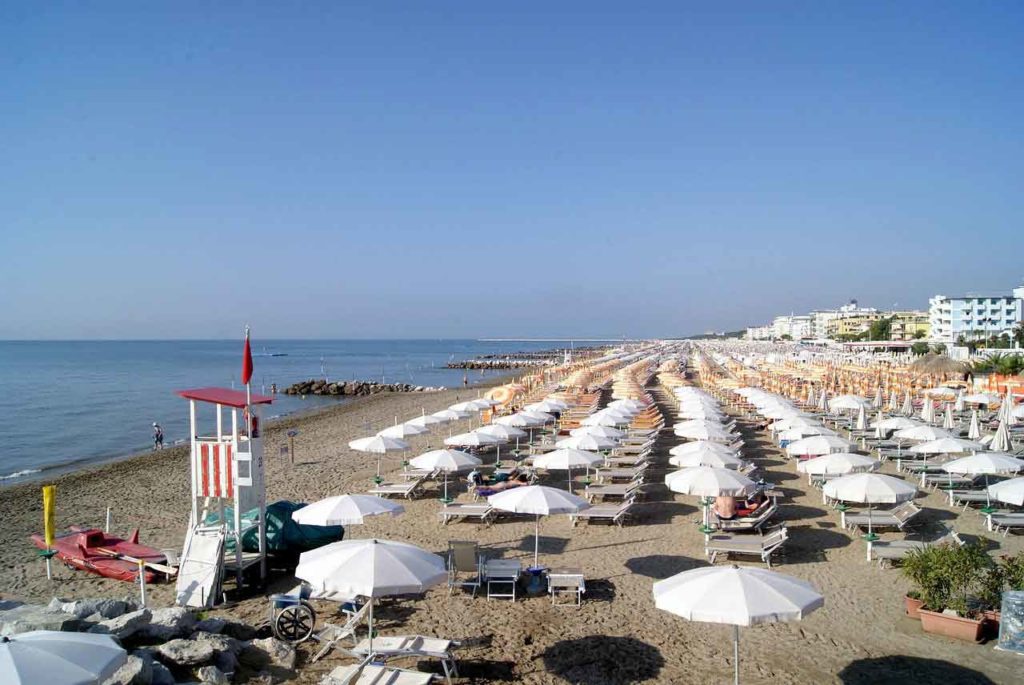 Italy is at its best! Golden yellow beach, blue glittering sea, and an incredible number of sun umbrellas. In addition, a picturesque and charming old town, which reminds one a little of Venice with its winding alleys. Caorle is a place for everyone, whether family, young or old, pensioners, singles, or couples, so there is plenty going on here. Add to that a stroll through the boutiques, delicious food, and relaxing with a drink, and you have the perfect place for summer.
Don't miss a walk to the eastern edge of the town, to Falconera, famous for its typical Venetian fish restaurants. It is also the starting point for cycling and walking tours along the splendid nature of the Caorle lagoon. Several times a day, visits by excursion boat are also possible.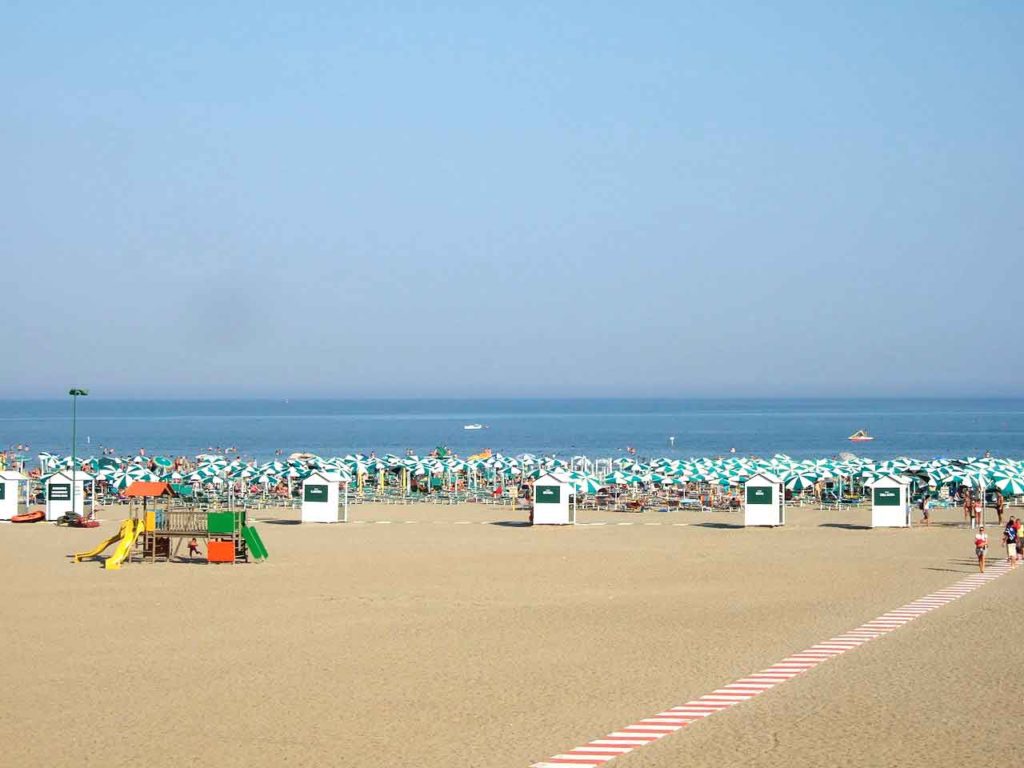 Actually, it is only a few kilometers by sea from Bibione to Caorle. By car, however, you have to make a long diversion around the Caorle lagoon. Day trippers need about an hour by car to get to Venice.
Hotel tips:
🏨 Hotel Garden Sea – Quiet location, near eastern Spiaggia di Levante (photo above).
🏨 Hotel Cleofe – almost in the middle of the lively old town.
🏨 Hotel Delle Nazioni in Caorle – Directly on the popular Spiaggia di Ponente
Lido di Jesolo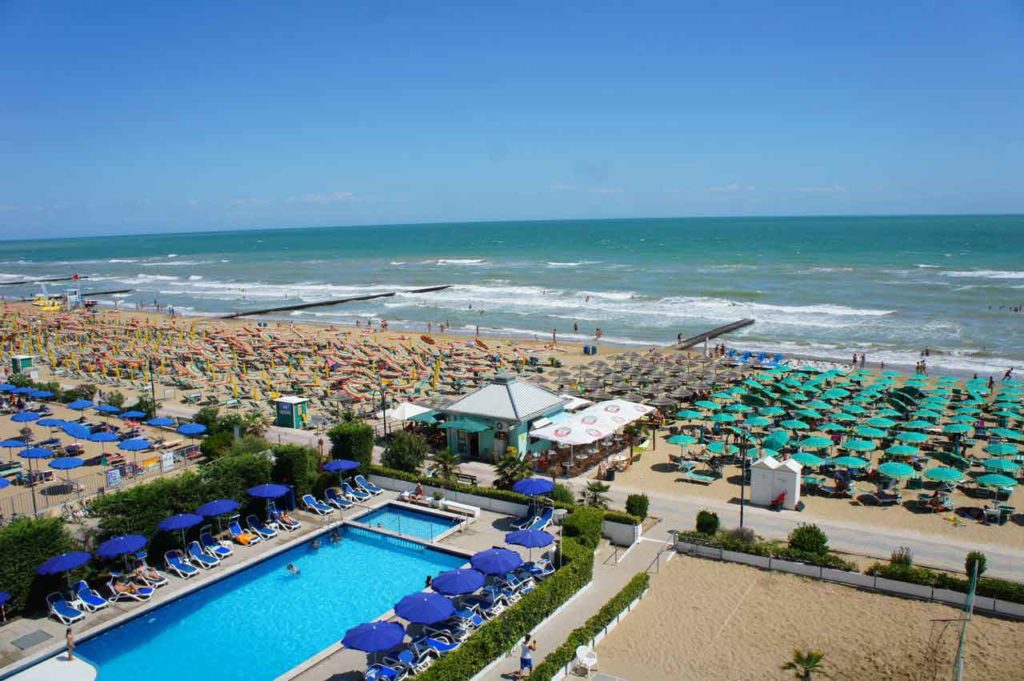 One of the most popular holiday resorts on the Upper Adriatic and one of the classics for many German, Austrian, and Dutch tourists. Also due to its proximity to Venice, everything is a bit bigger and livelier here. The legendary and family-friendly sandy beach is 15 kilometers long. The beach promenade is no less extensive, with countless boutiques and shops. The golden sandy beach is one of the most beautiful in Italy. In Jesolo, a perfect beach day and party in the evening are guaranteed. Everything here is rather gigantic, and there is no shortage of German beer either.
Venice is not far away. By car, it's either 45 minutes directly or 30 minutes to the ferry port of Punta Sabbioni with its huge car parks. From there, ferries go directly to the world-famous St Mark's Square. It's best to book your day ticket from Punta Sabbioni here in advance. Because of the proximity to the famous lagoon city, all routes can also be covered by bus. Of course, this applies to both directions. If you want to treat yourself to a day in a deck chair during your stay in Venice, you can book your bus tickets from Piazzale Roma to Jesolo right here.
Cavallino – between Jesolo and Punta Sabbioni
Halfway between Jesolo and the Punta Sabbioni ferry station is Cavallino with its endless beaches. There are numerous campsites and holiday resorts here. You will find all the amenities along the coastline, yet much is still natural here. Golden beaches, dunes, pine forests, and a fascinating lagoon landscape. In the background, you can already see the unmistakable silhouette of Venice. Ideal for a beautiful summer day, but in winter there's nothing going on here. At the end of the beach in the far south is the picturesque "Faro di Punta Sabbioni" lighthouse.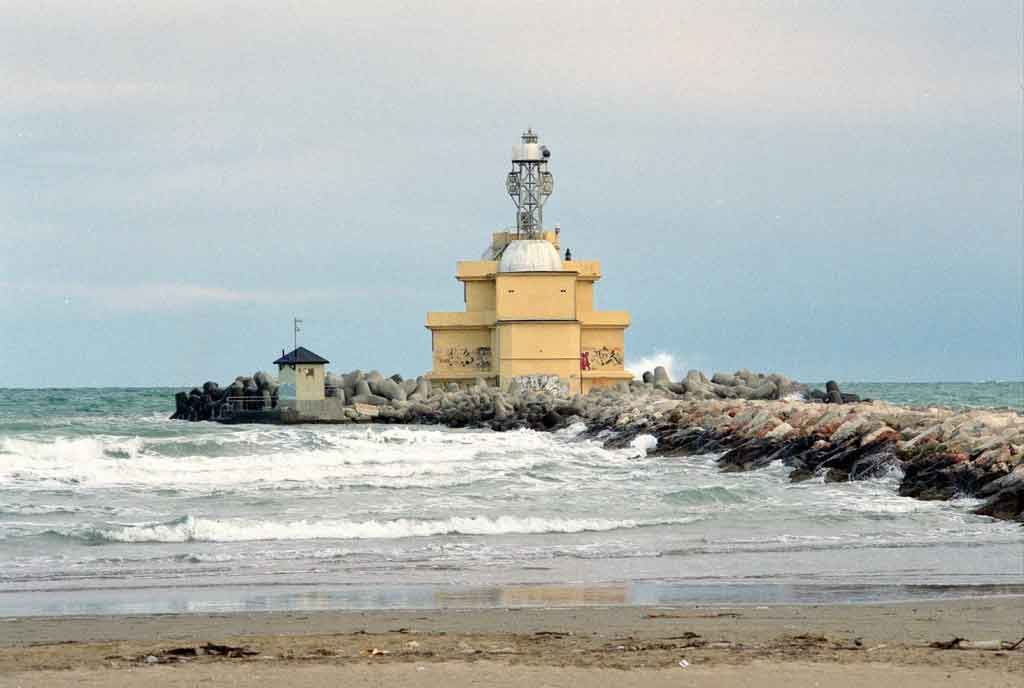 If you're looking for a free beach and want to be far enough away from the nearest sunbather or bather, you've found the right place. With over 10 kilometers of beach at Cavallino on the Adriatic side alone, this should come as no surprise. There is plenty of space to relax, play an undisturbed game of bocce, or take a long walk along the seashore, even though the beaches here are among the most frequented in Europe. Punta Sabbioni also has lots of information about the surrounding area and the best connections to Venice.
✅ For a short trip from here to Venice: boat transfer to Venice
Sant´Erasmo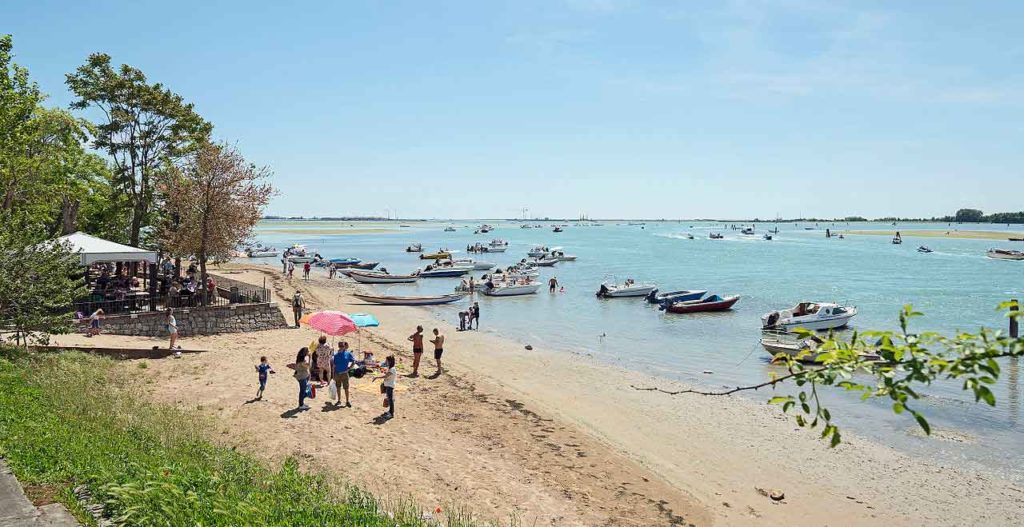 The island of Sant'Erasmo is the largest island in the Venice lagoon. It is surrounded mainly by the tourist islands of Burano and Murano, and to the east by the mainland with the town of Punta Sabbioni. Rather something for Venice fans who want to discover something new. It's not a bathing paradise, but don't forget your towel and bathing suit in summer. Sant'Erasmo is also known as the vegetable and garden island, because much of what you find on the Rialto market in historic Venice, for example, comes from this island. Specialties from here are young artichokes (photo below), as well as green thin asparagus.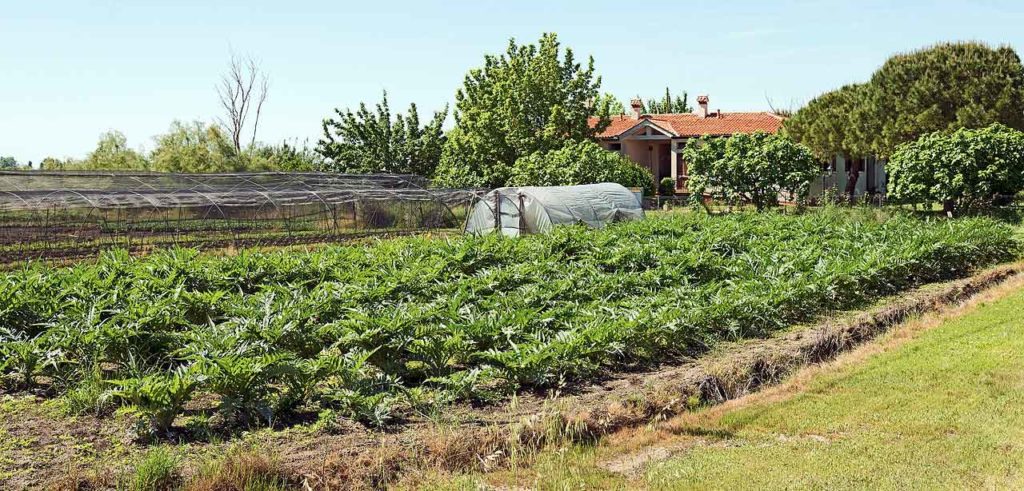 Sant'Erasmo is an absolute contrast to lively Venice. You leave the famous lagoon city with the vaporetto line 13 from Fondamente Nuovo and get off at one of the three stops on Sant'Erasmo. My suggestion would be the stop "Sant'Erasmo Chiesa", i.e. at the church of Sant'Erasmo. If you are planning a picnic, there is a small supermarket "Supermercato" near the church for the last purchases. Then it is best to walk through fruit trees, vines, tomato bushes, and salad fields to the other side of the island and then head south. A contemplative walk through the large garden that supplies Venice with fresh produce. To the south, after about 2 to 3 kilometers, you reach the Forte Massimiliano, an old Austrian fortress. Here it is now time for a picnic or a small snack. Time to relax and the promised beach (photo above) for refreshment is also there. Then you can make your way back, preferably to the "Capannone" stop 15 minutes away. After a last glass of wine at the jetty, you will miss the endless peace and unexpected seclusion of this garden island.
✅ Tip: If you particularly liked it here, you will also find options for overnight stays. There is plenty of rural design and homemade products in the middle of the garden island at Agriturismo Basegò. Il Lato Azzurro is simple and functional, with a very good breakfast and free bicycles.
The beaches of Lido di Venezia
The narrow lagoon island in front of Venice's old town, which stretches for about 12 kilometers, has always been considered a fashionable seaside resort. Even today, the numerous luxury hotels and art nouveau villas here are worth seeing. The Thin Spit is also famous for the international film festival that takes place here every year. Everything you need to know about the "Lido", such as history, architecture, how to get there, and where to stay, can be found in my detailed article Island of Lido di Venezia.
Lido is part of the city of Venice and is also fully included in the public water bus transport network. The most important line for tourists is number 1, which connects St. Mark's Square with the Lido Santa Maria Elisabetta (S.M.E.) stop in 15 minutes. Day tickets can be booked in advance here. But the highlight of the Lido is the kilometers of sandy beaches from San Nicolò in the north to Alberoni in the south, each with its own elegance, charm, or naturalness beaches of Lido di Venezia
Spiaggia di San Nicolò
This is a public beach in the north on the Lido of Venice. All the beaches listed below are either free, private, or chargeable. The only thing they have in common is that the gently sloping seabed means that children can swim safely everywhere. The beach of San Nicolò is located in a nature reserve and is therefore particularly wild and natural. There are no restaurants, water sports, or sanitary facilities here. Rather something for those seeking relaxation, even in summer.
Blue Moon Beach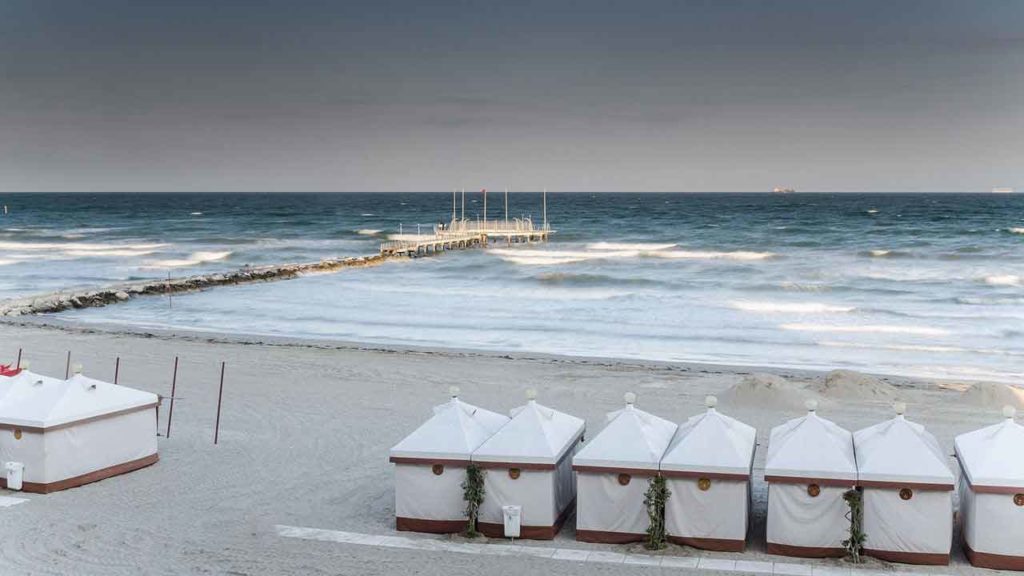 Further south we come to the most popular beach in Venice. After arriving on the Lido by water bus, it is about a 10-minute walk to this free section of beach. Nevertheless, there are many facilities here that offer guests a stay with every comfort. In addition to showers and sanitary facilities, there are plenty of bars and restaurants as well as water sports facilities at Spiaggia Blue Moon. What is striking here are the many cabanas. These are beach huts consisting of a closed cabin with a veranda and awning. They are equipped with sunshades, deck chairs, tables, and chairs. They are especially popular for those traveling with family or friends. The cabanas (photo in front of the Hotel Excelsior) can be rented by the day.
Spiaggia di Murazzi
A 20-minute walk south brings you to Murazzi beach. Here everything is accessible free of charge, but you have to do without all the amenities such as toilets, showers, or changing rooms. You will recognize that you have arrived there by the white rocks, the "Murazzi", a protective wall made of white marble, after which the beach section is also named. This is a long way from Venice and therefore the right beach for those seeking peace and quiet.
Alberoni Beach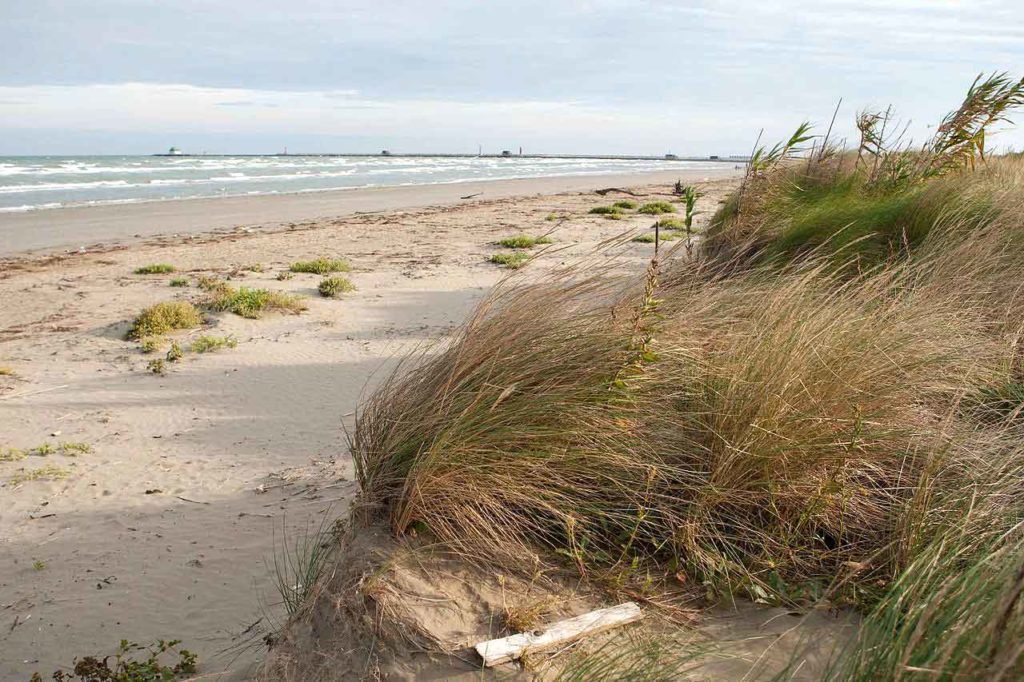 If you travel all the way to the south of Lido, you come to Spiaggia degli Alberoni, the last strip of sand in Lido di Venezia. Alberoni comes from the old name Albaiones, which means "white dunes". These can still be found on the beach today and are protected as nature reserves. They indicate an intact nature and contrast with the urban character of Venice and its suburbs. The long and wide public beach thus justifiably enjoys exceptional popularity in summer.
The tourist infrastructure here is limited to a small section of beach where cabanas, sun loungers, and parasols can be rented and where there is also catering. For a cabana near the sea, you pay about 75.00 € per day, but you get some peace and quiet. In summer, there is a lot going on here, even though it takes almost an hour to get here by bus (line 11) from the ferry terminal at the Lido.
Ca' Roman – Nature reserve and beach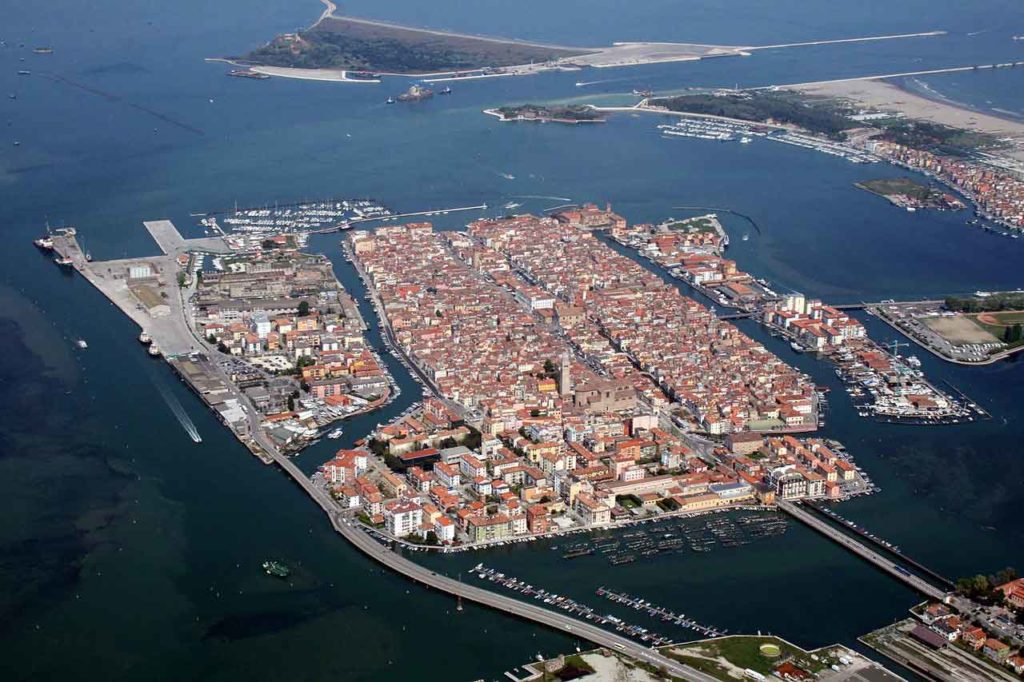 After Alberoni and Spiaggi degli Alberoni, the exciting route continues south to the unspoiled beach of Ca'Roman (for info see below, on the aerial photo of Chioggia above right). Ca'Roman is located at the southernmost end of the island of Pellestrina in a nature reserve. With its length of almost 11 kilometers, the extremely narrow island of Pellestrina with its few inhabitants still belongs to Venice, just like the Lido.
You can reach this bathing adventure with the Vaparetto line 11 directly from the Lido or from Chioggia. There is a small pub at the ferry terminal of Ca'Roman, turtles lay their eggs on the beach and otherwise, there is not much going on here. Few people, and lots of peace and quiet, you could be forgiven for thinking that time had stood still here.
Spiaggia Sottomarina – Chioggia
In the very south of the Venice Lagoon lies the little Venice of Chioggia and the seaside resort of Sottomarina with the most beautiful beach in the area. All the information about picturesque Chioggia can be found in my separate article. There you will also find everything about the seaside resort of Sottomarina, including some hotel recommendations. Sottomarina, a district of Chioggia, is about 50 kilometers and 45 minutes by car from Venice.
Travelling by vaporetto is possible, but also time-consuming for a bathing excursion. It is more advisable to book a few days' holiday in this perfect tourist resort and explore the famous old town of Venice from here. Sottomarina is especially popular with families because children will find everything they need here. This is certainly also true for the evening stroll along the wide beach or the waterfront promenade, which is also entirely dedicated to tourism.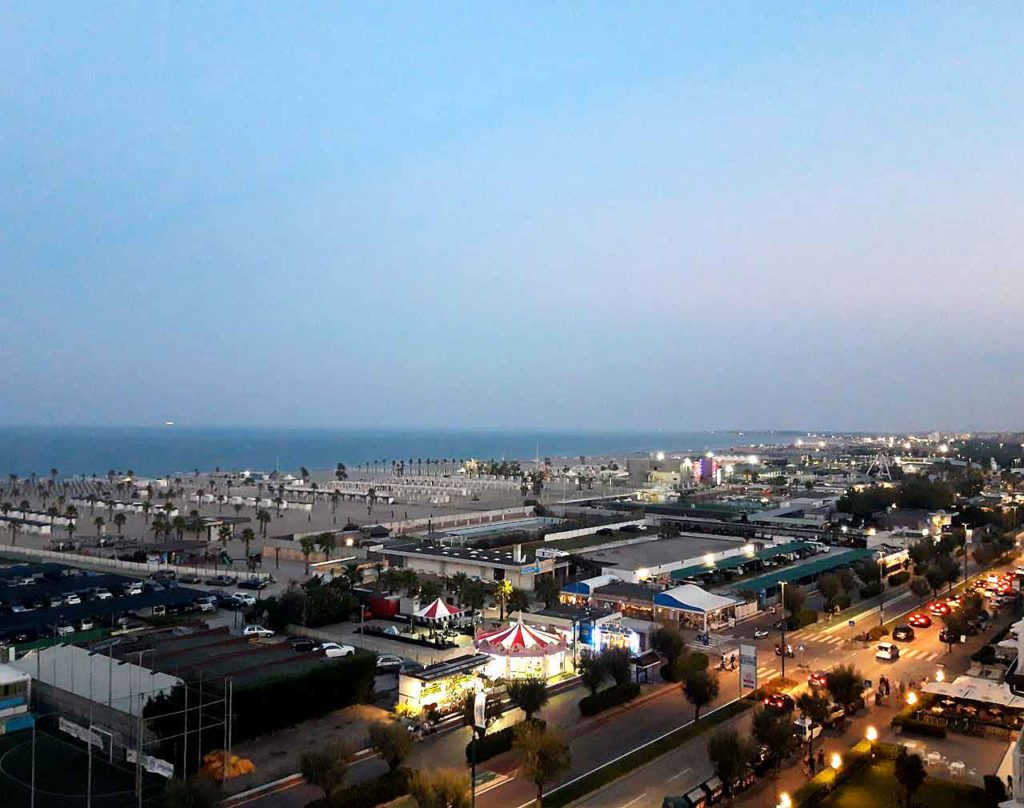 Practical hints
The western Adriatic coast from Bibione to the tourist stronghold of Rimini, located about 200 km south of Venice, is one of the largest holiday areas in Europe. Germans, Austrians, and locals, in particular, find a perfect holiday offer here with sun, beach, and sea.
With the various convenient travel options by car, coach, train, or plane, it is of course difficult to find a quiet and idyllic destination. Nevertheless, they try to make everything as environmentally friendly as possible, also with the help of tourists, who should observe some important beach rules.
Beach and deckchairs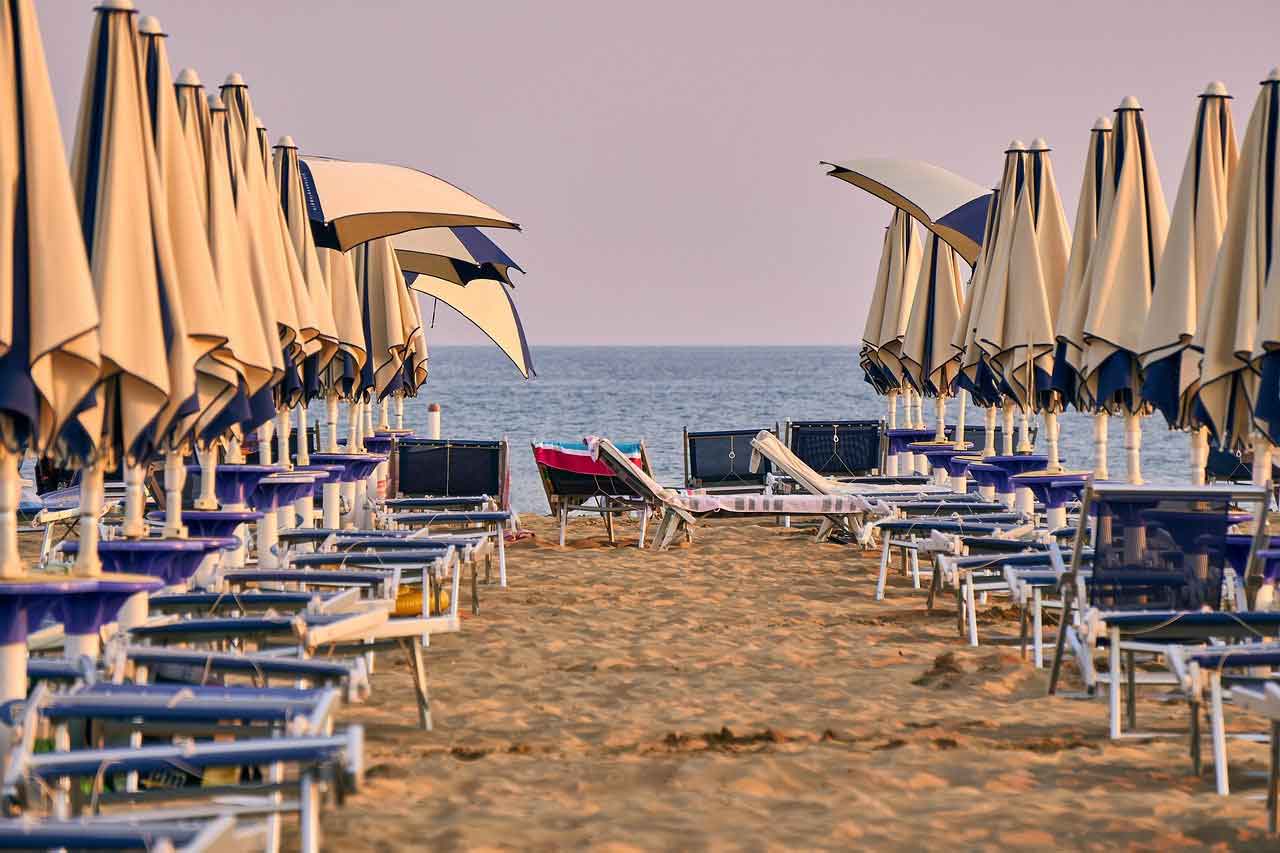 At the beaches described here, the "Blue Flag" flies everywhere, rewarding not only the cleanliness of the water but also an environmentally friendly infrastructure at the beach, such as the possibility of separate waste disposal or the presence of sanitary facilities.
Entering and using the beaches is free of charge. You have to pay for showers, toilets, sunbeds and umbrellas. Between the paid parts of some beaches and the edge of the sea, there is always a sufficient strip of sand where you can spread out your bathing towel for free. There are no restrictions on the beaches described as public, especially the natural "Spiaggia".
Renting sunbeds and umbrellas or the often-mentioned beach cabanas is expensive in Italy. The price for an umbrella, sun lounger, or cabana depends on the location and duration of the rental. Since there is a lot going on everywhere in summer, prices vary rather little from seaside resort to seaside resort. For two sunbeds with a parasol, including the paid zone, you should always include €20.00 to €25.00 in your holiday budget.
Beaches for people with a physical disability
Venice itself can easily be chosen as a destination by people with a physical disability, including wheelchair users. In almost all articles on the various sights of the world-famous lagoon city, such as the Grand Canal or the Rialto Bridge, you will find information on this, including possible restrictions.
Nothing stands in the way of an excursion to the fashionable Lido di Venezia with its old villas, but I think visiting the beaches is rather difficult, especially for wheelchair users, also because of their width. The natural beaches offer no help whatsoever for people with physical assistance.
✅ Tip: Book a barrier-free holiday in Bibione at Hotel Katja or Hotel Corallo.
Beach – Bars, Restaurants, Animation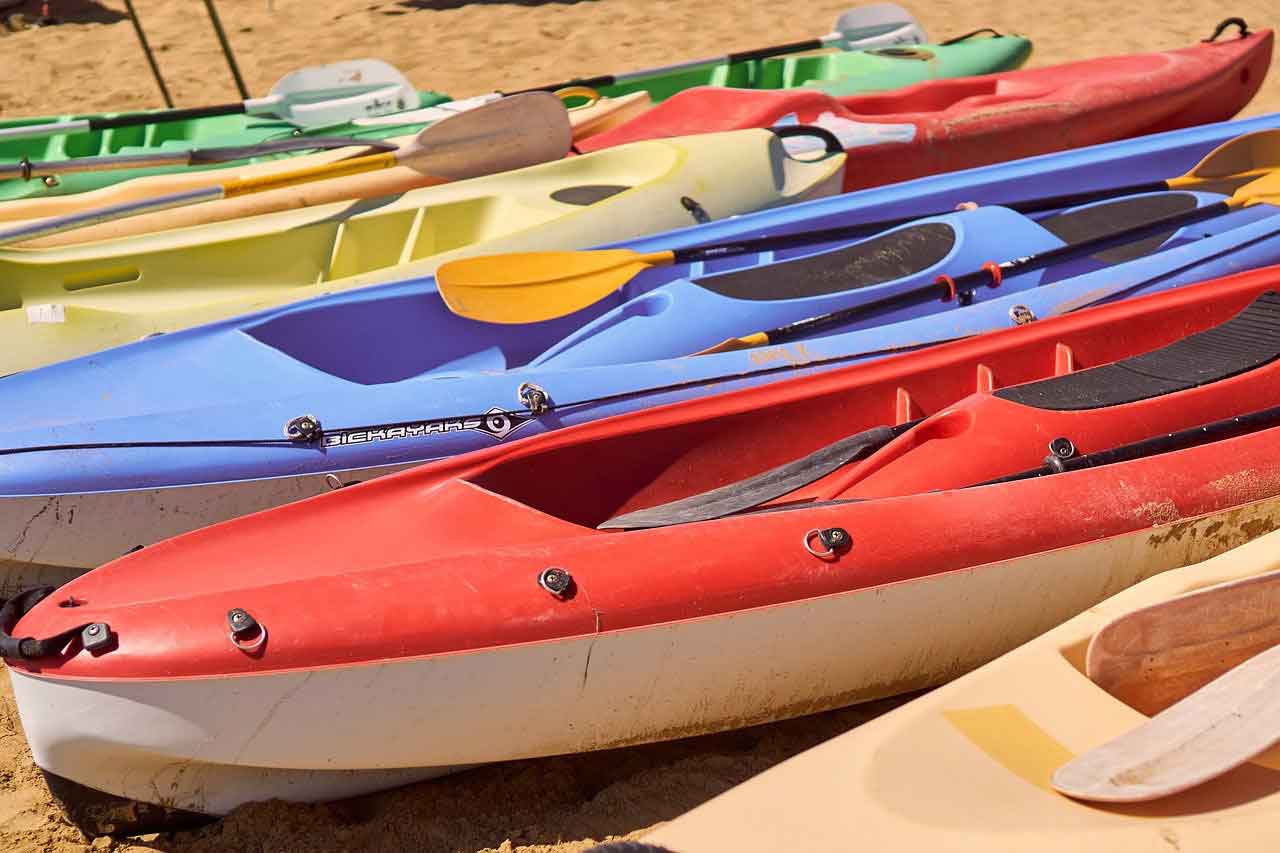 Beach volleyball, beach parties in the evening, snacks, bars, ice cream parlors, restaurants, water sports, etc. are all available in well-known tourist resorts such as Bibione or Jesolo. The beaches are particularly quiet and unspoiled. So there's something for everyone, although for Venice travelers an excursion to the classic Lido di Venezia is a must. Bathing in Venice's canals is strictly forbidden.
How do you get to the beach by car?
All the above-mentioned beaches from Bibione in the north to Punta Sabbioni – Cavallino further south are accessible by car. This also applies to the lagoon island of Lido di Venezia up to the advertised beach in Alberoni. The Lido is therefore not car-free, unlike historic Venice. How to get to the island by car is described in the article Lido already mentioned. The only exception is Spiaggia di Ca'Roman, as Chioggia and Sottomarina are already on the mainland.
Which goes without saying!
Listen to music with headphones only and turn your smartphone off

Do not spread bath towels and clothing indiscriminately on the beach.

Please play ball games only in the designated areas

Warning signs and flags on the beach must be respected

Only take animals with you where this is expressly permitted.

Please leave sand and shells on the beach and do not take them with you.

Please use water sparingly in the well-equipped sanitary areas
Strict rules – picnic, alcohol, smoking, nudism!
Eating and drinking on the beach is of course generally permitted for the time being, but the beaches must remain clean, i.e. rubbish, cans and plastic bottles and cigarette butts must always be disposed of properly. In order to prevent alcohol abuse, especially by young people, there may be a ban on consumption on the promenade and on the beach at turbulent seaside resorts, for example on a Saturday or on a special holiday.
A correct decision that can also lead to a temporary ban on the sale of alcohol to young people. In Bibione, there has been a smoking ban on the beach since 2019, above all to prevent the many cigarette butts with their pollutants in the sand. In Italy, it is generally forbidden to throw away cigarette butts, and this is punishable by law.
Nudism is generally prohibited in the beach rules for the time being. However, Italy generally tolerates tourists sunbathing topless. Holidays on the Adriatic are primarily family holidays, so you should also pay attention to appropriate clothing when walking on the beach or swimming.
Beach tour by two-wheeler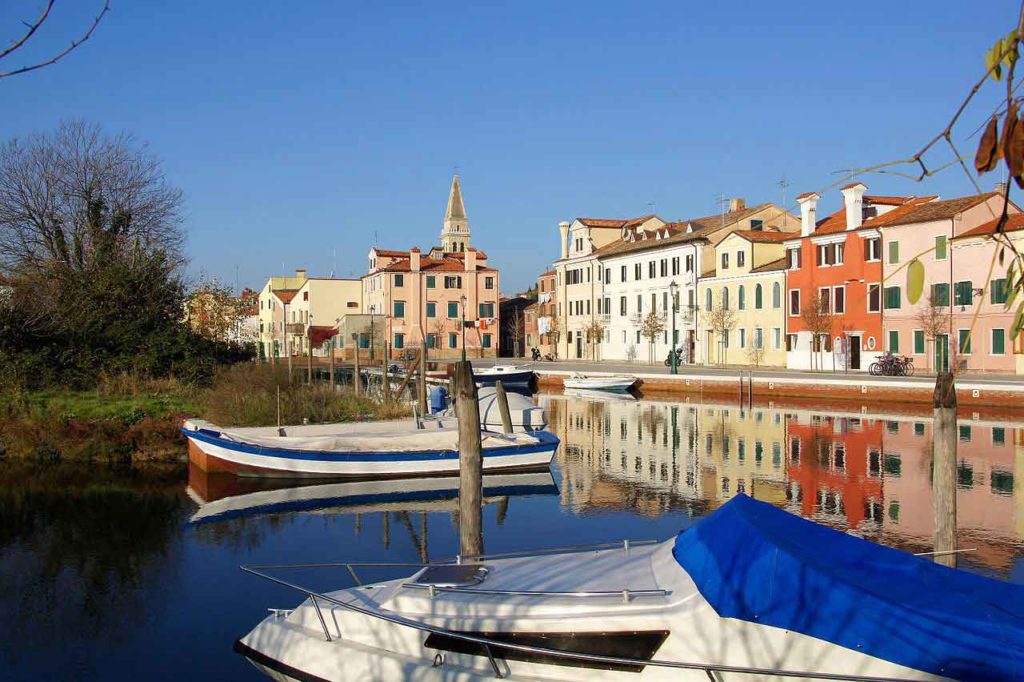 Whether it's a bike, e-bike, or scooter, the range of rental companies is huge. The following tours are interesting for a few hours or a whole day:
✅ Cavallino – Ideal starting point for a bike tour. For a few hours along the Laguna Veneta or a day trip to Punta Sabbioni on the Venice Lagoon and Lio Piccolo.
✅ Sant'Erasmo – You'll see lots of bikes here. Bicycle rental at Hotel Il Lato Azzurro.
✅ Lido di Venezia – You can rent a bike for 2 or 3 hours, take part in an organized half-day bike tour or make a day trip to Alberoni or Malamocco on your own. It is also typically Italian to travel by scooter.
The small idyllic fishing village of Malamocco (photo above) is well worth a visit. It is located about halfway between the ferry terminal Lido Santa Maria Elisabetta and Alberoni in the south of Lido di Venezia. It is the only place on the island that still has an old center worth seeing. Somehow it reminds you a little of Venice with its narrow streets and picturesque canals. You linger in the beautiful squares and visit the most important sight in this village, the church Chiesa di Santa Maria Assunta. If possible, you should also spend some time here at a café. For a snack in one of the trattorias, the locals recommend the Trattoria da Scarso with its fish dishes and seafood fresh from the Adriatic. Also good is the Trattoria Al Ponte di Borgo with its delicious range of spaghetti.
✅ Hotel tip: If you want to come back, it's best to stay at the picturesque Relais Alberti, on Malamocco's dreamy church square.
Safety on the beach
Pickpocketing is common here, as unfortunately, it is everywhere in large crowds. Do not take any valuables with you and copies of the most important documents, such as identity card, passport, or driving license, are always sufficient for the time being. If possible, pay everywhere without cash. Of course, you can always have a few euros in your pocket for a shower, toilet, ice cream, or espresso.
In the well-known bathing resorts, you will always find guarded beaches with lifeguards who can intervene in an emergency. Even though the beaches on the Adriatic are very shallow, there are always dangers due to discomfort, heat stroke, or swimming too far out. This applies to adults as well as children.
---
Picture sources:
Flat:(https://commons.wikimedia.org/wiki/File:Apartman_Cormoran,Bibione,Lido_del_Sole_2004_-_panoramio.jpg), "Apartman Cormoran,Bibione,Lido del Sole 2004 – panoramio", https://creativecommons.org/licenses/by/3.0/legalcode
Lido di Jesolo: Konrad Wąsik (https://commons.wikimedia.org/wiki/File:Lido_de_Jesolo_-_panoramio_(13).jpg), "Lido de Jesolo – panoramio (13)", https://creativecommons.org/licenses/by/3.0/legalcode
Cavallino lighthouse: Antonio Farella(https://commons.wikimedia.org/wiki/File:Faro_di_Punta_Sabbioni_a_Cavallino_Treporti.jpg), "Faro di Punta Sabbioni a Cavallino Treporti", https://creativecommons.org/licenses/by/2.0/legalcode
Sant'Erasmo beach: Didier Descouens (https://commons.wikimedia.org/wiki/File:Sant'Erasmo_(island)_South_end_of_the_island.jpg), "Sant'Erasmo (island) South end of the island", https://creativecommons.org/licenses/by-sa/4.0/legalcode
Sant'Erasmo garden: Didier Descouens (https://commons.wikimedia.org/wiki/File:Sant'Erasmo Via_delle_Motte_45.455718,_12.402925.jpg), "Sant'Erasmo (island) Via delle Motte 45.455718, 12.402925", https://creativecommons.org/licenses/by-sa/4.0/legalcode
Blue Moon beach: Florian Fuchs/Wikipedia/CC-BY-SA 3.0 (https://commons.wikimedia.org/wiki/File:Beach_Cabins_in_front_of_Hotel_Excelsior_(Lido_di_Venezia)-01.jpg), "Beach Cabins in front of Hotel Excelsior (Lido di Venezia)-01", https://creativecommons.org/licenses/by-sa/3.0/legalcode
Alberoni beach: Ritamargaret (https://commons.wikimedia.org/wiki/File:Oasi_di_alberoni.jpg), "Oasi di alberoni", https://creativecommons.org/licenses/by-sa/4.0/legalcode
Chioggia: Sven Scharr (https://commons.wikimedia.org/wiki/File:Chioggia2.jpg), "Chioggia2", https://creativecommons.org/licenses/by-sa/3.0/legalcode
Sottomarina: andrea vara. (https://commons.wikimedia.org/wiki/File:Sottomarina_di_sera.jpg), "Sottomarina di sera", https://creativecommons.org/licenses/by-sa/4.0/legalcode