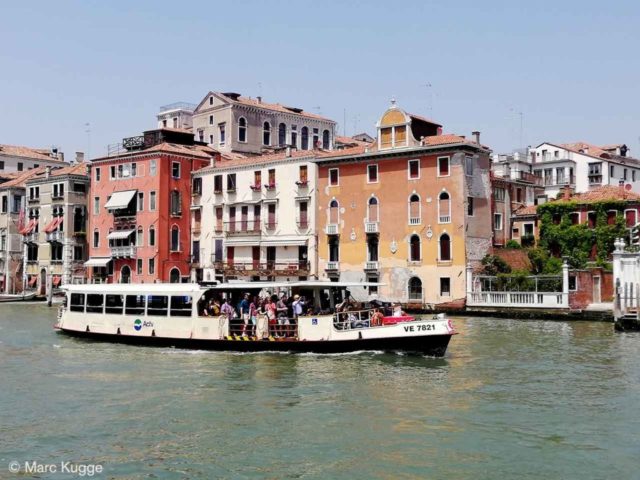 Actually, it's impossible to visit world-famous Venice without taking a ride on the vaporetti. Up and down the Grand Canal, around the historic old town and over to Giudecca Island or the Lido. Tickets are available here!
If you feel like it, you can also visit the islands of Murano, Burano and Torcello. You don't have to walk much, just hop on the next vaporetto and experience the lagoon city on the Adriatic for an all-inclusive price.
Vaporetto – What is it?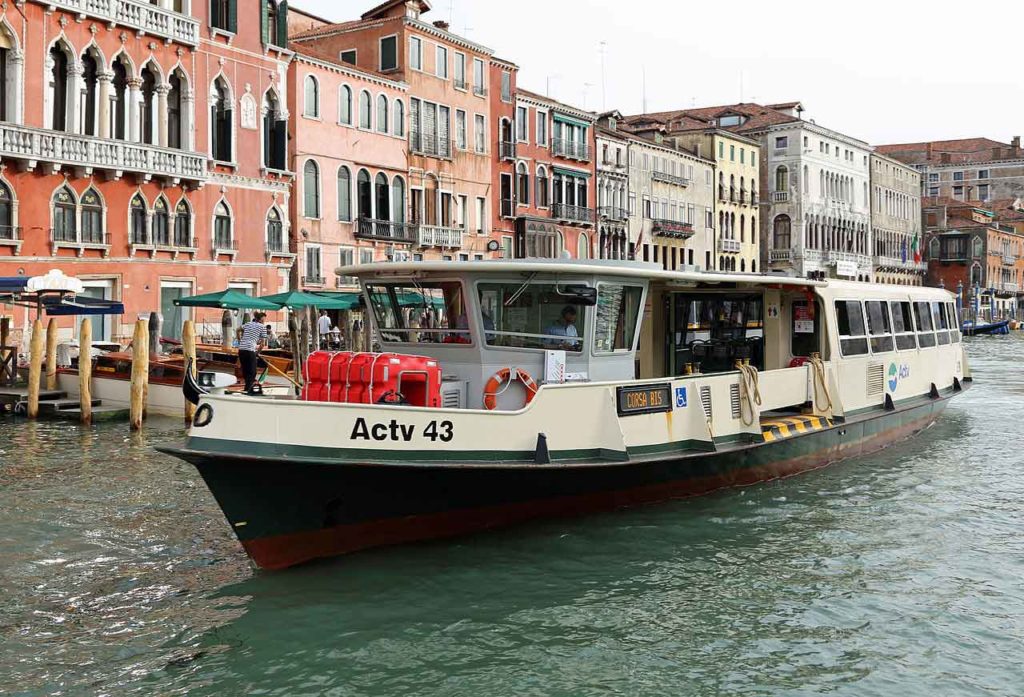 Vaporetto, or in the plural vaporetti, refers to water buses that operate as public transport in Venice and the Venice Lagoon. The name of the company ACTV SpA (Azienda del consorzio trasporti veneziano), which operates public transport in Venice, always appears as the operator.
Historic Venice consists of narrow streets, narrow canals and is criss-crossed with waterways where there is no other way to get around than by water taxi or vaporetti.
Water buses – Ticket prices
There are several ways to buy tickets on the spot. However, I always recommend buying tickets online in advance. Buying tickets in a foreign country is often stressful. Where and how, a foreign language, foreign ticket machines and sometimes time wasted standing in line.
No cash, secure payment methods and good control over travel funds help with advance booking so you can hit the ground running at your holiday destination. The mobile voucher on your smartphone is all you need!
Vaporetto / Public Transport
Price*
Tickets
75 minutes from validation
12,00 €
Book online
24 hours from validation
30,00 €
Book online
48 hours from validation
40,00 €
Book online
72 hours from validation
50,00 €
Book online
168 hours from validation
70,00 €
Book online
Tickets with free cancellation
various
Book online
Kids less than 6 years
free
Public Transport +
single Airport transfer
from 14,30 €
Book online
The advantage of the tickets is that they are calculated in hours from the first validation. This sometimes saves the price for one day. The single ticket is rarely profitable.
Where are the Vaporetti tickets valid?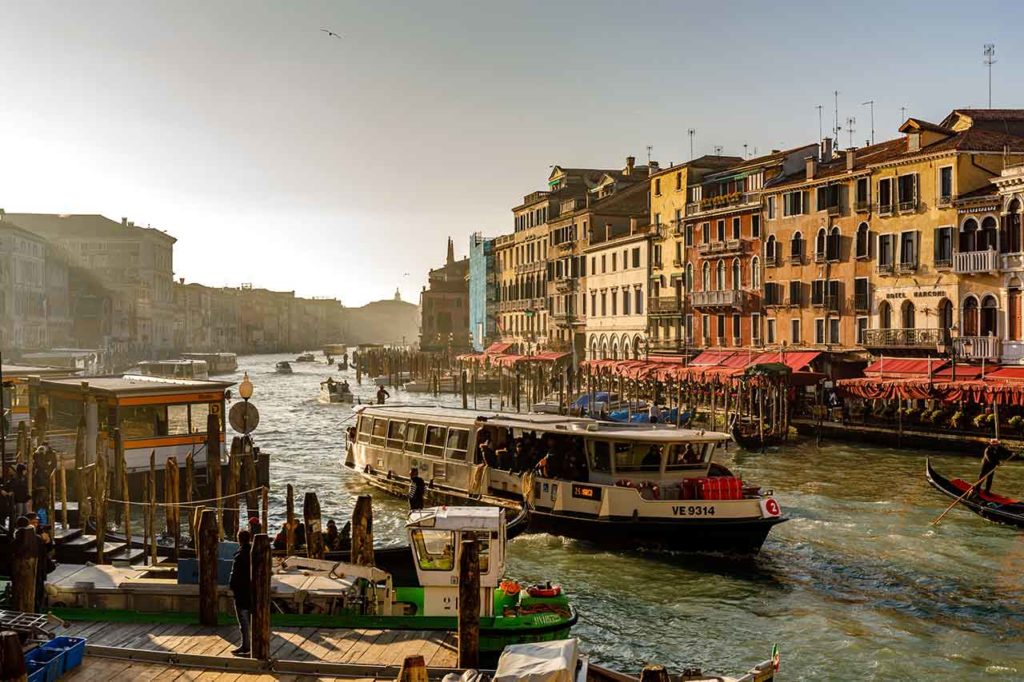 The ACTV single, day and multi-day tickets are valid for an unlimited period in Venice, on the Lido and on the lagoon islands of Murano, Burano and Torcello, as well as on the buses and trams in Mestre and Marghera. Tickets are also valid for travel from Punta Sabbioni to Venice and on bus line 11 to Chioggia.
✅ Note: ACTV single, day and multi-day tickets are NOT valid in these cases
All means of transport from-to Marco Polo airport, including bus line 5. 

Boats of the regular transport operator AliLaguna.

The use of the 'People Mover' at the Tronchetto car park.

The ACTV ticket is NOT valid for all ATVO means of transport, gondolas and the private water taxis.

Hop-On Hop-Off Boat Tour
Unfortunately, as mentioned above, you cannot take the vaporetto to the airport. All further information on this and the various connections to Marco Polo Airport can be found under the heading Transport in Public Transport and Airport Transfer. 
Where can I buy vaporetto tickets?
You can't buy a ticket at every stop, but only at the stops that are equipped with a ticket counter or a vending machine. At the stops near the tourist highlights, such as Rialto Bridge or St. Mark's Square, this option is definitely available.
Tickets for the vaporetti are also available in most tobacconists, especially if you see the ATCV logo there. If necessary, you can also buy a ticket on board, but then you have to report to the boarding staff immediately after boarding. There are many ticket checks and fare evasion is much more expensive than here.
✅ Note: Always buy tickets only at official ticket offices. If someone offers you tickets, they are often invalid or already used. It is also possible to buy tickets in advance from another provider.
Vaporetti day and multi-day tickets
Vaporetto and Venice Pass
An interesting discount card for a stay in Venice for many is the Venice Pass. Unfortunately, like the other passes, it does not include free travel on public transport. However, pass holders get a 10% discount for unlimited use of public transport for the chosen number of days. During the ticket booking process via Tiqets, enter the discount code you get with the purchase of the pass. Here you can find everything you need to know about the Venice Pass, including a visit to the Doge's Palace and a classic gondola ride.
Vaporetti – Route map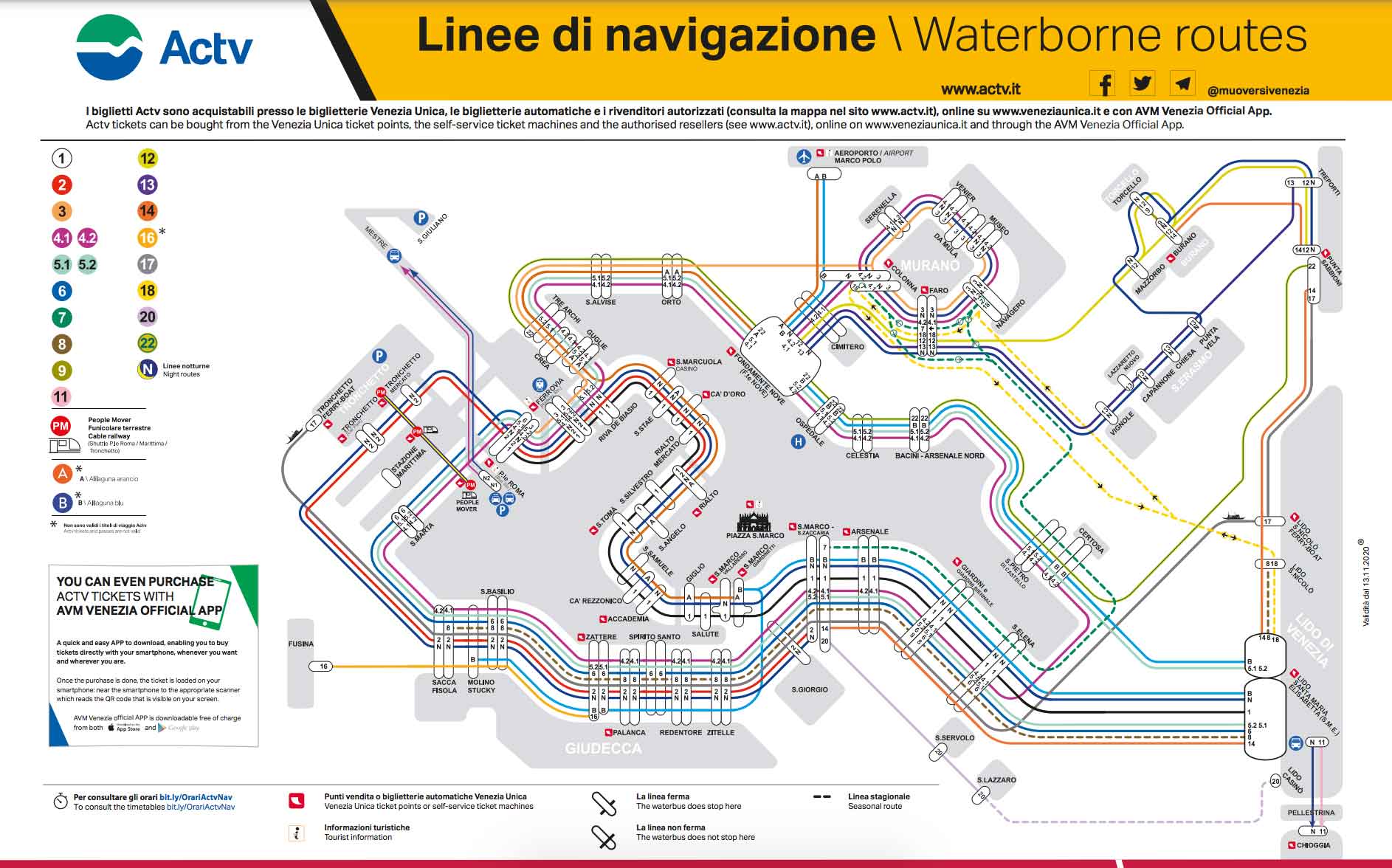 Enclosed you will find a practical and clear vaporetto network map of the operating company ATCV. Venice is a very clearly laid out city with its waterways and islands. Please note that only those boats stop at a stop that are marked with their number at the respective stop.
There is only one stop for both directions. The vaporetti therefore stop sometimes on one side of the canal, sometimes on the other. So when boarding, pay attention to which direction the waterbus is going, but this should not be a problem thanks to good signposting. Many locals use the water buses for just one stop to cross the Grand Canal, as there are only a few bridges over Venice's most important waterway.
✅ Important: Tickets must be validated every time you get on and off the bus. A beep will tell you if your ticket is valid if you simply hold it in front of the validation machine at the pier.
The main lines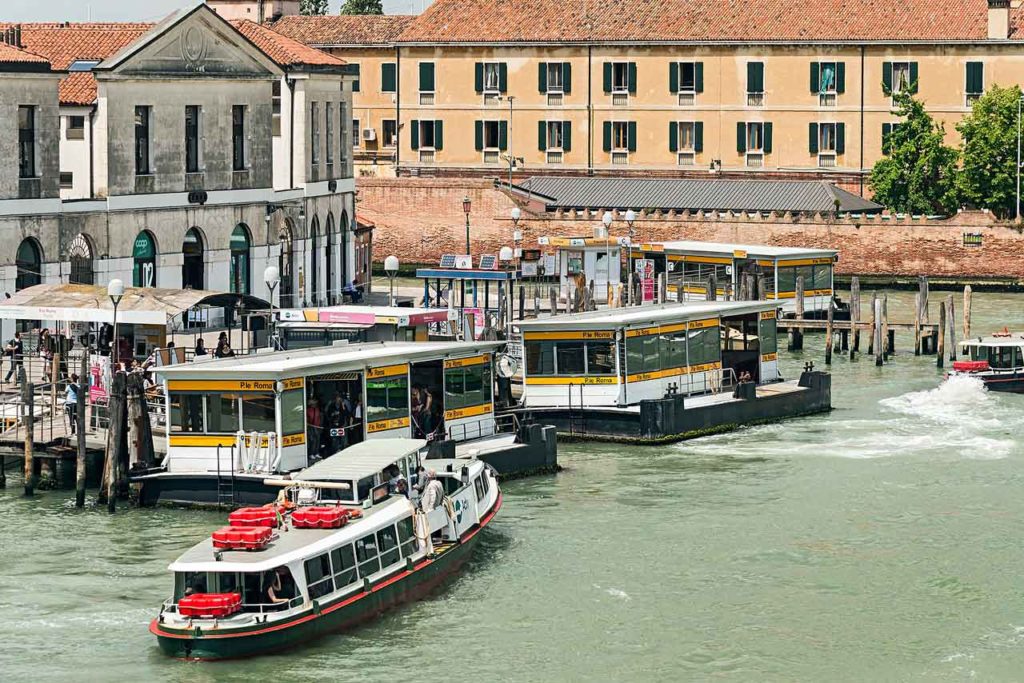 When visiting Venice, it is a must to sail along the Grand Canal, visit one of the lagoon islands and take a short trip to the Lido (photo above: ferry terminal at P. le Roma bus station).
If you have more time, you can also walk around the city to see more of everyday life in Venice. Some more tips on how to use the unlimited day or multi-day tickets later on.
The classics – Linea 1 and 2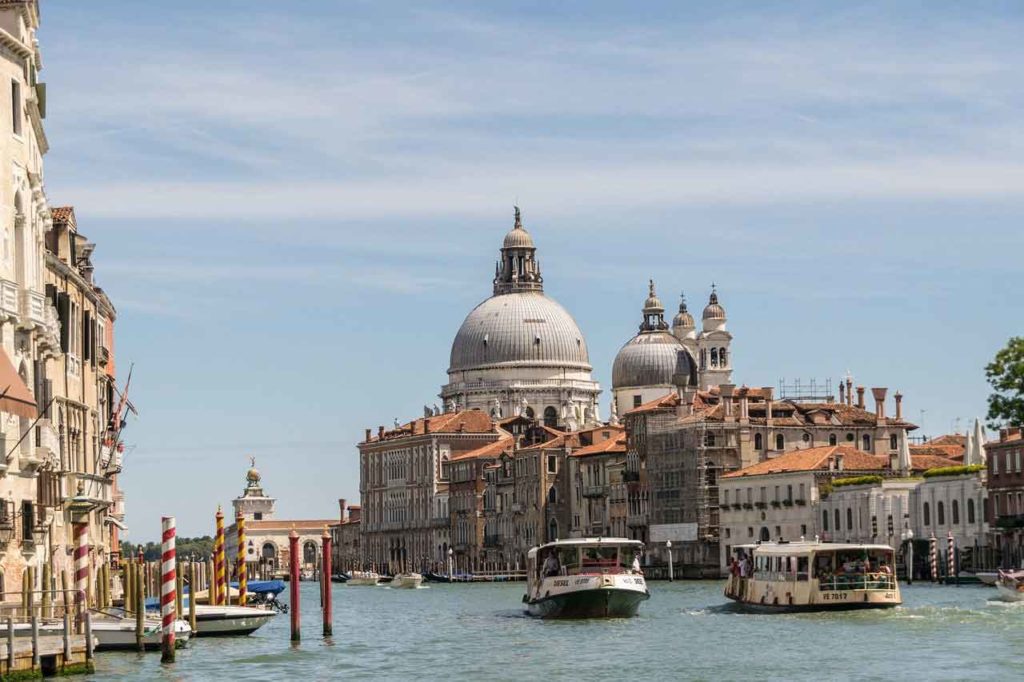 Both lines pass through the Grand Canal with its fascinating palaces that can only be admired from the water. The highlight of the spectacular boat trip is of course the passage under the Rialto Bridge, one of the most photographed motifs of Venice. Lines 1 & 2 run in both directions between St Mark's Square and Piazzale Roma, as well as Santa Lucia Central Station.
With line 1 the fantastic trip takes about 45 minutes, with line 2 it is a bit faster with 30 minutes, as this line does not stop everywhere. All the details of this boat tour, not to be missed, in Grand Canal and Rialto Bridge.
With the vaporetto lines 1 and 6 to the Lido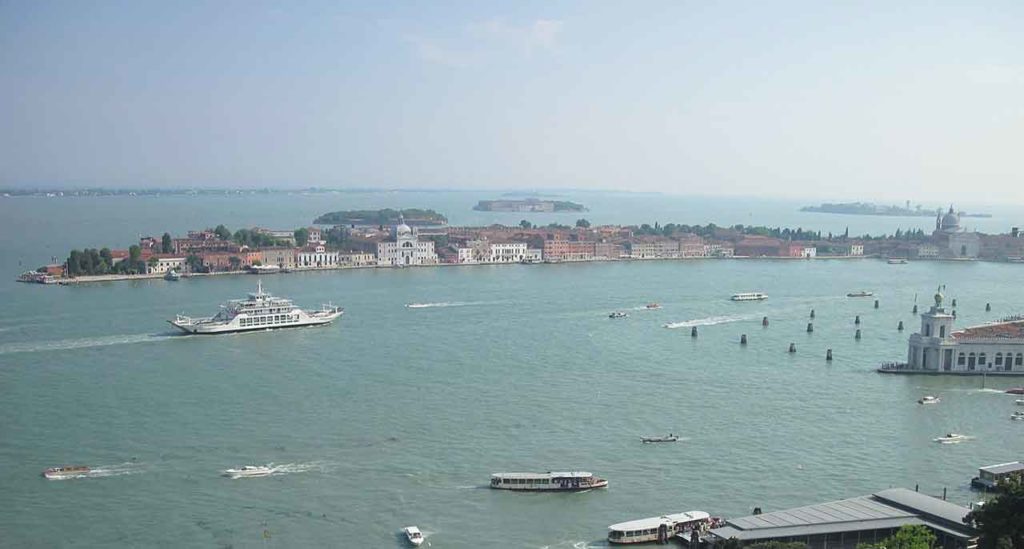 Lido or 'Lido di Venezia' is the name given to a spit off the coast of Venice with its exclusive stretches of beach. In fact, your visit to Venice is incomplete without a short detour to this sophisticated seaside resort with its Art Nouveau villas and luxurious hotels. The ferry port Lido Santa Maria Elisabetta (S.M.E) is served by the Vaporetti lines 1, 5.1, 5.2, 6, 8 and 14.
The main lines for tourists are line 1 and line 6. Line 1 first passes through the Grand Canal and then crosses St Mark's Basin on its 15-minute journey to the Lido. Line 6 goes directly from Piazzale Roma through the Giudecca Canal (photo above) to the Lido in 30 minutes. All the buses that shuttle back and forth on the Lido are also part of the ACTV and can therefore also be used with the day or multi-day tickets at no extra cost.
Linea 12 and 14 to Burano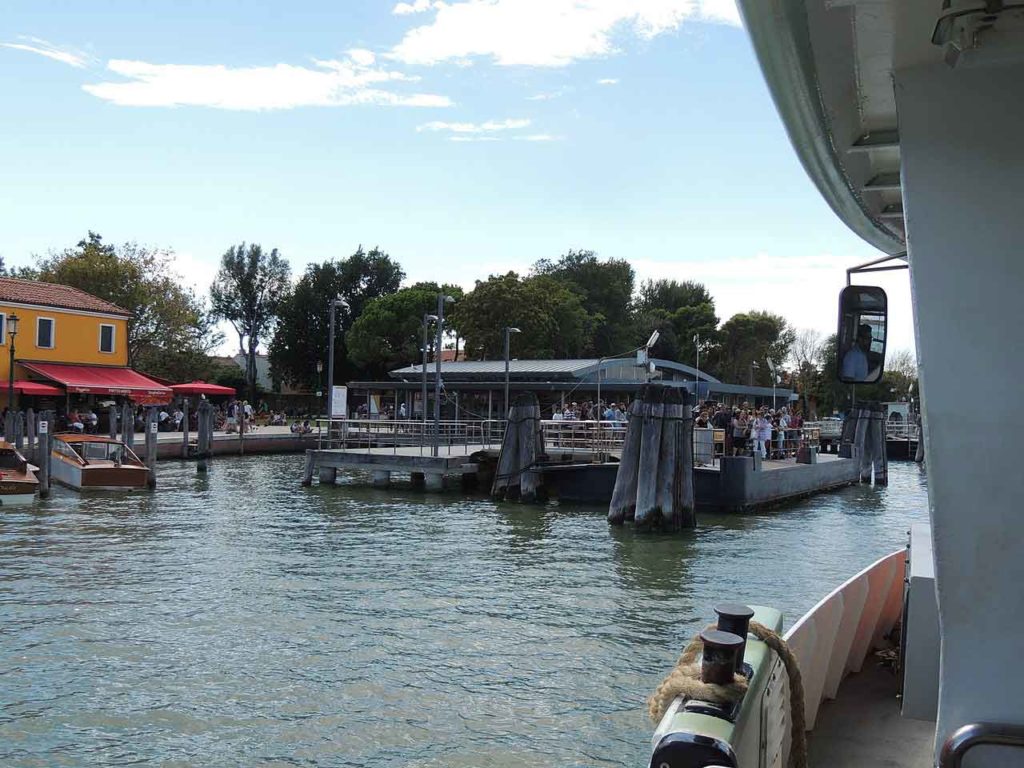 One of the tourist destinations in the Venice lagoon is the island of Burano. It is known for its colourful fishermen's houses and cosy restaurants serving fresh fish and seafood from the lagoon. Burano is also known as the island with the beautiful lace embroideries. The art of Burano lace can still be admired today in the Museo del Merlotto, which is well worth a visit. If you are island-hopping, you can also buy the combined ticket together with the glass museum in Murano in advance. 
Line 12 runs every 30 minutes from the Fondamente Nuove ferry port in the north of Venice to Burano. Travel time is about 45 minutes. It takes just over an hour with line 14, which departs hourly from S.Marco/ S.Zaccaria – Lido S.M.E. – Punta Sabbioni – Burano.
Linea 4 – Boat trip to Murano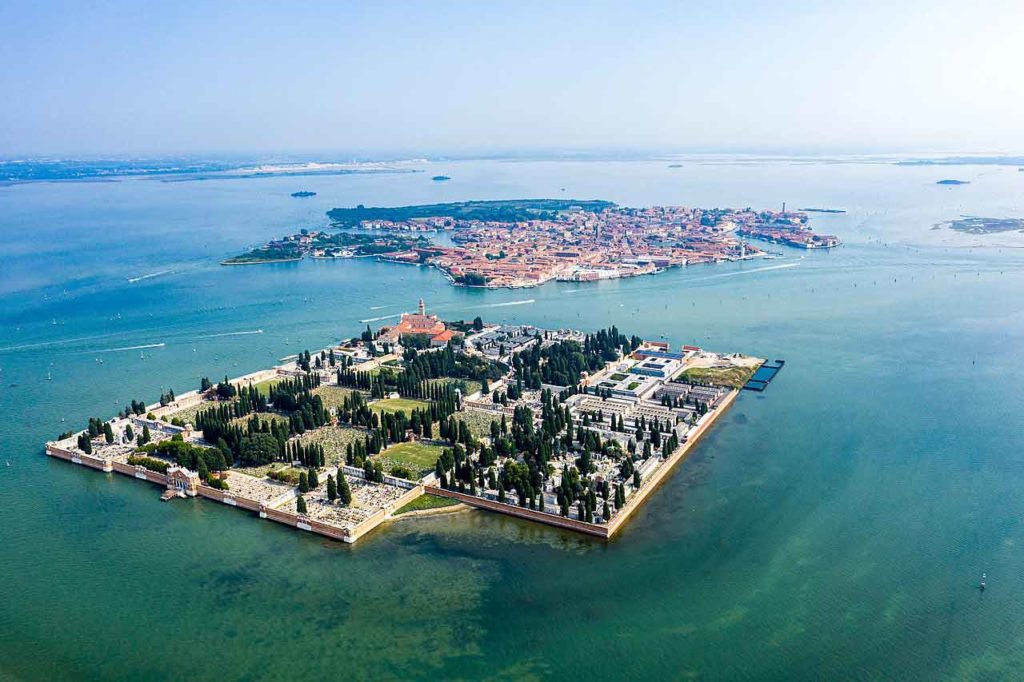 It's the glass art in particular that draws many Venice travellers to Murano. Visits to the island in the Venice lagoon can be very time-consuming, but a locally produced souvenir from a traditional glassblowing workshop is definitely worth the short boat trip to this enchanting island. If you have a little more time, you should visit the glass museum, which is well worth seeing. It can also be booked as a combined ticket with the Lace Museum in Burano. 
The quickest way to get to the north of Venice is from the Fondamente Nuove ferry terminal on lines 4.1 and 4.2. The vaporetti leave every 20 minutes and you can reach Murano in just 20 minutes. The island is car-free and you can easily reach everything on foot. To make a visit to Murano worthwhile, you can also book a visit to a glass factory in advance.
Murano Glass
Duration
Price*
Tickets
Glass Factory Tour
& Glass Blowing
20 minutes
5,00 €
Book online
Glass Blowing
Demonstration
20 minutes
10,00 €
Book online
✅ Tip: On the way to Murano, the water bus makes a stop at the cemetery island of San Michele (photo above, Murano in the background). The Isle of the Dead is a unique cemetery in the middle of the water. If you have some time, you should plan a short stop here.
Linea 12 – Relaxation in Torcello
An atmospheric visit is the trip to Torcello. Here, too, line 12 leaves every 30 minutes from Fondamente Nuove in the north of Venice and takes about 45 minutes across the lagoon. Now there is not much left of hectic Venice.
Torcello was once more prosperous than Venice and much of the splendour of that time can still be felt. The Basilica of St. Maria Assunta, one of the oldest churches in Venice, is particularly worth seeing. Otherwise, a few typical Venetian restaurants, a few canals and a few small shops await you.
Where are the islands in the lagoon?
The boat trips to the lagoon islands are among the most popular excursions in the dreamlike lagoon of Venice. All islands can be visited without restrictions with a day or multi-day ticket. With a vaporetto line, e.g. Linea 12, visits to Burano, Murano and Torcello can be easily combined. However, due to the various waiting times for the next water bus line, you should plan a whole day's holiday including sightseeing and a delicious lunch.
Without a water bus, it's faster only with organized tours. Not as romantic, but for about € 20.00 you can visit each of these unique three islands briefly.
Place of departure
Time
Price*
Online Ticket
Palazzo delle Prigioni
Ponte della Paglia
11:00 a.m
6,0 hours
Book online
Santa Lucia Station
St Mark's Square
10:00 a.m
10:30 a.m
4,0-4,5 hours
Book online
✅ Note: You can also stay overnight on the islands. Peace and quiet at night is guaranteed here. Tips for accommodation can be found on the pages of the respective islands in my overview The Islands.
Trips by vaporetto
If you want to avoid expensive city tours and experience Venice and the surrounding area with your multi-day ticket, I can make a few suggestions here. My tips are intended for a year-round visit, can be undertaken in any weather and are intended to show a Venice a little outside the known tourist crowds.
When it's hot in Venice, people tend to seek refreshment on the beach. Many bathing resorts, such as Lido di Venezia or Chioggia, can be reached quickly and easily by vaporetti.
Boat trip to the Isola di Sant'Erasmo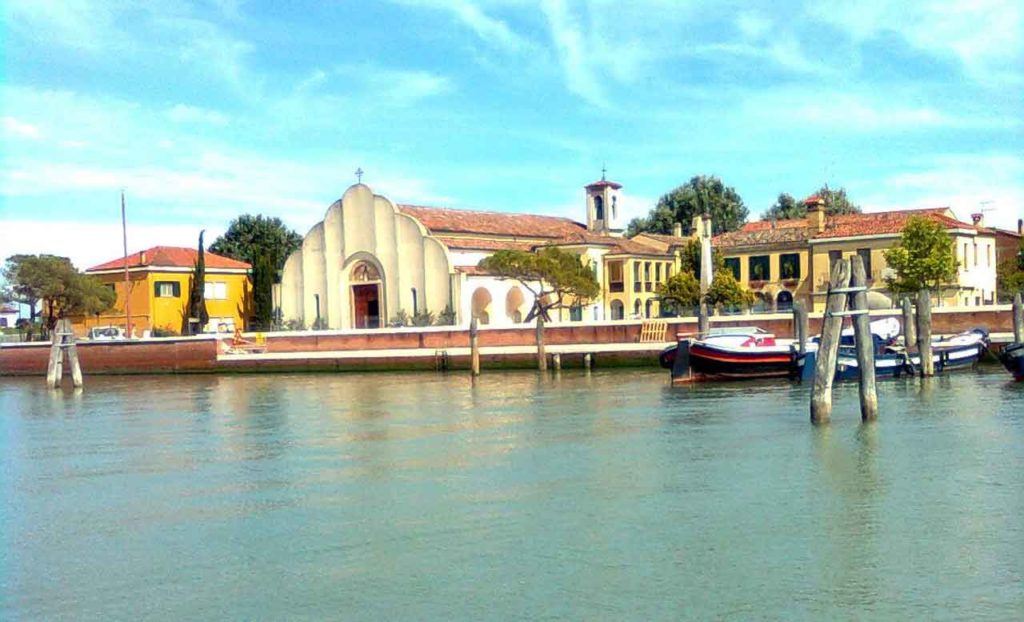 Here you can find out where all the vegetables sold at the Rialto market come from. Sant'Erasmo is also called the 'Garden of Venice' with its many neat vegetable farms. It's a rural nature island in the lagoon with a tranquil atmosphere, just an hour from San Marco. You can enjoy the relaxation away from tourism with a long walk with lots of bird life. A 35-minute boat ride through the Venetian lagoon will take you to this charming island.
Departure on line 13 from the Fondamente Nuove ferry terminal every 40 minutes or so in the morning and afternoon, and more hourly at lunchtime and late evening. There are three boat docks on Sant'Erasmo. Best to get off at S. Erasmo Chiesa (photo above) and then follow my tips to beaches in Venice. Everything is easy and it's cheap to rent a bike here and ride around the island. For food, try Al Bacan on the southern tip of the island, where you can also cool off in the water in summer.
This is more for those who stay in Venice for a longer period of time. Actually, there is not much to see here, but that is what makes this island so appealing. A boat trip to enjoy that will stay in your memory!
Cannaregio – the authentic Venice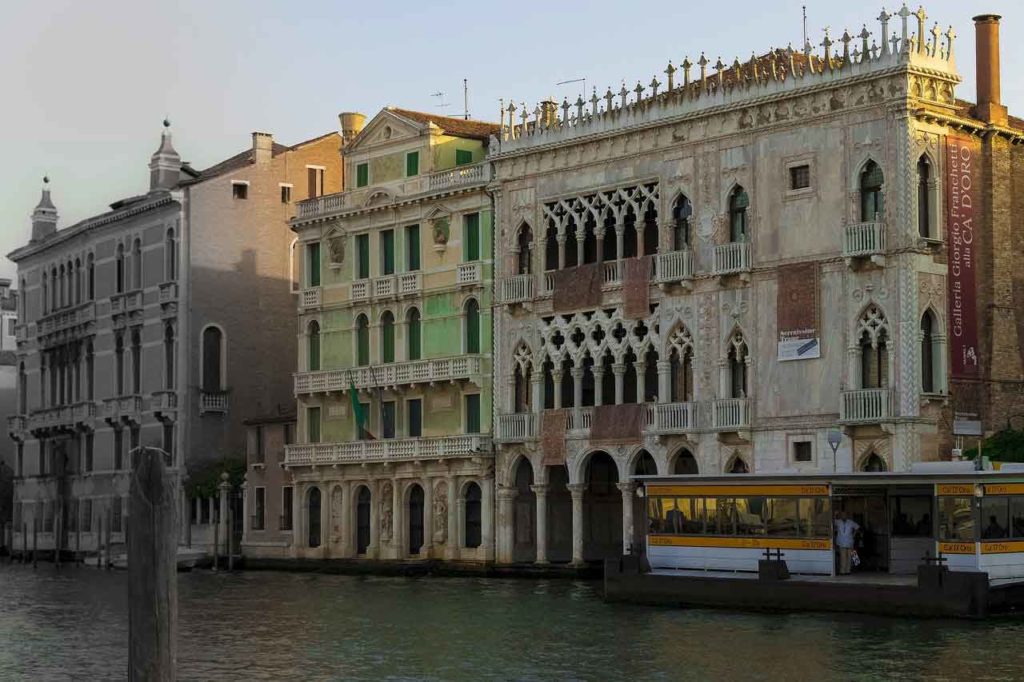 This district can be reached on the Grand Canal with tram line 1, about halfway between the station at the main railway station Ferrovia and the pier at the Rialto Bridge. The best place to get off is at the Ca' D'Oro Museum (see photo above). From here you walk through narrow alleys and along narrow canals to the highlights of Cannaregio, the district where the locals hide from mass tourism. Everything that makes the district so extraordinary and that you absolutely have to see is in Cannaregio.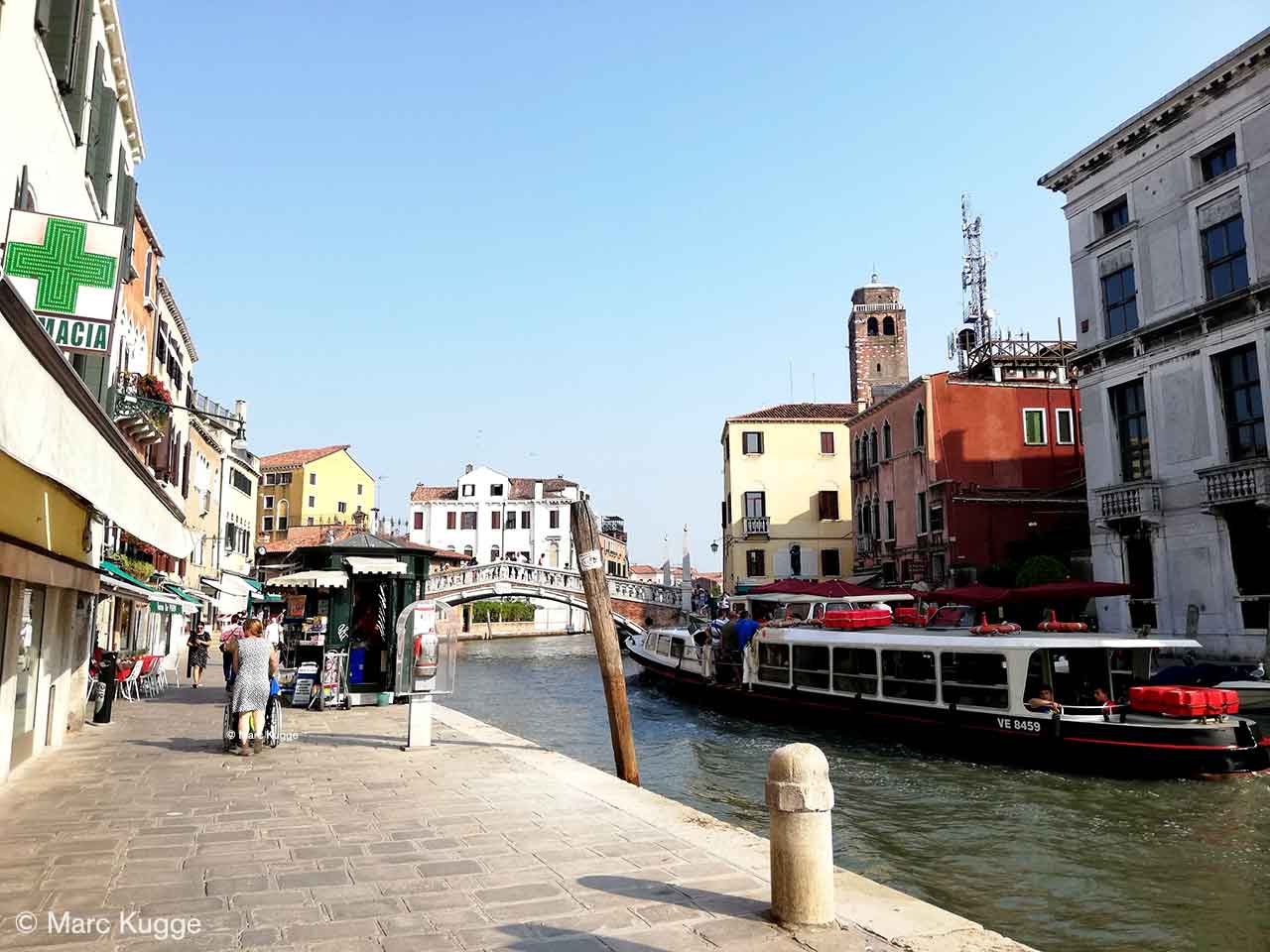 ✅ Tip: Towards evening, many tourists leave the city and twilight gives Venice its own charm. Now is a good time to continue on the Grand Canal or take a short walk to the Fondamente Nuove ferry terminal with a round trip around the lagoon city on line 5.1. or a section of it. Perhaps, with a bit of luck, you will experience a romantic Venice sunset on the water.
Giudecca – only possible with Vaporetto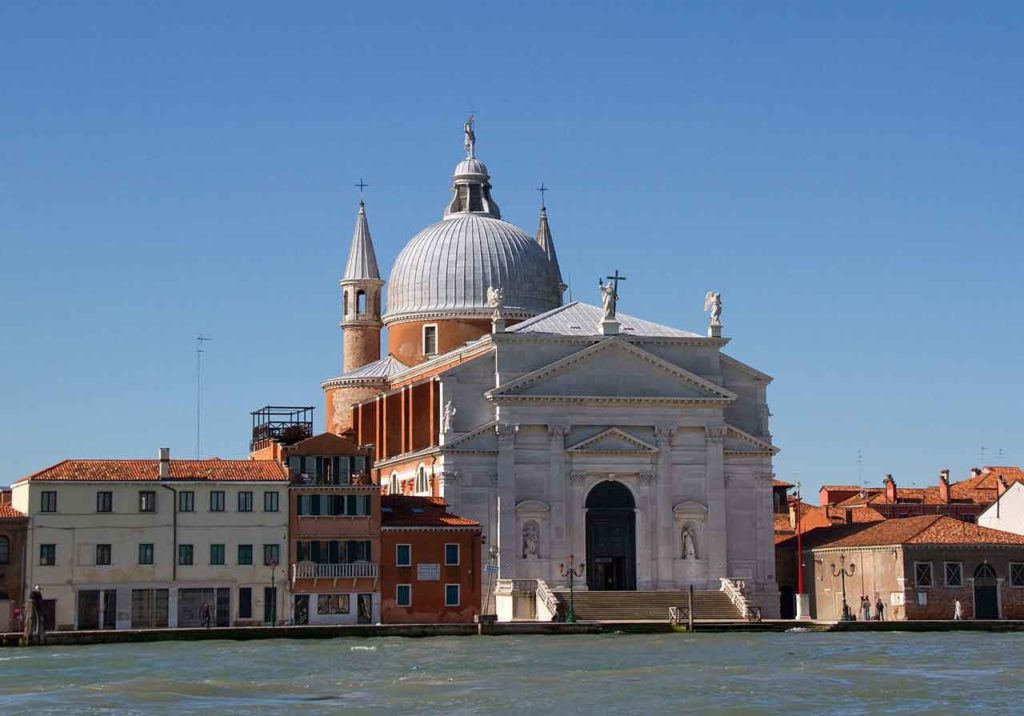 The island of Giudecca is located in the south of Venice and is mostly only known from a distance. It is only 300 meters from the famous Piazza San Marco, but the number of tourists who stray here remains manageable. There are no well-known museums, special buildings or galleries here. The most famous sight on Giudecca is certainly the Church of the Redeemer Il Redentore (photo above), a building from the 16th century. It is also the convent church of an adjoining Capuchin monastery with a beautiful garden.
Giudecca is no longer the real Venice with its canals and gondolas, but it has everything you need for a leisurely stroll – bars, cafés, hawker's shops and nice restaurants with good food. There are no cars on Giudecca and no bridge connecting the island to the center of Venice. The short journey is only possible with the vaporetti of lines 2 and 4.1. La Giudecca has a beautiful waterfront for walking and offers an incomparable panorama with La Salute, St Mark's Square and the Doge's Palace. If a view of Giudecca and the historic center of Venice is enough, you can also book a boat tour on the Giudecca Canal.
Practical tips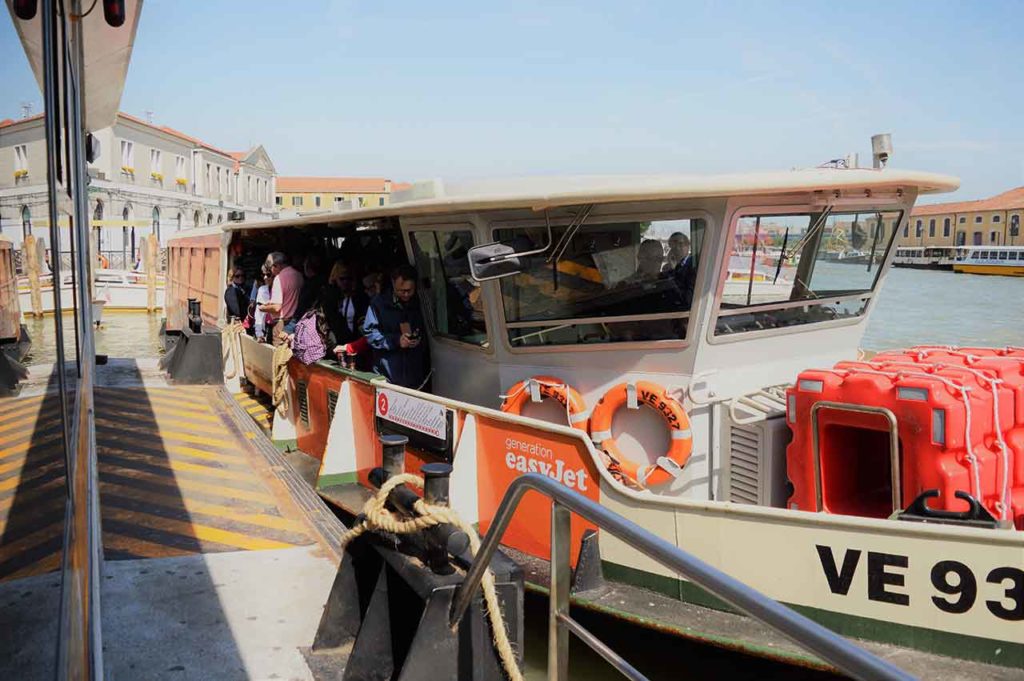 On this website of the ACTV you can find the current timetables for all vaporetti lines in Venice. On the most interesting lines for tourists, the boats are always in operation from 6 am to at least 11 pm. Especially in the summer months, holiday periods, weekends and public holidays, the boats are often full. There can be waiting times, but the next water bus will arrive after 10 to 20 minutes at the latest.
Getting on and off the water buses is not dangerous. There are helpful staff at every pier. However, parents should always keep an eye on their children.
The operator of Venice's public transport system takes exemplary care of people with reduced mobility. Barrier-free access is possible at all landing stages or appropriate ramps are available. There are secure reserved spaces for wheelchair users on the boats. There is also a low fare of €1.50 for wheelchair users, including accompanying person. The articles on the Grand Canal, the Rialto Bridge and St Mark's Square also provide detailed information on how people with reduced mobility can visit all these sights without major restrictions.
Water bus and water taxi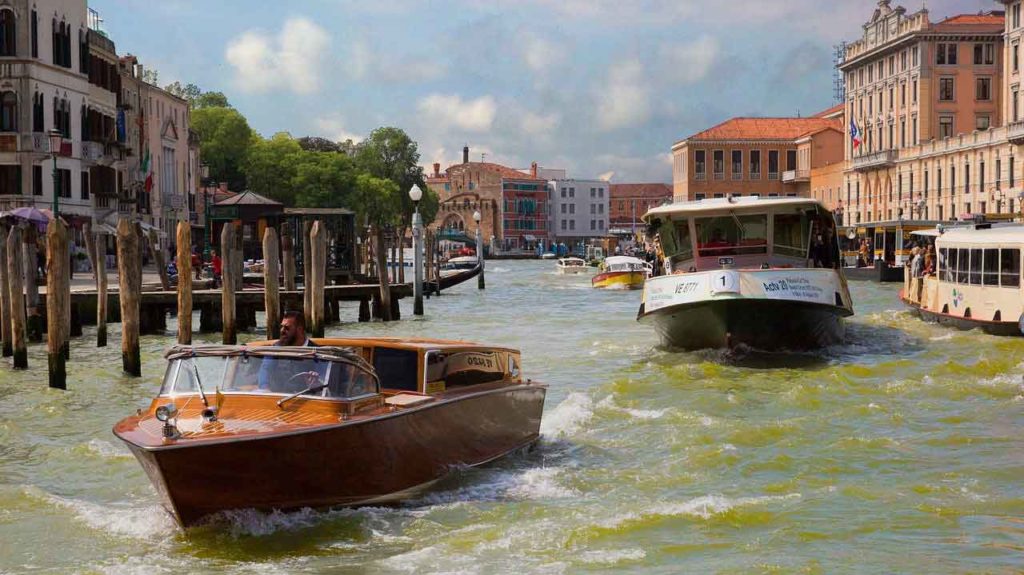 For those who are in a hurry, have to carry a lot of luggage or simply want to treat themselves to a little luxury, the private water taxi is the only alternative to the regular water bus. Water taxis are smaller boats that can be hired like a normal taxi with a driver. They are also called taxi boats or 'motoscafi' in Italian.
Travelling by water taxi is extremely expensive. Even for the shortest distances you pay € 50 or 60. Nevertheless, water taxis are an important means of transport in Venice, which is why there is a lot of important information on water taxis.
---
Image sources:
Vaporetto: Marc Ryckaert (MJJR) (https://commons.wikimedia.org/wiki/File:Venezia_Vaporetto_ACTV43_R01.jpg), "Venezia Vaporetto ACTV43 R01", https://creativecommons.org/licenses/by/3.0/legalcode
P.le Roma: Didier Descouens (https://commons.wikimedia.org/wiki/File:Appontement_Piazzale_Roma_(Parisi).jpg), "Appontement Piazzale Roma (Parisi)", https://creativecommons.org/licenses/by-sa/4.0/legalcode
Giudecca Canal: Владимир Шеляпин (https://commons.wikimedia.org/wiki/File:Giudecca_Canal,_view_from_St_Mark's_Campanile.jpg), "Giudecca Canal, view from St Mark's Campanile", https://creativecommons.org/licenses/by-sa/3.0/legalcode
Burano: Abxbay (https://commons.wikimedia.org/wiki/File:Burano_Vaporetto_main_stop.jpg), "Burano Vaporetto main stop", https://creativecommons.org/licenses/by-sa/4.0/legalcode
Murano: Kasa Fue (https://commons.wikimedia.org/wiki/ File:Friedhof_San_Michele_Venedig_Aug_2020_3.jpg) "Cemetery San Michele Venice Aug 2020 3", https://creativecommons.org/licenses/by-sa/4.0/legalcode
Giudecca: Tony Hisgett from Birmingham, UK (https://commons.wikimedia.org/wiki/File:Church_of_the_Redentore_(7251821740).jpg), "Church of the Redentore (7251821740)", https://creativecommons.org/licenses/by/2.0/legalcode
Other Pixabay