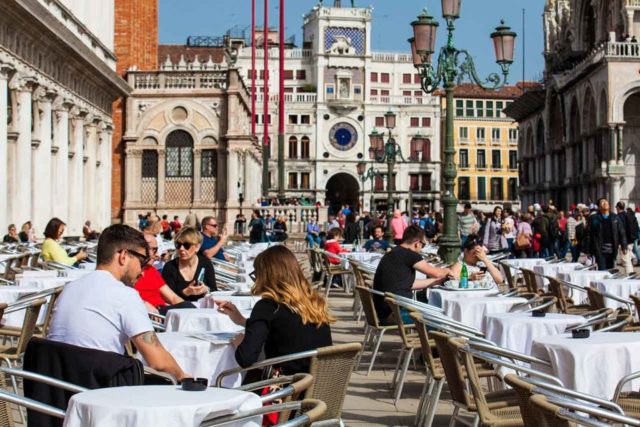 Rules of behavior and tips in Restaurants in Venice – Venice is one of the destinations that are served by very large cruise ships. In addition to tourists coming by train, bus, car, or tour, floating luxury hotels attract more than a million additional visitors to this overcrowded city every year.
In addition, there are low-cost airlines, which also transport thousands of passengers to the city thanks to the reduced landing fees at surrounding airports.

✓ In order to control the massive influx of tourists and everything related to it, Venice – rightly – is constantly setting new rules. Many things are self-evident, other rules must be retained or require a brief explanation.
Behavior in Venice: Practical information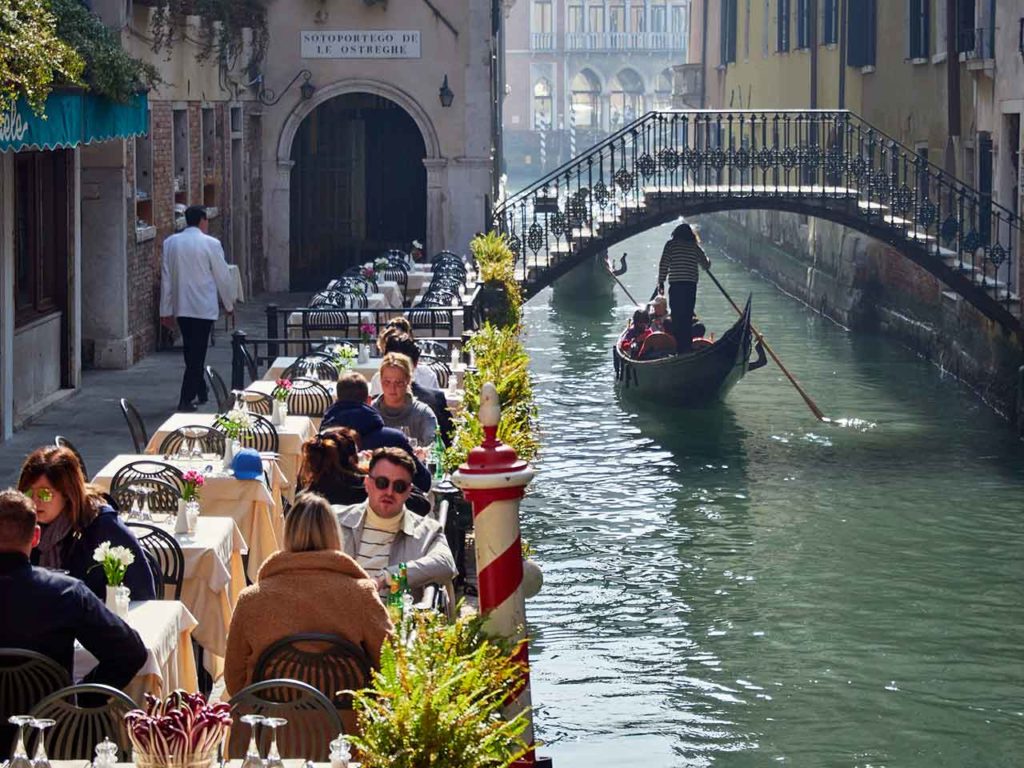 Since Venice attracts a large number of tourists every year, a number of special rules of conduct have been issued for the city. Those rules are constantly updated.
► Prohibition to leave garbage in public spaces or to drop it.

► It is also important not to stop too long in the streets or on bridges in order not to stop the movement of people unnecessarily.
► It is forbidden to sit or lie down on benches, in public places, or near monuments.

► It is also forbidden to swim in the canals of Venice. This also applies to the San Marco basin.

► The pigeons that are still around St. Mark's Square are not allowed to be fed.

► Camping and cycling are also prohibited in the old town (it is also forbidden to push your bike).

Anyone who violates the rules can be fined.
How to behave in restaurants and bars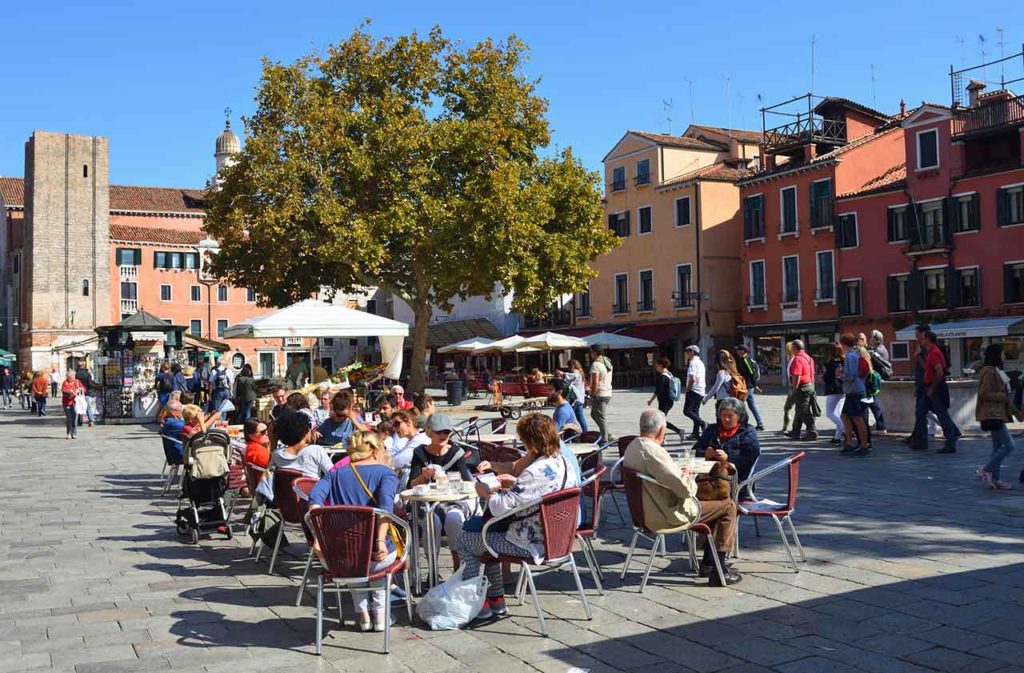 In Italy, it is common practice that the bill is not shared in restaurants. The total amount is only paid by one person or at most divided by the number of persons. In order to receive the bill, the waiter is not called out loud by the restaurant but discreetly pointed out to the waiter.
By the way, the term "Coperto" means "Cover" and is usually used as an additional amount to food and drinks. We are generally talking about an amount of 1 or 2 euros.
To compensate for this, no tip or only a small tip is given. In Italy, as in many other countries, it is not customary to include the tip directly in the bill. Let the tip be paid out completely. Afterward, you can still tip the service staff or simply leave an amount on the table. If you pay with a card and want to give a small tip, you should also give the amount in cash.
Especially for dinner, Italians do not appear in swimsuits and sandals or with their upper bodies free (unless in a beach bar). After entering a restaurant, you politely wait until you are placed. The fact that one is seated at a table with other guests due to lack of space hardly happens in a restaurant. Dinner starts late and usually consists of several courses.
Drinking wine with food is quite normal. Drinking over thirst is considered embarrassing and is not common. Coffee and pastries are available for breakfast in Italy and it is much sparser than in this country. In Italy, a bar is not meant for the evening, but rather for the afternoon, as it closes quite early. Here, besides drinks, there are snacks like panini (sandwiches) and salads, but also pasta dishes.
More information about eating and drinking in Venice can also be found in my article about the culinary Venice.
Tipping is not always common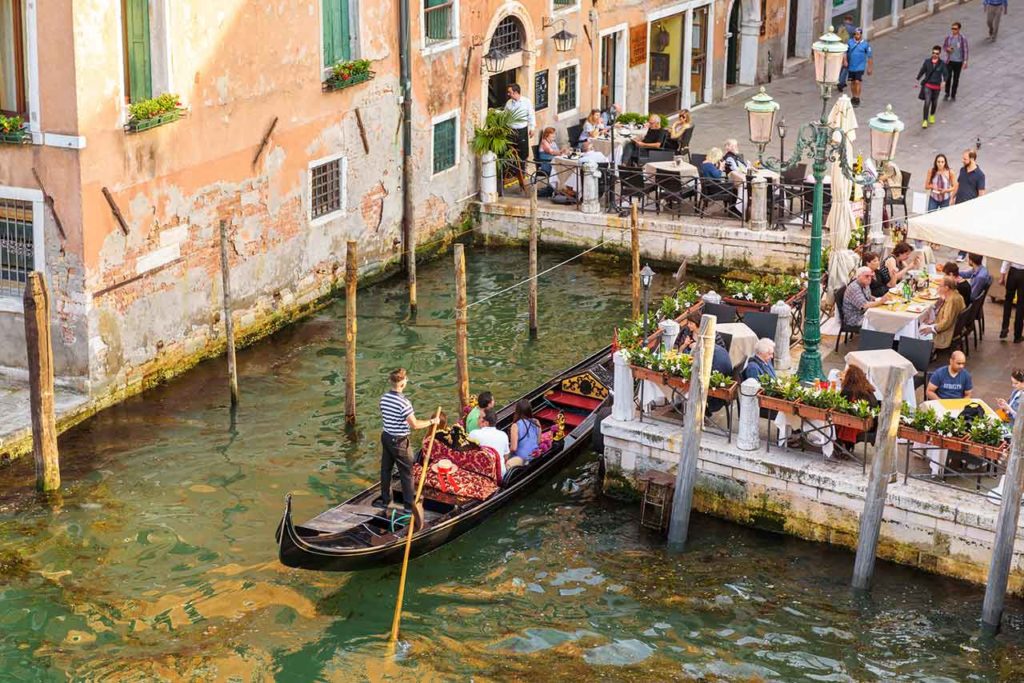 Tips – 'Mancia' is not usually expected in a restaurant in Venice. Exceptions to this rule are popular restaurants near major tourist sites. Those who nevertheless want to tip because they are so satisfied can put it discreetly on the table, as already mentioned above.
In hotels, however, the extra money can be given to the maids, it is best to leave it on the table, where 1,00 € per day is sufficient.
For taxi journeys in Italy, costs are generally calculated meticulously so that drivers do not expect the amount to be rounded up. In a tourist city like Venice, however, it may happen that some taxi drivers are already used to rounding up the amounts. However, under no circumstances is it necessary to give an additional tip.
How to greet someone in Italy?
The Italians are very polite people, even in Venice, which is flooded with tourists every day. People say thank you and often apologize.
A 'Buon Giorno' ('good day') and a 'Buona Sera' ('good evening') are common, as is an 'Arrivederci' to say goodbye. With 'Ciao' it is relatively young people or friends who greet and say goodbye. A handshake can also be part of the greeting. If one is a little better known, the obligatorily indicated kisses are distributed. Here the order is: left, right, left.
Shops and restaurants open on public holidays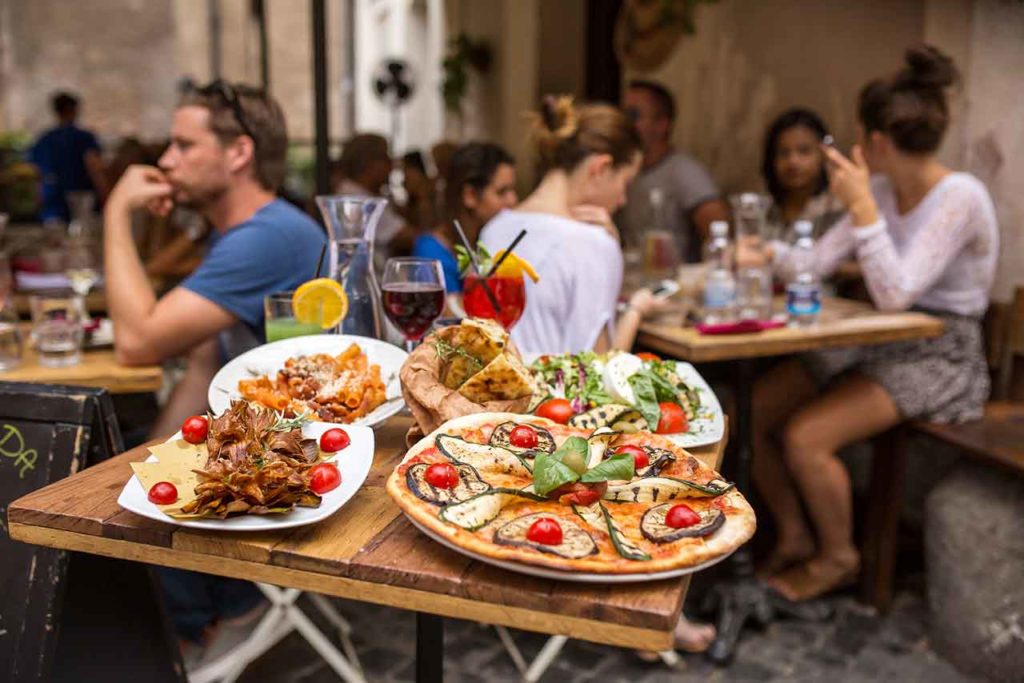 On the main public holidays in Italy, everything is open and you can expect normal opening hours for all the shops and restaurants. The exceptions are January 1, January 6 (Feast of the Magi), Easter Monday, and Labour Day on May 1. August 15th is also a public holiday in Venice.
St. Mark's Day (April 25) is a very special day in Venice. This day begins with a mass. Dances and musical performances will then take place. The annual festival in St. Mark's Square ends at the same time.
Inappropriate clothing is not welcome
Venice's inhabitants dress appropriately and elegantly. Short trousers are worn only for bathing and sandals in combination with socks are also considered faux pas. Especially in the churches in Venice, one should pay attention to appropriate clothing.
The shoulders must be covered and skirts or dresses must not be too short. Those who wear offensive (or too little) clothing may even be fined. Also, the upper body may not be exposed and bathing clothes are generally a taboo in the city.
Security and Pickpocketing
As in other cities with many international visitors, personal safety should also be taken into account in Venice. Having too much cash with you always increases the risk. Chest pockets or a firm hand on the shoulder bag or on the camera are also good aids.
The danger of becoming a victim of pickpockets is particularly great in the crowds of sightseeing attractions, at the main station, or in water buses. If you are traveling by car, you should park it in a guarded multi-story car park. Larger valuables should generally not be taken on the journey. In Venice, however, there are many policemen who can be approached in an emergency.
► Read more about Dangerous Areas and Security in Venice.
Other behavioral information for Venice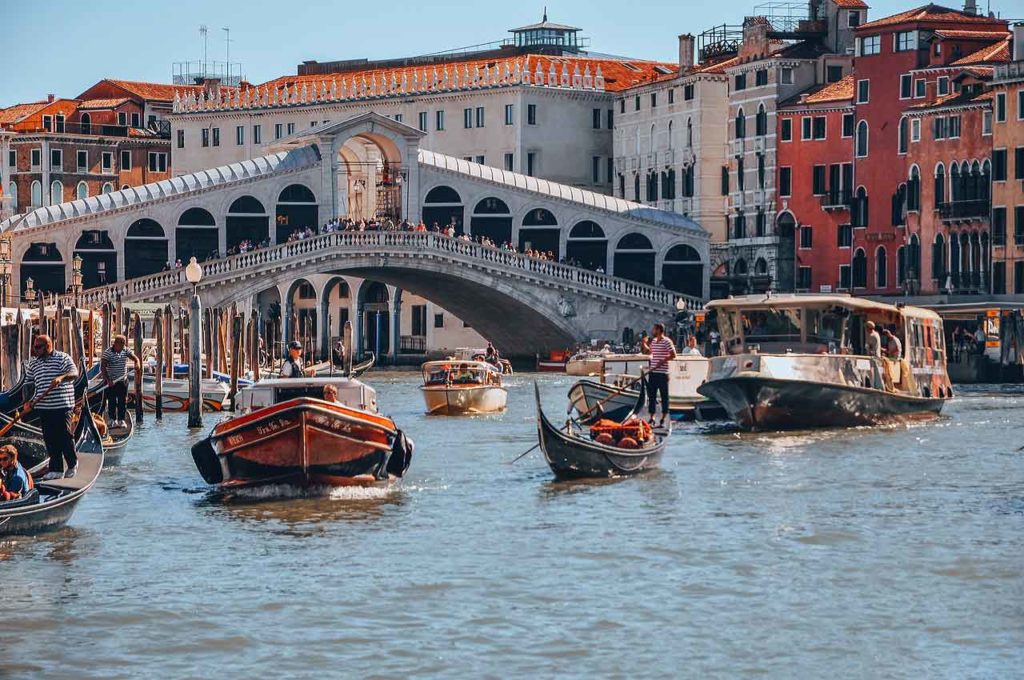 Where there are many tourists, the prices are sometimes especially driven up. Those who do not want to eat and drink too expensive should not necessarily stop at the famous Piazza San Marco. In the side streets and a little off the beaten track, the prices are a little lower again.
Caution may also be advised with flying dealers or a gondola ride. This is because holidaymakers have already been created in the past. Understanding and speaking a few words of Italian can't hurt to negotiate a price. The price list should also be checked before ordering or paying.
As the city is constantly issuing new rules regarding visitor behavior, it may be necessary to be well-informed about these rules before your trip. It is possible to obtain a sometimes very severe fine if tourists are caught in the act by law enforcement officers.
In this case, it does not matter whether the offense itself is seen as such or whether the rules have been read at all. Those who inform themselves are always on the safe side.
And finally, some rules actually make sense. For example, the number of pigeons (and the associated impurities) on St. Mark's Square has decreased significantly since they are no longer allowed to be fed.