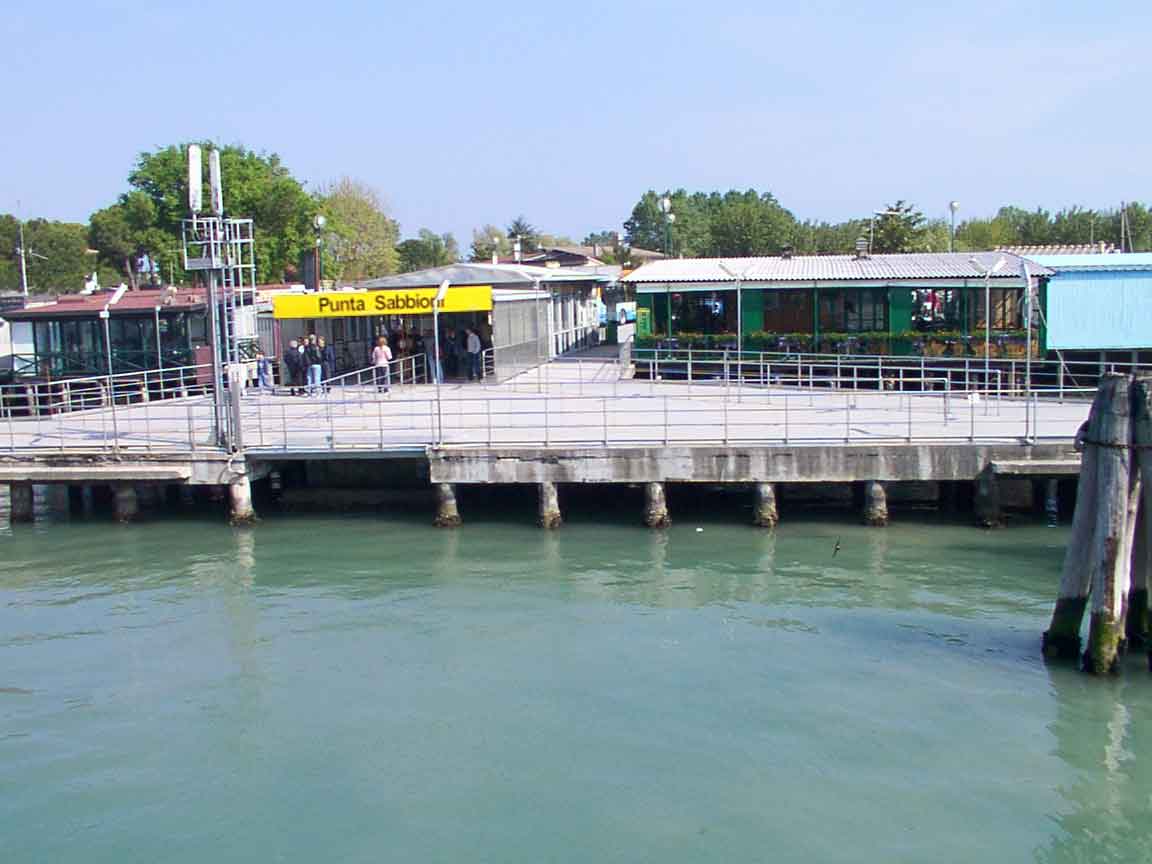 The town of Punta Sabbioni, often heard in connection with Venice, is not really one of the tourist highlights in the famous lagoon on the Adriatic Sea during a city trip to Venice.
Nevertheless, it is a great option to travel via the ferry port of Punta Sabbioni to visit the historic old town of Venice, explore some of the worthwhile lagoon islands (see top tips under Line 12 for public water buses), or take the car ferry to the famous Lido di Venezia.
The hinterland of Punta Sabbioni also offers inexpensive options for a beach holiday. You will find information on all this in this article.
Where is Punta Sabbioni located?
Punta Sabbioni is a district of the municipality of Cavallino-Treporti, which in turn belongs to Venice, the regional capital of Veneto. It is located at the western end of a headland between the Venice Lagoon and the Adriatic Sea.
From Punta Sabbioni you can reach Lido di Venezia in less than half an hour and St Mark's Square, the tourist center of Venice, in another quarter of an hour.
✅ Many people drive to Punta Sabbioni by car and then take the various vaporetto lines to Venice. The ferry port of Punta Sabbioni is connected to Venice's popular public water bus system.
Ferries from Punta Sabbioni to Venice
The ferry terminal in Punta Sabbioni is used by day trippers who arrive by bus or car as locals or tourists from all over northern Italy to visit the world-famous lagoon city. The independent Hop-On Hop-Off Boat Tour, which also stops in Punta Sabbioni, is also ideal for this. Tickets can also be booked here in advance.
Tickets for Boat Transfer: Punta Sabbioni to San Marco
While the historic center of Venice is known to be completely car-free, you are allowed to use a vehicle on the legendary Lido di Venezia. The Lido is an island and is regularly served by a car ferry from Tronchetto Island and the Punta Sabbioni ferry terminal.
Here is an overview of the most important public lines of the well-known water buses with individual information:
Punta Sabbioni
Route
Line 12
San Marco / S. Zaccaria - Lido - Punta Sabbioni - Burano + return
Line 14
Fondamente Nuove - Punta Sabbioni + return
Line 15
San Marco / S. Zaccaria - Punta Sabbioni + return
Line 17
(Car Ferry)
Tronchetto Ferry Boat - Lido - Punta Sabbioni + return
Linea 12 – Passing the islands of the lagoon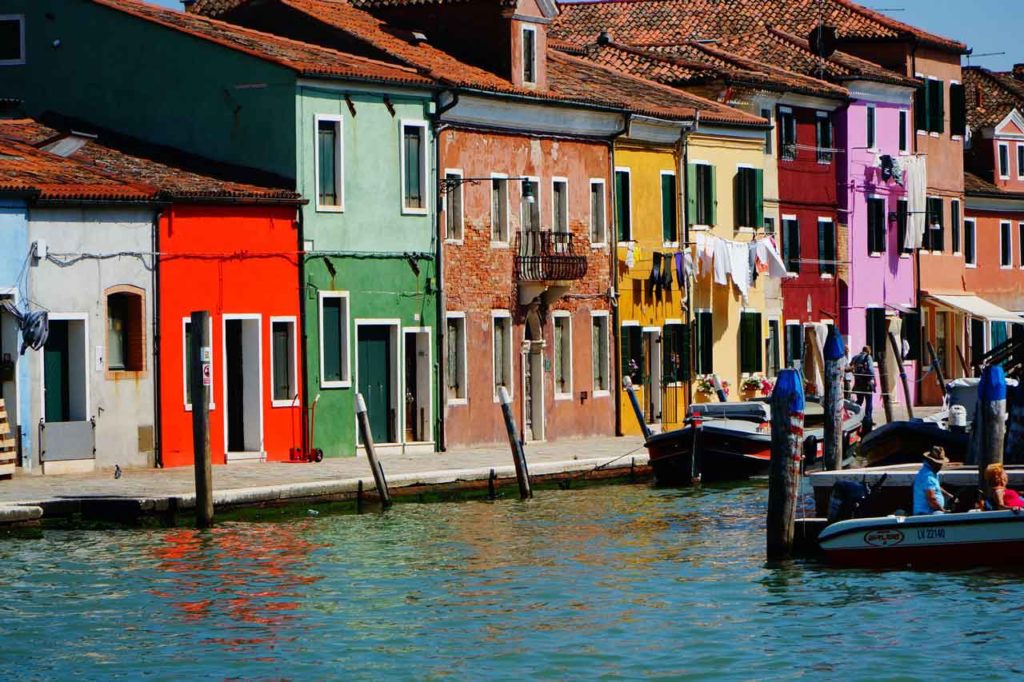 From Punta Sabbioni, line 12 travels via the stop in Treporti past numerous islands in the lagoon to the Fondamente Nuove ferry terminal in the north-eastern part of Venice. The boat trip to Venice takes at least one hour.
This route is more suitable for visitors who want to visit the enchanting islands of Burano (photo above), Torcello, and Murano.
✅ Top tips: For those who have already been to Venice but still want to experience the enchanting islands of the lagoon, there is also the guided boat tour Murano, Burano & Torcello with departure from Punta Sabbioni, independent of public transport. A similar tour is also available without the island of Torcello but with free parking.
If you still want to combine a visit to the lagoon islands with a short trip to Venice, it is best to book the boat tour Venice + Murano, Burano. Booking with free parking is also possible.
The details of these suggested excursions can be found on the provider's website. It's worth it!
Linea 14 – Fast and regular to Venice
It takes just over half an hour to get from Punta Sabbioni to St Mark's Square on line 14, with a stop at the Lido. This is where the adventure of Venice begins, with a continuation of the journey in the water buses of lines 1 and 2 through the fantastic Grand Canal or a visit to St Mark's Basilica and the Doge's Palace with its famous Bridge of Sighs.
Also from Punta Sabbioni, but in the opposite direction, it takes about 25 minutes to reach Burano after a stop in Treporti.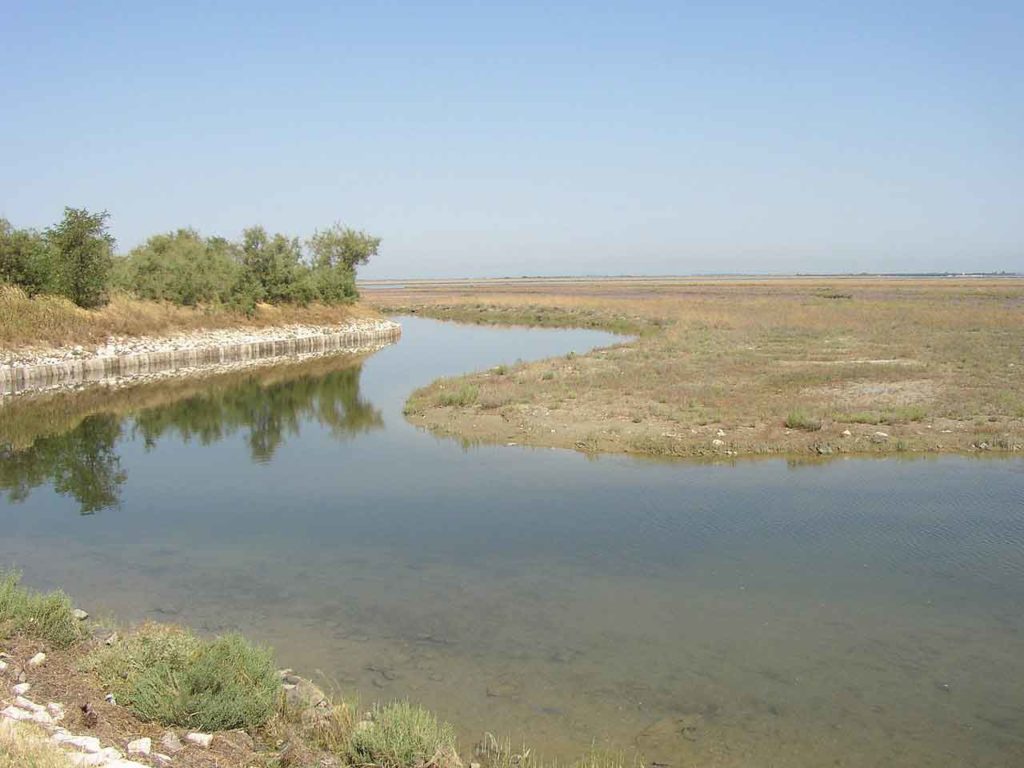 Lines 12 and 14 travel on the route to Burano through the northern part of the Venice lagoon with its characteristic small islands, natural channels, and moats. These typical marshy areas, which are regularly flooded by high tides, are salt marshes, also known as "Ghebi" in Venice. The variety of flora and fauna is worth a delightful excursion from Punta Sabbioni towards the islands of the lagoon.
Linea 15 – From Punta Sabbioni to St Mark's Square – Non-Stop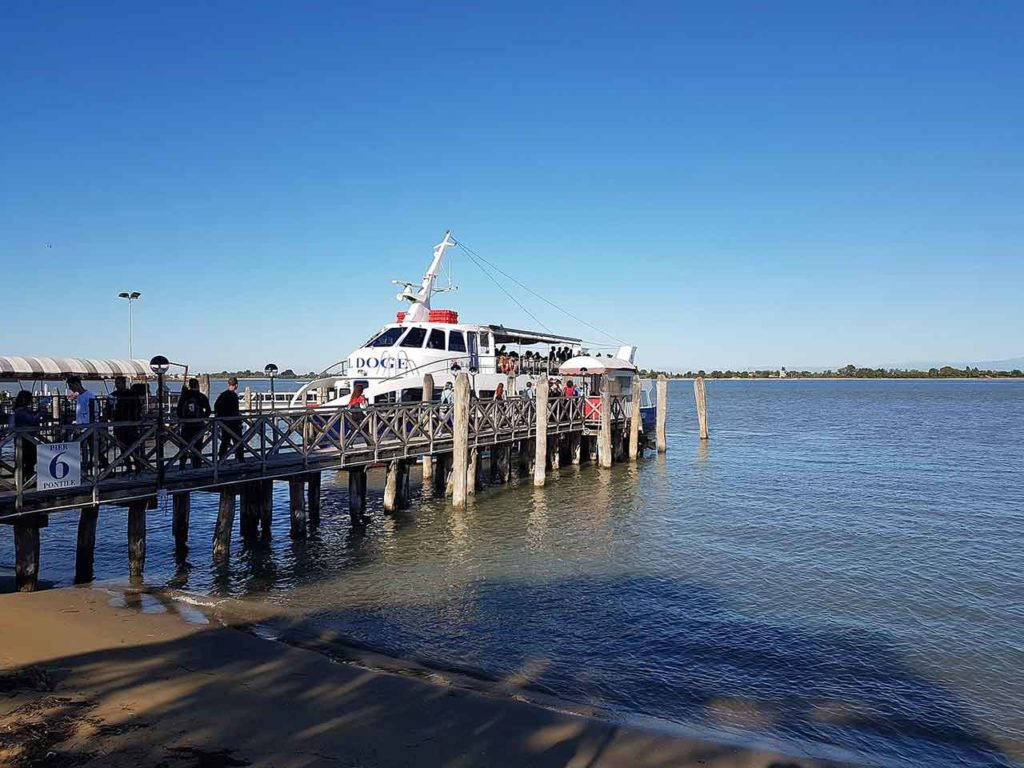 Line 15 does not run regularly, but only when there is an increased number of guests to be transported, which is mainly the case in the warmer months. Mainly in the mornings and evenings, it then goes directly from Punta Sabbioni to St Mark's Square, where you can see the important sights of Venice from afar, with the tower of St Mark's that towers above everything.
Linea 17 – The car ferry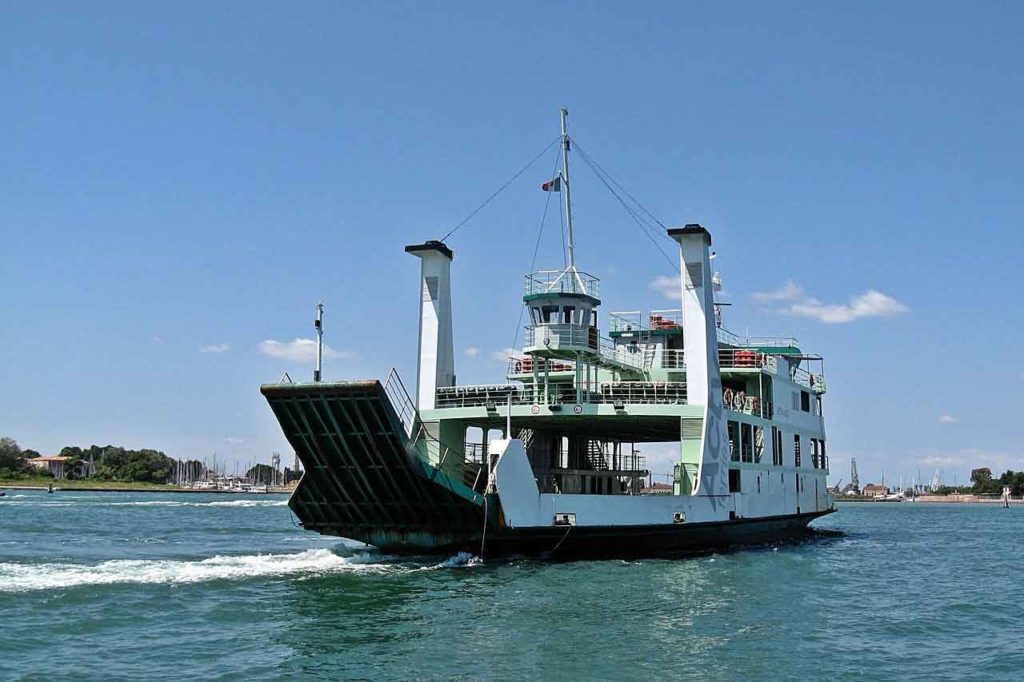 The large beaches of the Lido di Venezia, many luxurious hotels, and above all the famous Venice Film Festival give the Lido a special charm. Here you can park your car in front of the hotel. The crossing to the island, a spit separating the Venice Lagoon and the Adriatic Sea, can be made from Punta Sabbioni or from the park island of Tronchetto by car ferry.
Directions to Tronchetto Island can be found in Parking in Venice. It takes about 30 minutes to get to the Lido from Ferry Boat Tronchetto and a quarter of an hour from Punta Sabbioni. If you are traveling in the high season, you should book a place on the car ferry in advance.
Boat transfer fast and direct to Venice
Independently of a transfer with a scheduled water bus, it also goes back and forth to Venice with a separate boat transfer. Punta Sabbioni and Piazza San Marco are the two stops on this fast, direct, and convenient connection. The return ticket for about €10.00 is very cheap but does not include any other trips to Venice. Interesting for travellers who want to explore St. Mark's Square with its top sights, or simply experience the hustle and bustle in the centre of the world-famous lagoon city.
✅ Here is all the info and the tickets for Punta Sabbioni boat transfer there and back to Venice. Similar can also be booked directly with reserved parking for a few euros more for interested drivers.
When do the ferries leave?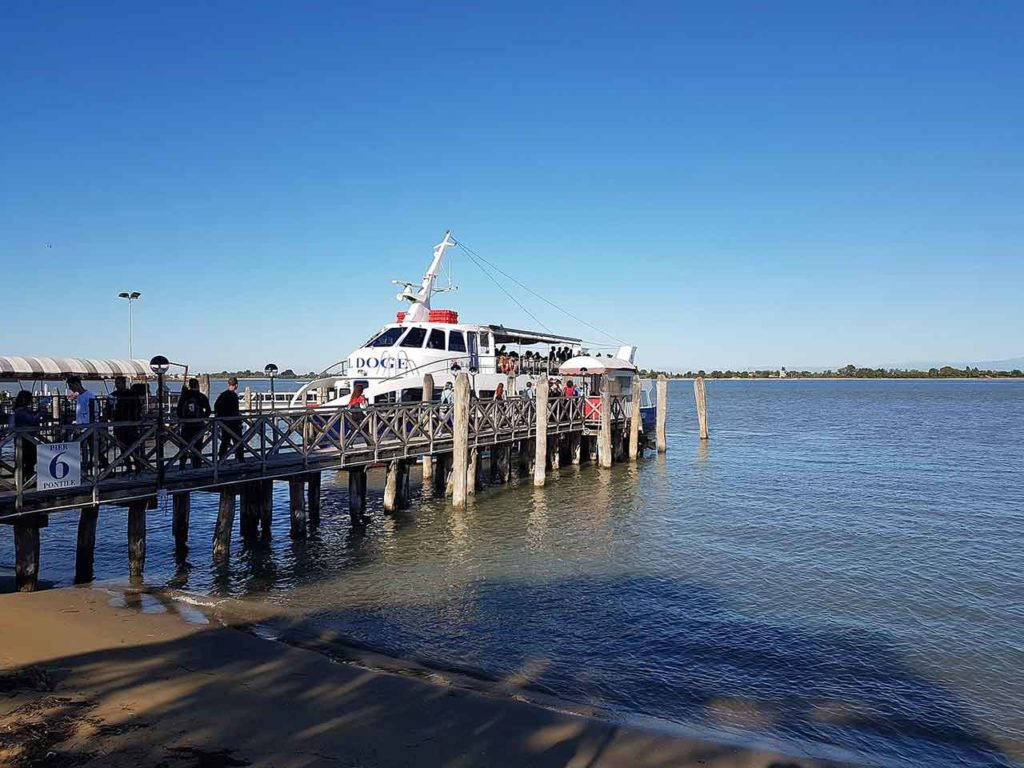 The above-mentioned lines 12, 14, 15, and 17 all belong to ACTV, the operator of Venice's public transport system. Their vaporetti, i.e. the water buses, as well as the car ferry, operate a certain route network (also as pdf) on the water according to a fixed timetable, which can, however, always change somewhat at different times of the year. Venice and its environs are an absolute tourist hotspot, so the frequency of the ferries never causes long waiting times.
The main lines 12 and 14 pass by every 30 minutes or so and the car ferry leaves every 50 minutes. The water buses are of course also used by many locals and are thus on the road from around 5:00 am to 10:30 pm. The ACTV always publishes an up-to-date timetable, which you can view here:
How much do the ferries from Punta Sabbioni cost?
Venice public transport fares apply on all routes for passenger transport. Day tickets from € 7.50 for a single journey are always expensive. Therefore, it is best to book a day or multi-day ticket. Everything about public transport and especially the popular vaporetti can be found in the respective articles.
Buying tickets is often stressful, so it's best to get your tickets online in advance. You can use your booked tickets on any day. From the first validation, the tickets remain valid for the booked period.
Vaporetto / Public Transport
Price*
Tickets
75 minutes from validation
12,00 €
Book online
24 hours from validation
30,00 €
Book online
48 hours from validation
40,00 €
Book online
72 hours from validation
50,00 €
Book online
168 hours from validation
70,00 €
Book online
Tickets with free cancellation
various
Book online
Kids less than 6 years
free
Public Transport +
single Airport transfer
from 14,30 €
Book online
For the use of the car ferry, there are about 10 different rates for the respective category of vehicle. For a car, the boat transfer costs from € 13.00 one way. This does not include the cost of transporting people. Cyclists pay € 1.00 for their bike. You can find the individual tariffs and reservation options under this link:
By car to Punta Sabbioni
Punta Sabbioni is a small town at the tip of the Cavallino peninsula. The approach is very easy and always via Jesolo, which is about 20 km away. For the route on the only provincial road SP42 from Jesolo to the ferry terminal in Punta Sabbioni, you should allow about 20 minutes by car.
For holidaymakers from Caorle and Bibione, the journey by boat from Punta Sabbioni to Venice takes considerably longer, 1 hour and 1 hour and 20 minutes respectively. But it is always worth it!
Parking in Punta Sabbioni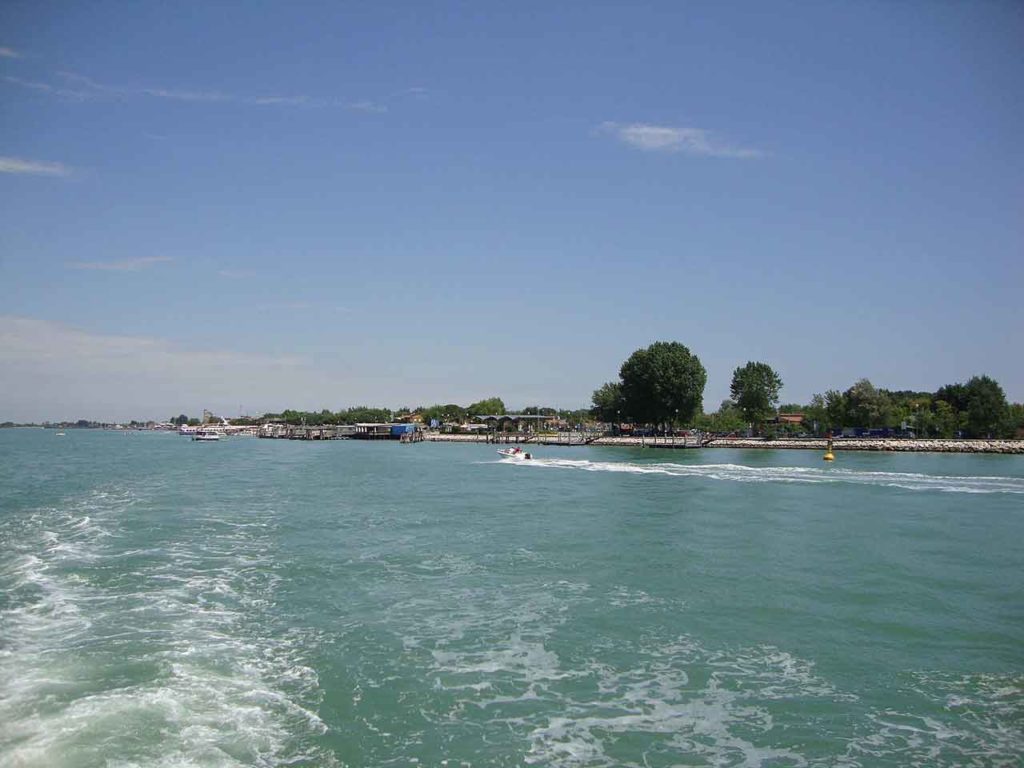 Parking in Punta Sabbioni is generally cheaper than in Venice. This applies to day trippers as well as to long-term parkers. Since many locals who work in Venice occupy all the free parking spaces early in the morning, you should look directly for a suitable paid parking space, of which there are more than enough.
The price level here is around €7.00 per day. In my general article on parking in Venice, I already mentioned the conveniently located Auto-Moto Parking.it, Via Fausta, 5A, 30013 Punta Sabbioni.
Many car park operators attract motorists with large advertising boards for their parking spaces. Almost all of them refer to a secure and high standard of surveillance, which, however, does not always necessarily correspond to that of the large video-monitored car parks in Venice. So when choosing a parking space, always take your time to look around!
By bus to Punta Sabbioni
Bus trips on the Cavallino peninsula to and from Punta Sabbioni are offered by the company ATVO. This stands for Azienda Trasporti Veneto Orientale and should not be confused with ATCV, the operator of public transport in Venice. For tourists, the connections to and from Jesolo are of particular importance. Beach holidaymakers from Jesolo reach the ferry port from Jesolo after about an hour's drive.
The same applies to visitors to Venice who want to experience the hustle and bustle or a day of swimming in Jesolo. If you are coming from Venice and want to get to the sea early, you can also get off earlier, after about 20 minutes at the Ca'di Valle stop. From there it is only 5 minutes to the endless beaches of Cavallino. Buses 23A and 23B run every 30 minutes to and from Punta Sabbioni. The one-way ticket to Jesolo costs about € 5.00. The exact departure times can be found in the timetable here.
Beach holidays from Punta Sabbioni to Cavallino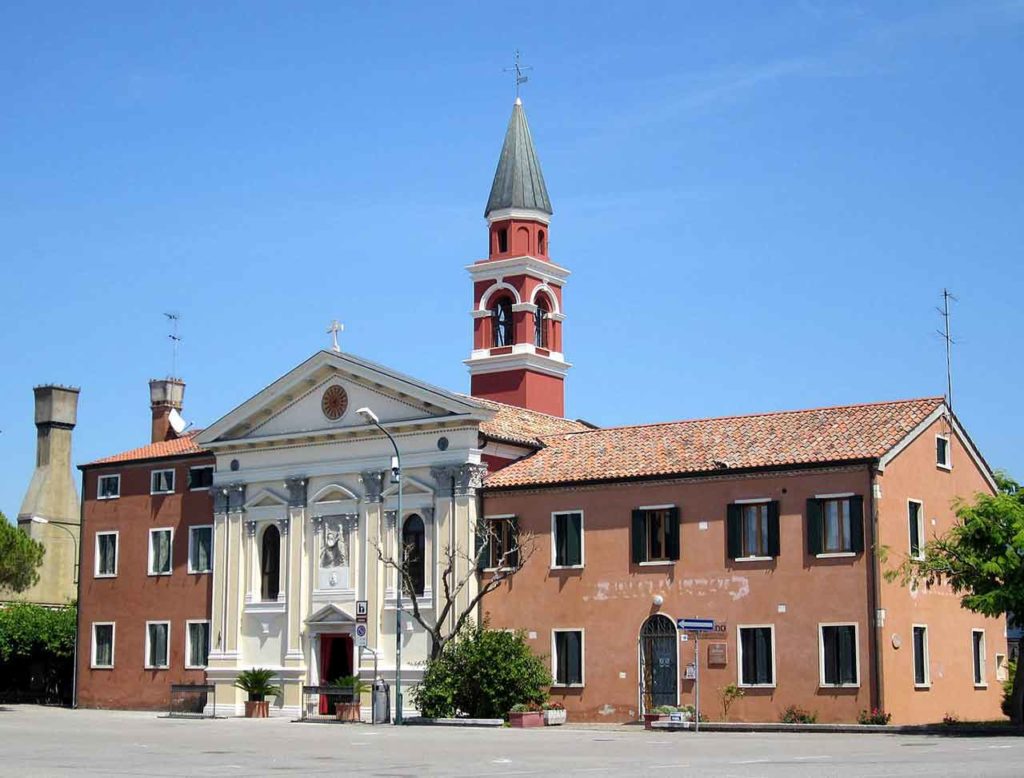 If you want to spend a beach holiday in Bella Italia, are looking forward to visiting the fabulous Venice, and also want to park your car for free, you will find various possibilities on the long sandy beaches of Cavallino. These begin southwest of the river Sile, whose road bridge also forms the only connection between the unspoiled area around Cavallino and lively Jesolo.
Here you can not only relax but also take part in the life of the locals at the weekly market in Cavallino and make a visit or two, such as the Chiesa di Santa Maria Elisabetta, a 16th-century church and an old 15th-century mansion in the Piazza Santa Elisabetta (photo above), a central square of Cavallino.
If you want to spend your holiday mainly by the sea and are looking for a suitable bungalow, mobile home, or luxury caravan, Ca'Pasquali Village or Vela Blu Camping Village are the places for you. The respective location on Cavallino Beach, prices, and facilities can be found on the provider's website. This also applies to the top facilities Luxury Caravan at Union Lido and Jolanda Vacanze.
For those who prefer a hotel and an evening in a pizzeria or a typical local restaurant, I also have some suggestions close to the sandy beaches of the Cavallino headland.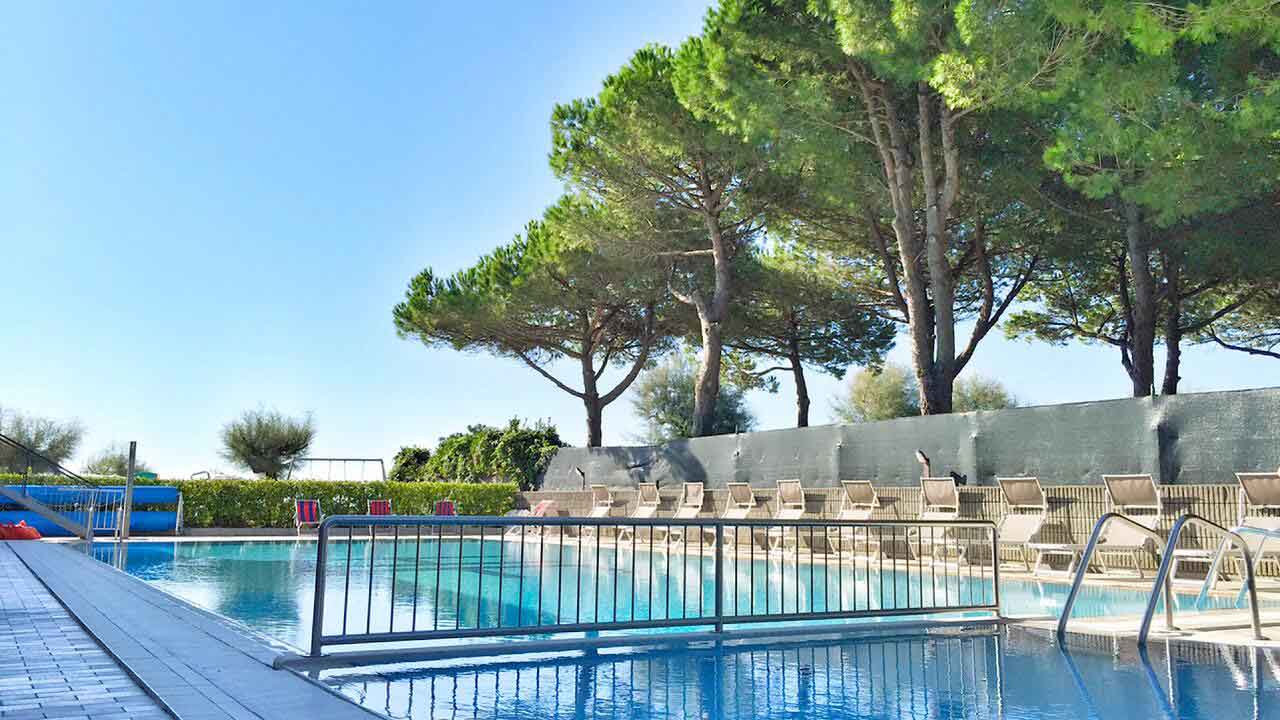 🏨 Hotel Fenix – Typical Italian 3-star middle-class hotel on the Adriatic Sea. The rooms, mostly with a sea view, have a fridge for a fresh beer in the evening on the balcony. Otherwise, everything you need when life takes place by the pool or on the beach, which is right on the doorstep here. Parking, good continental breakfast, and wifi included. Bicycles are provided free of charge. Restaurant, bar, and terrace with sea view.
Address: Via Tirreno, 6, 30013 Cavallino-Treporti, room 60, double room from € 90.00.
🏨 The Green Park Hotel – Great fine small hotel just a few metres from the sea. Modern accommodation with comfortably equipped rooms. Very good breakfast and restaurant for discerning guests. Parking is included, as well as wifi. Very quiet location, perfect for relaxing. Swimming in the sea or in the water park of the attached campsite. Sunbeds and parasols are available on the beach for hotel guests.
Address: Via delle Batterie, 166, 30013 Cavallino-Treporti, room 29, double room from € 100.00.
The Green Park Hotel online buchen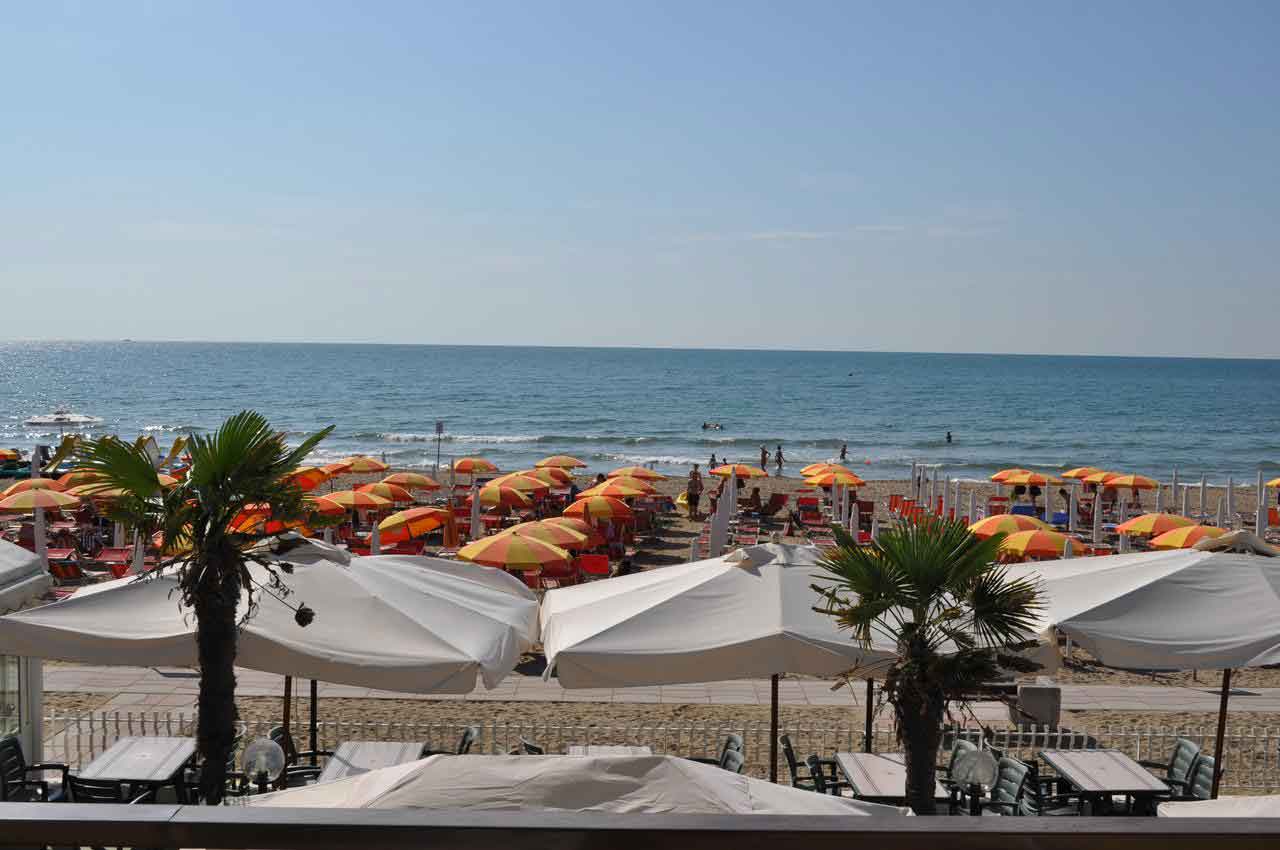 🏨 Hotel Righetto Fronte Mare – The hotel is located directly on the beach. No beach promenade, so ideal for families with smaller children. Rooms, including family rooms, with balcony, fridge, Wi-Fi, TV, safe and air conditioning. The day starts with breakfast on the terrace with a sea view. Restaurant, free parking, bicycles provided free of charge, quiet clean beach, small town for strolling nearby.
Address: Corso Italia 16, 30013 Cavallino-Treporti, room 67, double room from 95,00 €.
Righetto Fronte Mare online buchen
Walking to the ferry port of Punta Sabbioni 
The town of Punta Sabbioni gets its importance almost exclusively from its ferry terminal with regular boat trips to the famous Venice and its car ferry to Lido di Venezia. There is not much to see in Punta Sabbioni. Nearby accommodation is always no more than half an hour's walk from the ferry terminal and the popular Spiaggia di Punta Sabbioni.
So holiday without a car and you want for nothing! This is especially true for the following two tips:
⛺ Marina di Venezia Camping Village – The absolute highlight with a 25-minute walk to the ferry terminal to Venice and direct access to the sea. A superlative campsite and a paradise for the whole family. Here you can shop in great boutiques, eat delicious food in restaurants, and enjoy extraordinary shows. For children, there is a separate club and the most important club, a spectacular water dorado. There is also a large private sandy beach with great beach bars. With plenty of open space, there are large pitches for guests with tents, caravans, or motorhomes, all of which are extremely environmentally friendly. This also applies to all accommodations, such as bungalows, holiday flats, and mobile homes, which are also rented out.
Address: Via Montello, 6, 30013 Cavallino-Treporti VE, Italy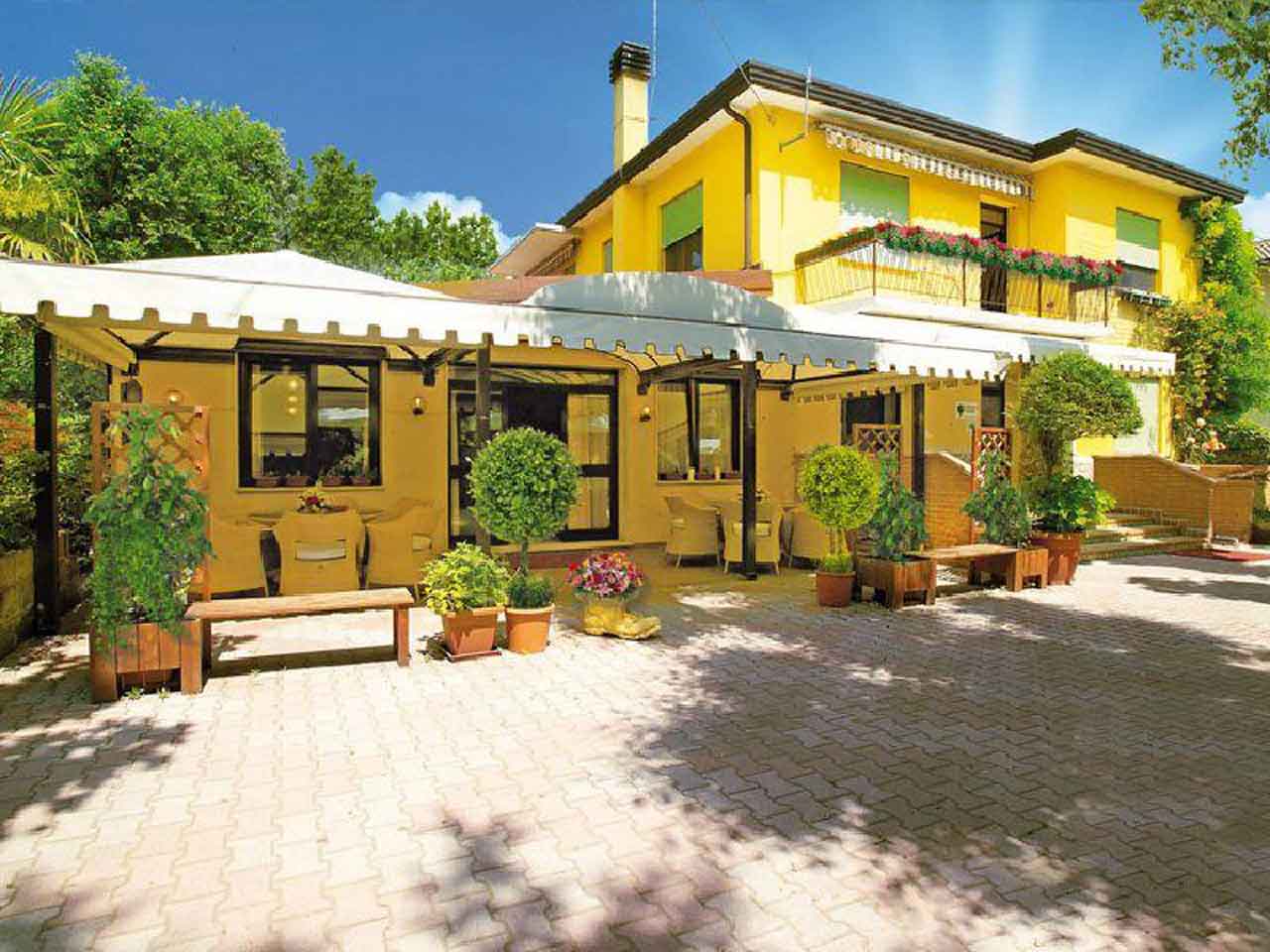 🏨 Locanda da Scarpa – Quiet and convenient is the family-run accommodation Locanda da Scarpa. Breakfast, free bikes, bar, and restaurant with excellent Italian cuisine. Not far from the sandy beach and the jetty. A beautiful large garden full of plants and flowers invites children and adults to linger. Typically Italian!
Address: Via Pealto, 17, 30010 Tre Porti; room 7, double room from 80,00 €.
Locanda da Scarpa online buchen
Via Punta Sabbioni to Venice – Conclusion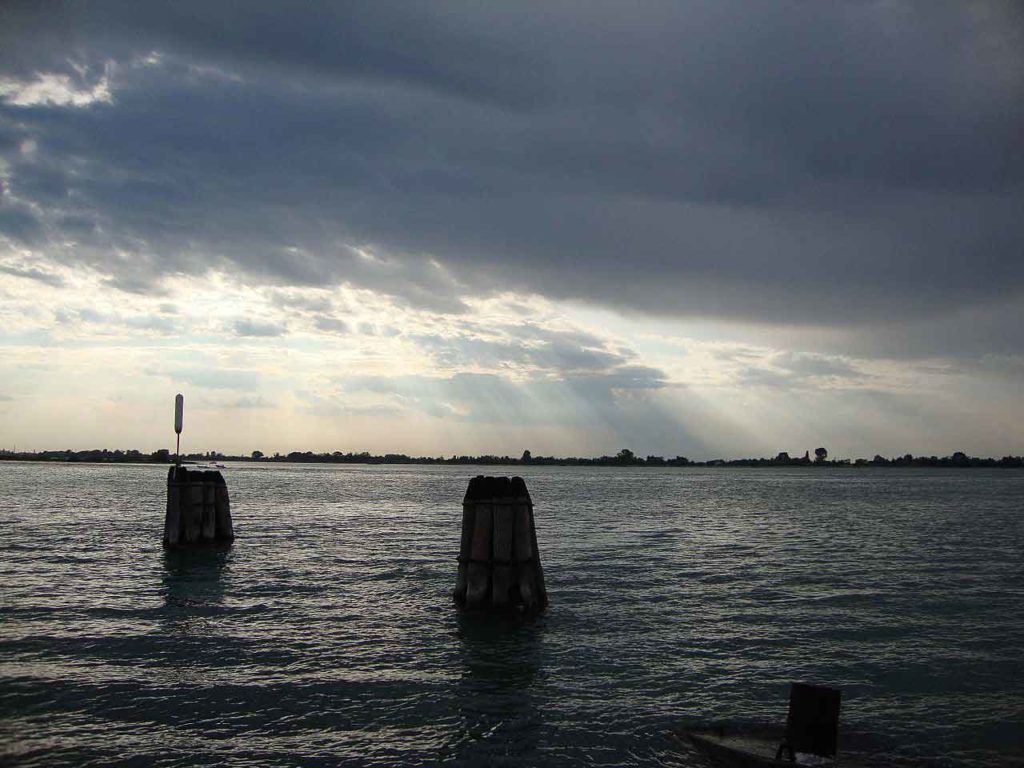 The Cavallino-Treporti coastline, with its important ferry port of Punta Sabbioni, is a long and fertile peninsula between Venice and Jesolo that impresses above all with its diversity.
Everything here is quieter, more pristine, and more natural than in nearby touristy Venice or lively Jesolo. Long, golden beaches, dunes, pine forests, and a winding lagoon landscape alternate and have little to do with the fashionable Lido di Venezia or the hustle and bustle of the world-famous lagoon city in the Adriatic.
Here, daily life is still shaped by the locals. Nevertheless, everywhere in the background, you can see the elegant silhouette of the unique Venice.
---
Picture sources:
Punta Sabbioni: Daniel Ventura (https://commons.wikimedia.org/wiki/File:First_look_at_the_island_Murano_02.jpg), "First look at the island Murano 02", https://creativecommons.org/licenses/by-sa/4.0/legalcode
Salt marshes: Danny van Leeuwen (https://commons.wikimedia.org/wiki/File:Cavallino-Treporti,_Metropolitan_City_of_Venice,_Italy_-_panoramio_-_Danny_van_Leeuwen.jpg), "Cavallino-Treporti, Metropolitan City of Venice, Italy – panoramio – Danny van Leeuwen", https://creativecommons.org/licenses/by-sa/3.0/legalcode
Ferries: Triplec85 (https://commons.wikimedia.org/wiki/File:2018-09-25_Punta_Sabbioni_-_Bootstransfer_nach_Venedig_01.jpg), "2018-09-25 Punta Sabbioni – boat transfer to Venice 01", https://creativecommons.org/licenses/by-sa/4.0/legalcode
Parking: Maurizio Ceol (https://commons.wikimedia.org/wiki/File:Punta_sabbioni_venezia_-_panoramio.jpg), "Punta sabbioni venezia – panoramio", https://creativecommons.org/licenses/by/3.0/legalcode
Church: Luca Aless (https://commons.wikimedia.org/wiki/File:Cavallino_-_Chiesa_di_Santa_Maria_Elisabetta.JPG), "Cavallino – Chiesa di Santa Maria Elisabetta", https://creativecommons.org/licenses/by-sa/4.0/legalcode
Panorama: Maurizio Ceol (https://commons.wikimedia.org/wiki/File:Molo_di_punta_sabbioni,ultimi_raggi_di_luce_-_panoramio.jpg), "Molo di punta sabbioni,ultimi raggi di luce – panoramio", https://creativecommons.org/licenses/by/3.0/legalcode