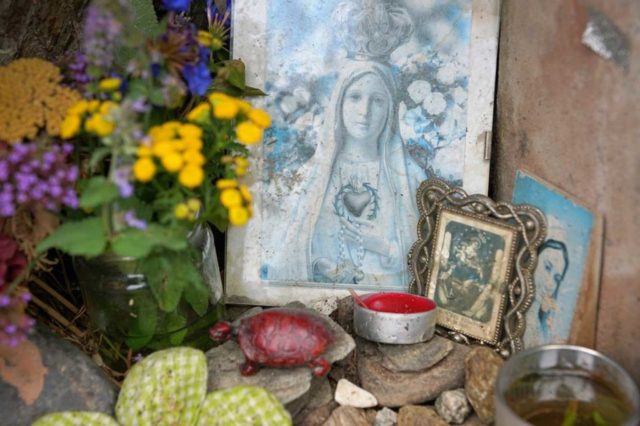 Easter weekend in Venice: What are the must-see attractions?
During a stay at Easter in Italy, visiting the cities of Rome, Florence, and Venice is a classic. The next Easter celebration, beginning on Good Friday and ending on Easter Monday, will, therefore, take place from March 31 to the 1st of April 2024.
At this time of year, Venice is crowded and those who know their dates of stay would do well to book flights, hotels, or cruise ships quickly.
✓ Here is everything you need to know about Venice during the Easter period in this article.
Easter traditions in Venice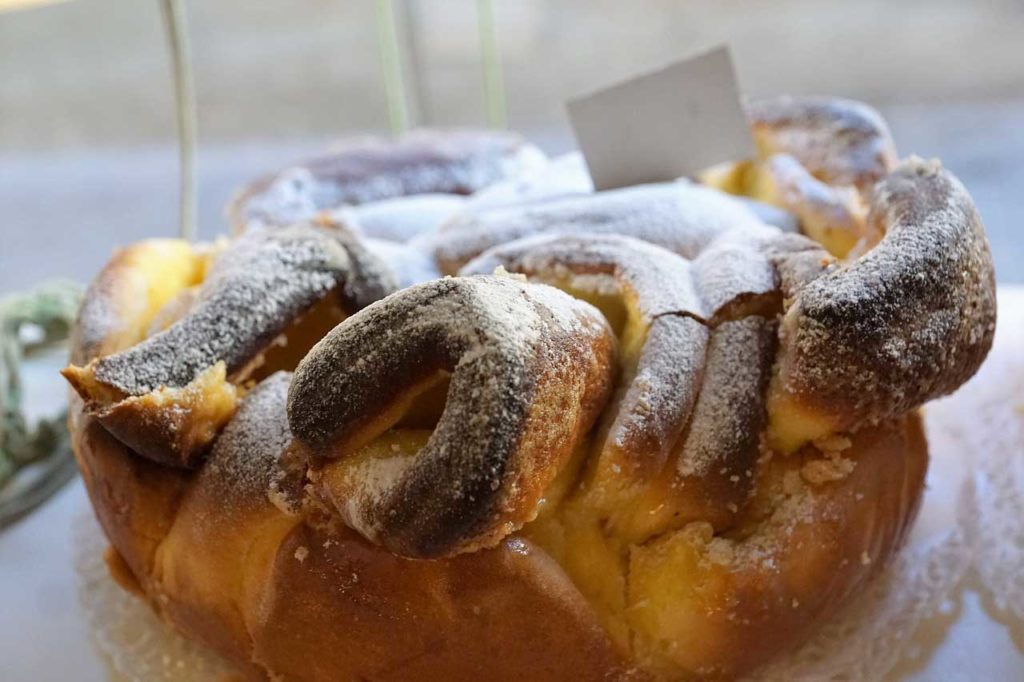 "Pasqua", as the Italians call Easter, is one of the most important festivals of the year in Italy. But it is celebrated with different customs than in the rest of the world. The only thing they have in common is that it is the most important celebration of the church year here and there, which is also recognizable in Venice by a large number of processions. Easter is a festival in Italy that is not only celebrated in the family circle. Also, friends are invited gladly.
The usual tradition of bells bringing eggs to chocolates to children is not known here. On Easter Sunday, Italian children receive a large, spectacularly wrapped chocolate egg with a toy in it. In short, it is an oversized surprise egg. As a tourist, it is also the time to taste all the sweets prepared especially for Easter. However, as already mentioned, the Sunday feast is reserved for family and friends.
Weather in Venice at Easter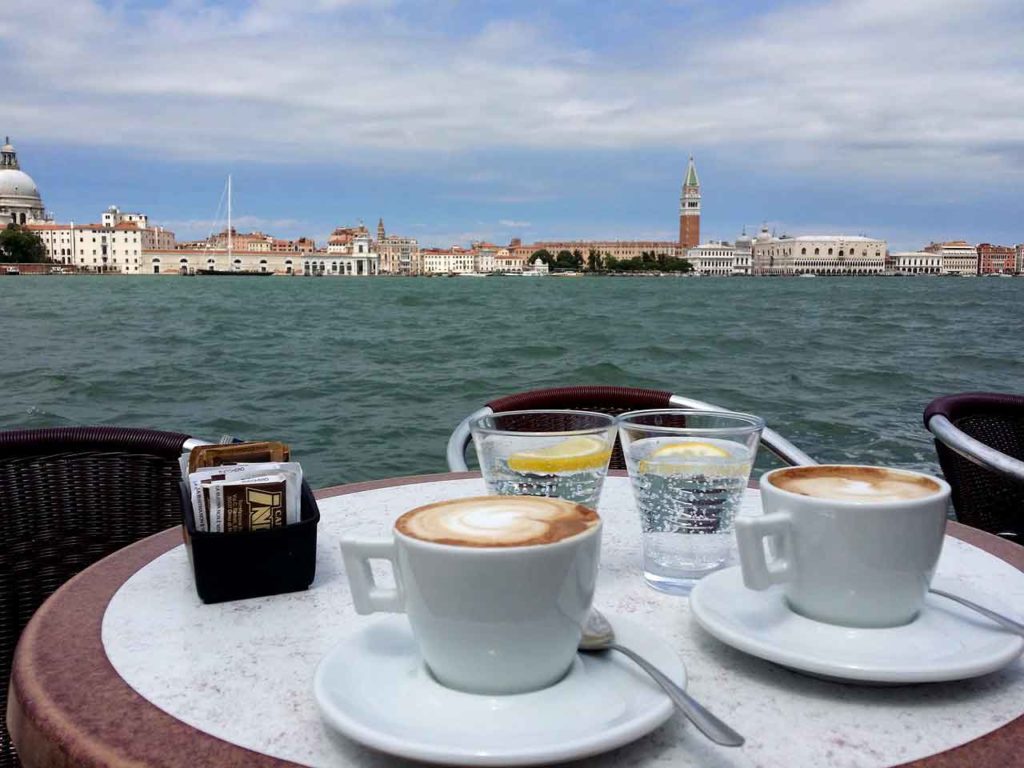 Whether it is a heatwave, rain, or even floods: anything is possible. In any case, it will not be very cold and probably the sun rays will allow you to take a walk to the Lido or have a horribly expensive coffee on the terrace in St Mark's Square.
In Italy, Venice has a little nickname: 'La Serenissima' which means 'Her Serene Highness'. The best time to visit this lagoon town in the north of the country is from May to October. But an increasingly moderate climate, as in many European cities, makes Venice a tourist destination all year round. This weather chart can give you a good orientation.
| | |
| --- | --- |
| Month | April |
| Temperature max. / min. | 17º C / 8º C |
| Sunshine hours/day | 7 |
| Rainy days | 8 |
The water at this time is still too cold to swim. For an evening outing or a boat trip, it is essential to remember to bring a warm jacket. The 'Alta Aqua' phenomenon, the usual rise in water levels, may still resurface in April.
✅ For more information on this see the article Venice in Winter and Security in Venice.
So on the packing list also put the folding boots under "possibly", besides the indispensable adapter for everything electrical, everything as mentioned in Winter in Venice
Before arrival – Accommodation, Online-Tickets, and transport tickets
At that moment in Venice, there will be a lot of people. The visit to the city will then be a real spectacle. This extraordinary lagoon city is a tourist-target for visitors from all over the world, coming either by plane, car, bus, or train and increasingly by cruise ship.
Considering, in addition, the tourists coming from Friday to Monday, it is absolutely recommended to already have the most important tickets in your possession, otherwise, the stay in Venice will only consist of waiting times in endless queues.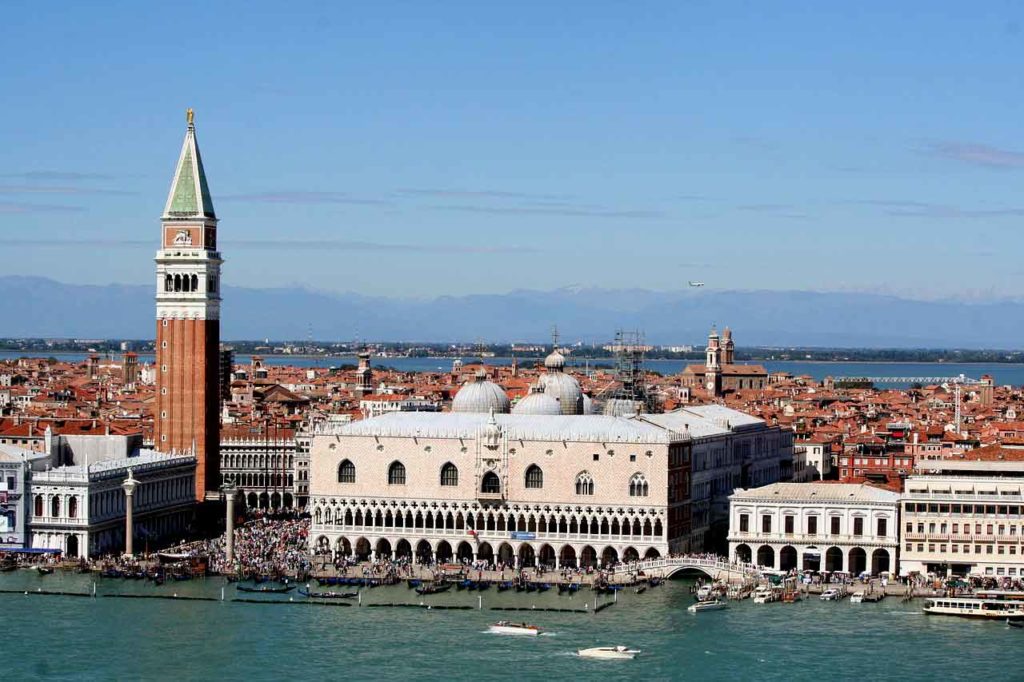 ► St. Mark's Basilica and the Campanile – At Easter, the waiting time can last up to two hours – free entrance – You can only avoid the queue in front of the Basilica of San Marco, which is normally visited free of charge, by booking a guided tour or by purchasing a combined ticket with the Doge's Palace.
Admission to St Mark's Basilica is FREE, but those who do not want to stand in the queue and also do not want to take part in a guided tour can also purchase a special skip-the-line ticket with a few extras:
The cost for the ascent on the Campanile panoramic platform is not included in the entrance fee. For this purpose, reasonably priced tickets are available on-site. Reserved tickets with priority access, also in combination with the Doge's Palace are recommended for Easter:
Bell Tower
Price*
Online Tickets
Reserved Entrance
16,00 €
Book online
Children 0 - 5 years
free
Reserved Entrance +
Doge's Palace
51,00 €
Book online
► The Doge's Palace – Again, long lines are to be expected. Booking an entry ticket online gives you priority access without delay. It is also possible to book tickets for a guided tour. For those who do not want to waste too much time in St. Mark's Square, it is recommended to obtain a ticket combining a guided tour of both the Doge's Palace and St. Mark's Basilica.
► Airport transfer – Tickets for shuttles from the main Marco Polo airport (VCE airport code) or to the nearest Venice – Treviso airport (TSF airport code) are reasonably priced and can be booked in advance for a faster transfer. For those who want to go to the historical center, the point of descent is the Piazzale Roma bus station, the Santa Lucia railway station, the cruise ship terminal, or the large car parks nearby. Any tickets that can be booked on the airport transfer site do not cost more than on-site. After that, it will be necessary to continue either on foot or with the public bus boats. Here too, I recommend that you book tickets in advance that are valid for several days.
► Parking – For drivers, it is advisable to start looking for a parking space in Venice in good time. There are plenty of solutions. You can find all the important information in Parking in Venice.
► Accommodations – An overnight stay in Venice always costs a lot of money. You will find accommodation proposals in the center of Venice in my Top 10 Hotels list. Otherwise, for a more modest budget, you will find hotel recommendations outside the historic center of the city. Also, check the different accommodation options in the articles about the nearby and easily accessible lagoon islands.
► Evening in Venice – It's crowded in Venice and if it's too cool in the evening, you can take part in a spectacular evening tour, a culinary experience, or an evening of music and opera. All this in Venice by night. Get your tickets in good time during the Easter period.
► Discount cards – Art and culture lovers and visitors wishing to stay a few more days in Venice should consider buying a Museum Pass, the City Pass Venice, or The Venice Pass.
In my article Online tickets for tourist attractions in Venice, you will find more recommendations for the advance purchase of entrance tickets according to urgent, recommended, and other criteria.
Summary for info + tickets before arrival
All this also helps to calculate the vacancy budget. The planning is done, and if the weather is not good, you can always console yourself with a good pizza. Now everything is ready: let's go!
Good Friday in Venice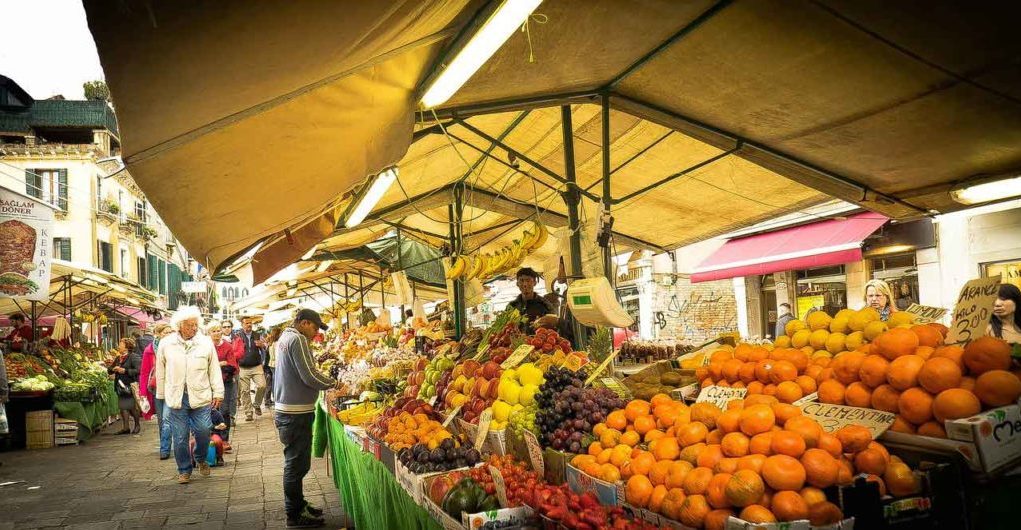 As in many other countries, Good Friday in Italy is not a public holiday. It is a day like any other, although the city is already well-filled. If you are looking for food, go to the Rialto markets, one of my Top 15 attractions, to get fish and seafood.
✓ All the shops will be open as usual and the first processions will only start in the evening.
Easter Saturday in Venice
It's a holiday in Venice like any other. We are drawn by the masses of tourists through the small streets, we queue in front of the important museums or we decide to take a walk in the authentic district of Cannaregio. This district is mainly inhabited by Venetians.
Those who want to buy something to eat or drink on public holidays will find several supermarkets and small shops that are not too expensive.
Easter Sunday in the lagoon city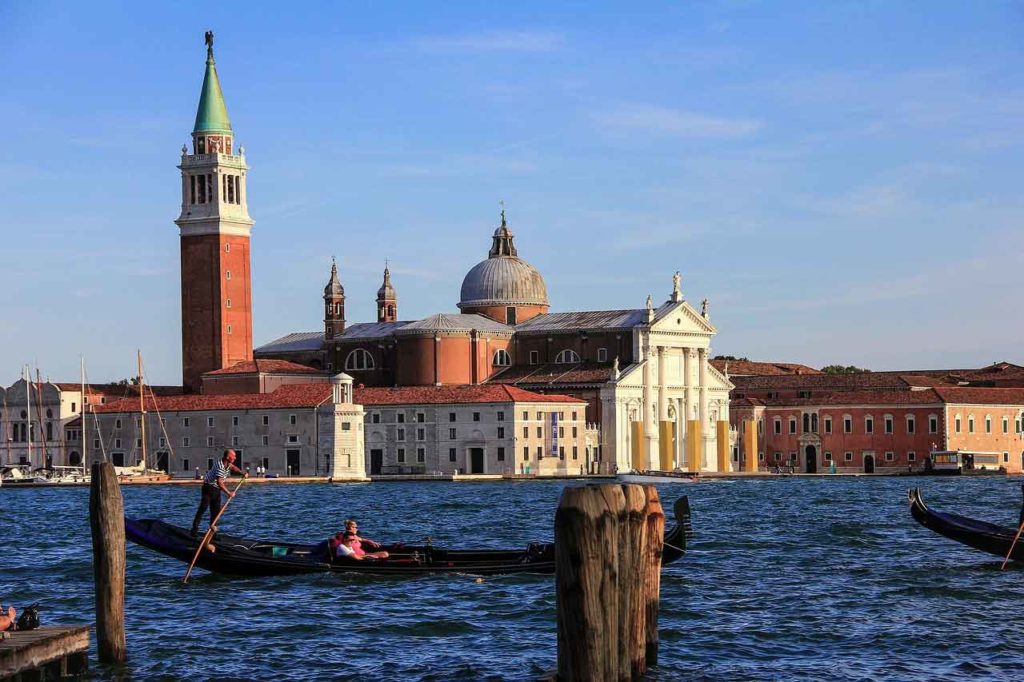 The day begins with the ringing of bells and will welcome even more people. Countless more daily visitors will come from all over northern Italy. Good planning of the day can be useful because many bus boats will be overloaded which can lead to a good hour of waiting.
One possibility could be a boat trip Hop-On Hop-Off, which is a little quieter, a bike ride on the Lido, a boat tour of the Giudecca Canal south of Venice, or a visit to the church on the monastic island of San Giorgio Maggiore (Photo). The latter is also easily accessible with the Vaporetto Line 2 from the Zattere ferry terminal.
✅ Tip: Splendid photographic subjects from the bell tower of the Church of San Giorgio (Lift cheaper than in the Campanile in Piazza San Marco).
Easter Monday in the lagoon
This day is called Pasquetta, the little Easter. Easter Monday is usually reserved for a family outing with a picnic during which the Torta di Pasquetta is never missed. This is a salty cake made of puff pastry, arugula, and spinach that can be eaten hot or cold.
As a tourist, the challenge is to find your bearings in a huge mass of Italians on the way out, no matter where you are. Those who also want to leave the city on that day can join an excursion to the nearby Dolomites, or to Verona & Amarone, for example.
✅ Tip: A day trip from Venice to Florence, one of the most beautiful and important cities in Italy.
Opening times of the attractions
While there are some days at Christmas and New Year's Eve when the most important sights of Venice are closed, there is no need to be afraid here at Easter. The exact opening hours and last admissions to the most important museums are listed in the individual articles under the category Top Attractions.
Of course, there will always be a lot of people so don't forget to book online tickets in advance to avoid waiting time. Some attractions are even open longer at Easter.
St Mark's Basilica Opening Times – Easter 2024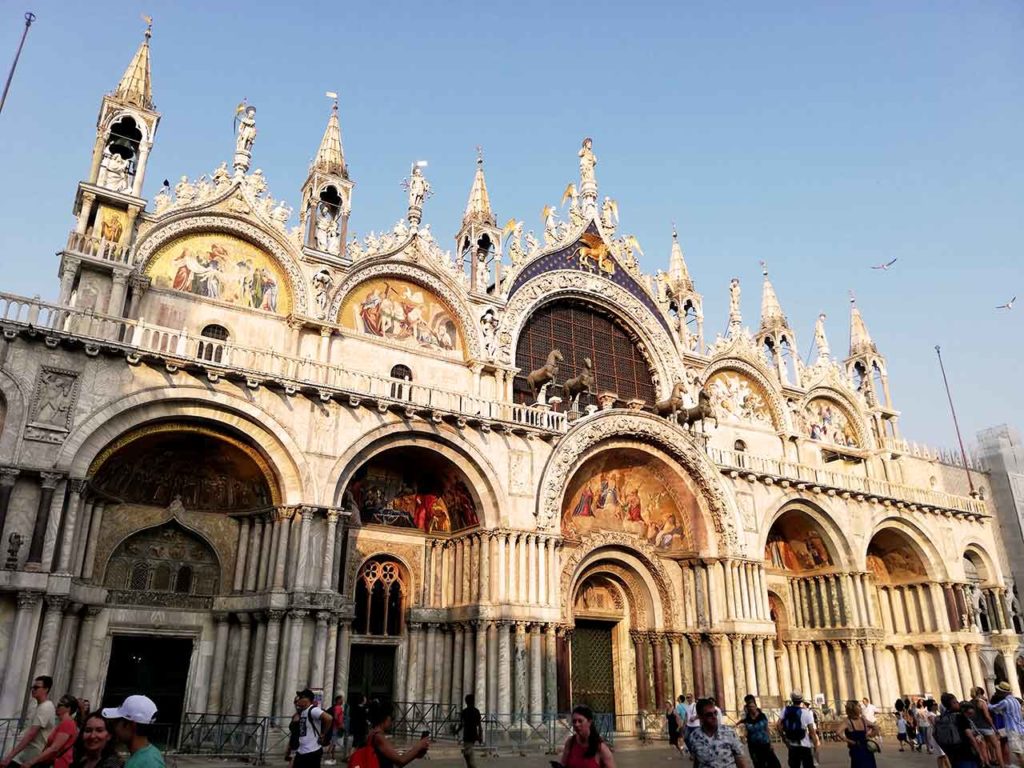 The Basilica di San Marco with its five domes is the main attraction in Venice. As surely everyone who is in Venice for the first time would like to take a look at this extraordinary work of architecture, here are the opening times for Easter in detail.
| Basilica di San Marco | Opening times | Last admission |
| --- | --- | --- |
| Good Friday | 9.30 a.m. - 5.00 p.m. | 4.45 p.m. |
| Easter Saturday | 9.30 a.m. - 5.00 p.m. | 4.15 p.m. |
| Easter Sunday | 2.00 p.m. - 5.00 p.m. | 4.45 p.m. |
| Easter Monday | 2.00 p.m. - 5.00 p.m. | 4.45 p.m. |
You will find more information on opening hours and masses on the official website of St. Mark's Basilica or in my article on Opening times of St. Mark's Basilica.
Note: Venice gets crowded at Easter. Admission to St Mark's Basilica is free and waiting times can be very long. The only solution is to take a guided tour or, as already mentioned, skip the queue with access to the Terrace and Pala D'Oro (included in the Venice Pass).
Doge's Palace Opening Times – Easter 2024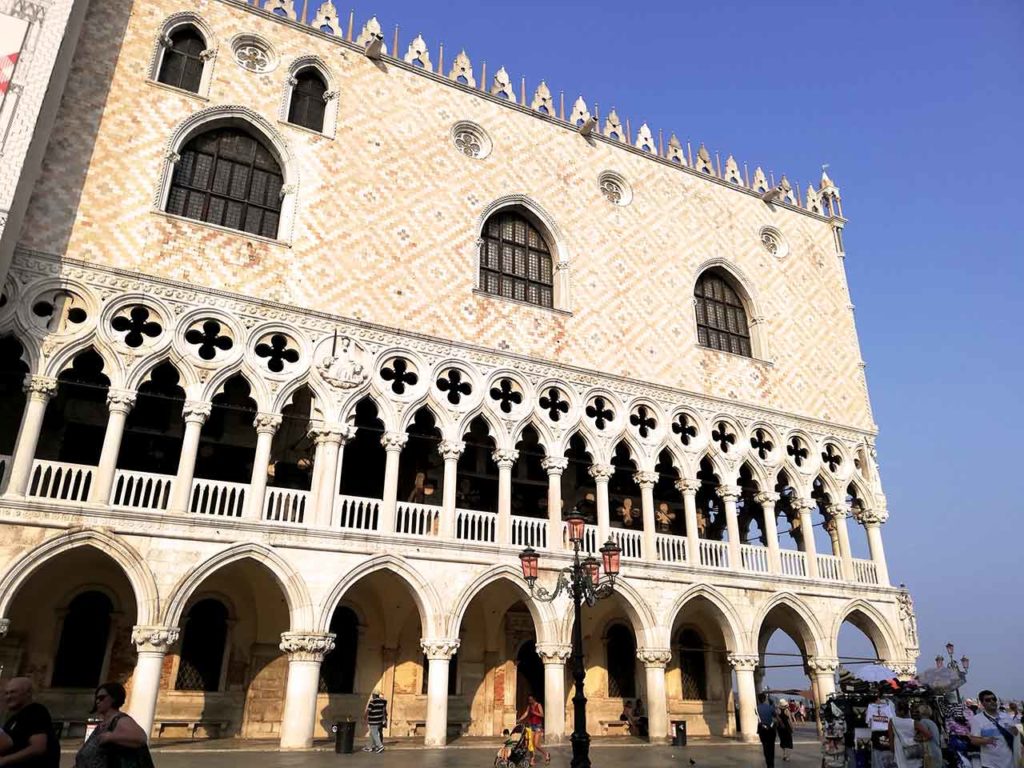 The Doge's Palace is right next to St. Mark's Basilica and sightseeing can, therefore, be easily combined. Since the 9th century, the impressive building has been the seat of the Doge and the governmental and judicial organs of the only maritime republic of Venice.
Everything you need to know can be found in the overview of the Doge's Palace. The "Palazzo Ducale" is open all year round. Due to the large number of visitors at Easter, tickets purchased online in advance are highly recommended.
Otherwise, the entry times are very generous, namely from Sunday – Thursday: 8:30 – 21:00 (entry until 20:30 possible) Friday – Saturday: 8:30 – 23:00 (entry until 22:30 possible)
Teatro La Fenice Opening Times – Easter 2024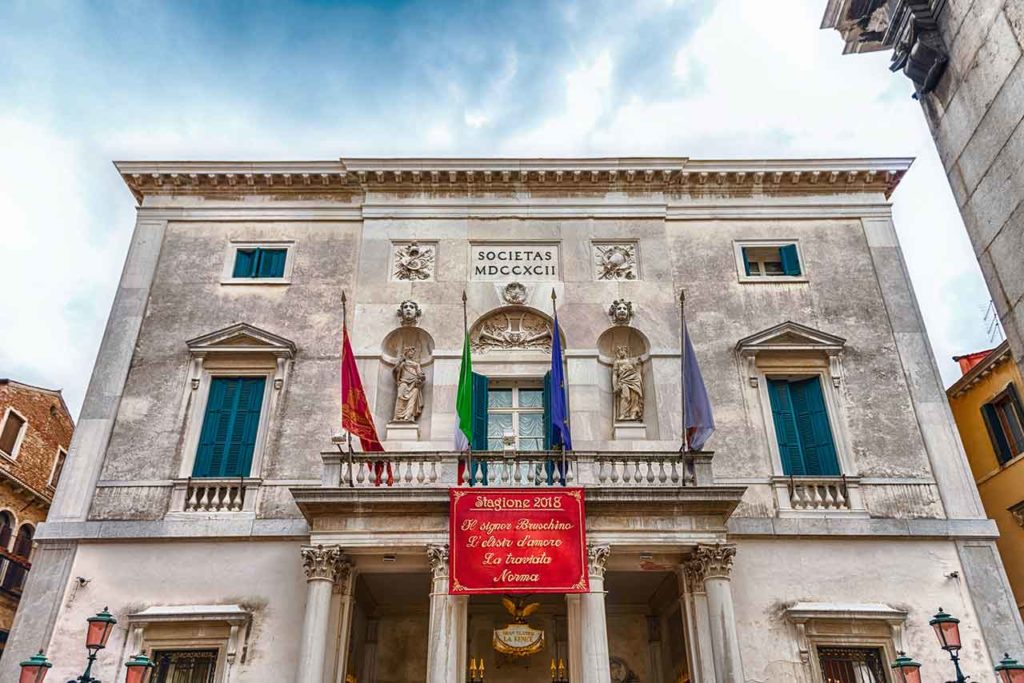 The world-famous Teatro La Fenice can be visited at Easter, as well as on all days in the year from 9:30 to 18:00 clock. After that, only visitors will have access to evening events. Due to rehearsals, afternoon performances, or technical work, there may be limited opportunities to visit the theatre in a few days.
For this, you can inform yourselves at short notice about the current info page of the Teatro La Fenice. Everything about the events and other information in La Fenice Opening Times and Admission Fees.
Gondola rides at Easter 2024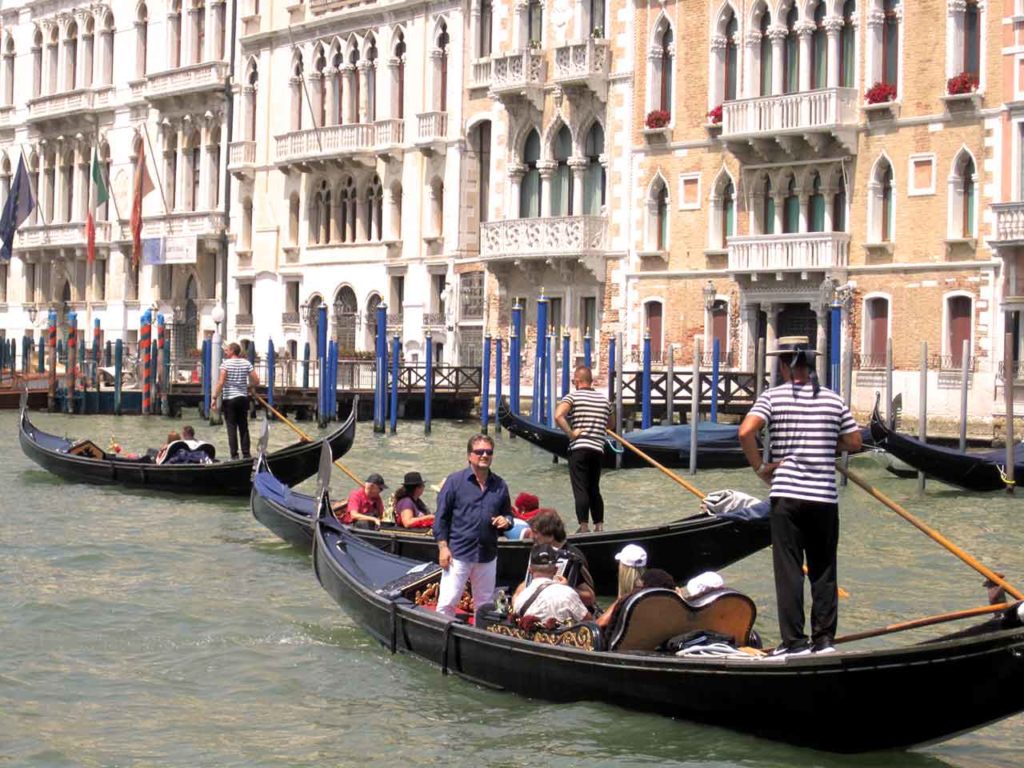 Of course, the gondolas circulate all year round, it should not be forgotten that this is the height of romanticism during a stay in Venice! But it is from Easter that the season begins and from then on, gondola tours are offered throughout the old town.
First traffic jams are to be expected, especially in the small canals. Of course, you can book gondola tours on-site, but many visitors prefer to book them online. This way, we know in advance the places, departure times, and duration of the trip.
There will then be no more price surprises or waiting times. Read all you need to know about this in my article Gondolas in Venice, also with a wide selection of booking options for simple rides, tours with music, or evening rides.
Opening times of shops and restaurants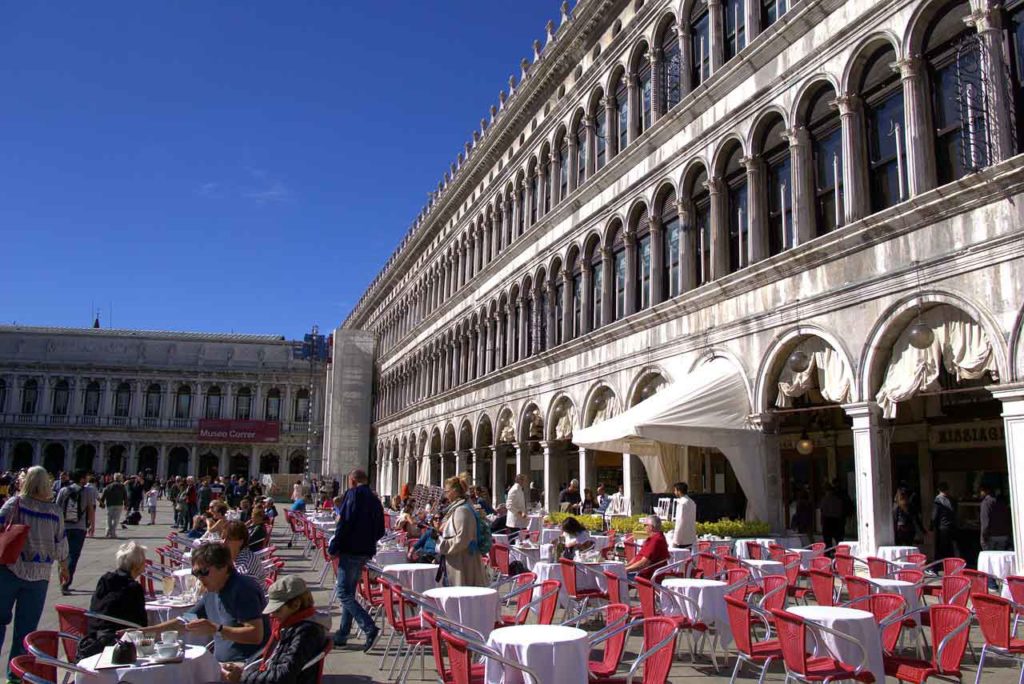 Shopping during Easter in the Catholic city of Venice is not a good idea because shops will traditionally be closed on Sundays and Easter Mondays. However, the tourist explosion in the city is leading to a constant change in opening times. More and more we adapt to the needs of visitors. Thus, even on public holidays, you can make purchases in supermarkets or mini-markets. The souvenir shops are of course always open!
The restaurants in this tourist Mecca are open on public holidays. Where there are many visitors, the opening starts at 10 am and continues non-stop until late in the evening. A little further away, there are also quieter establishments, but they can also be used for a nap. Here too, everything is focused on the needs of visitors, many of whom are there at Easter. In the article Venice and its gastronomy, you will find a lot of information about drinking and eating. 
Venice with children
Easter also means holiday time. Holidaymakers who only spend a few hours in Venice then belong to the day guests, while others may spend some days more in the city than during another city trip.
Those who are in Venice with children always have a trump card in their hand with delicious ice cream or pizza. Venice is certainly not a dream destination for children and teenagers. Perhaps a few suggestions from my article Venice with Kids will help here.
Venice at Easter – Is it worth it?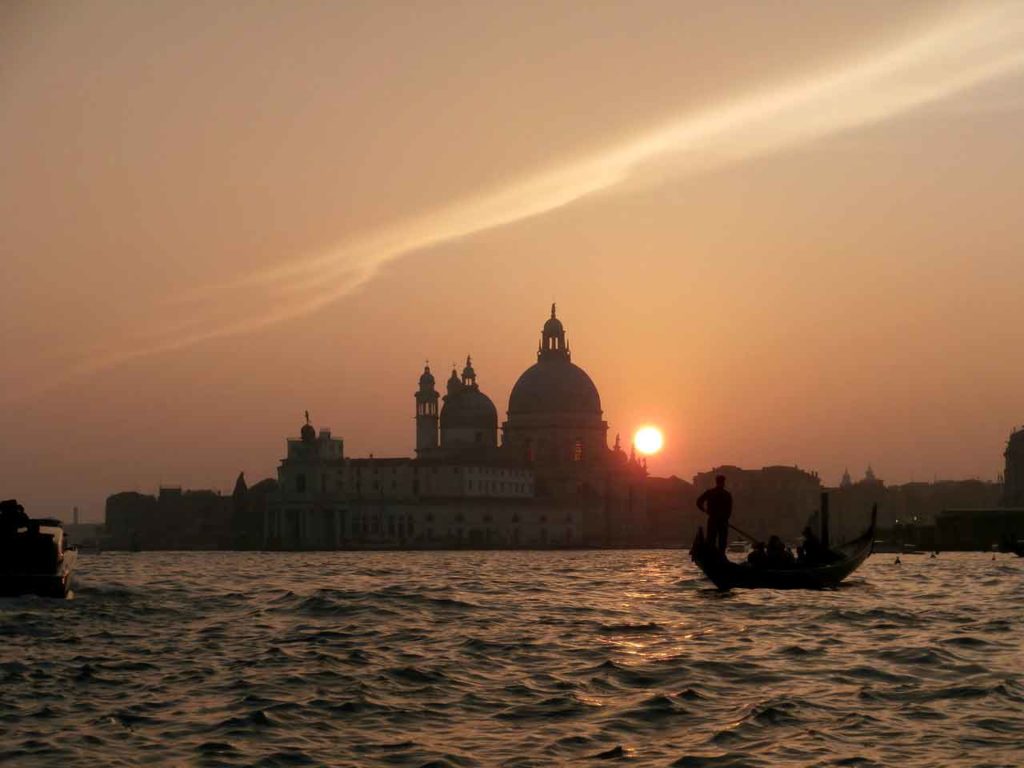 Venice is always worth the trip. The crowded alleys, the crowd on St. Mark's Square, and the crowds of people on the bus boats are small challenges that are easy to overcome if you are well prepared.
Those who follow most of my advice will spend unforgettable moments in this fantastic city. And those who are looking for the perfect Easter gift can consider offering a gondola ride.
Buona Pasqua!