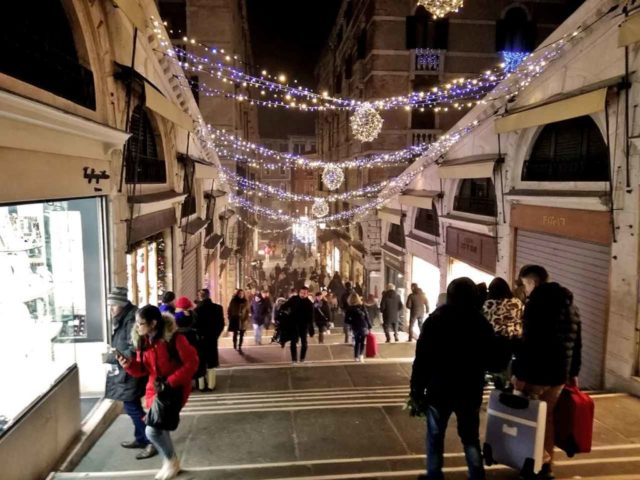 Christmas in Venice | Venice is a wonderful city, which also enchants Christmas with its own flair. Most tourists visit Venice from spring to late summer, but even in the cold season, a trip to the impressive lagoon city is worthwhile. To get in the mood for this text, please read my article Venice in Winter.
There you will find many tips and information for a visit to the world-famous lagoon city in the period from November to March.
Christmas mood in Venice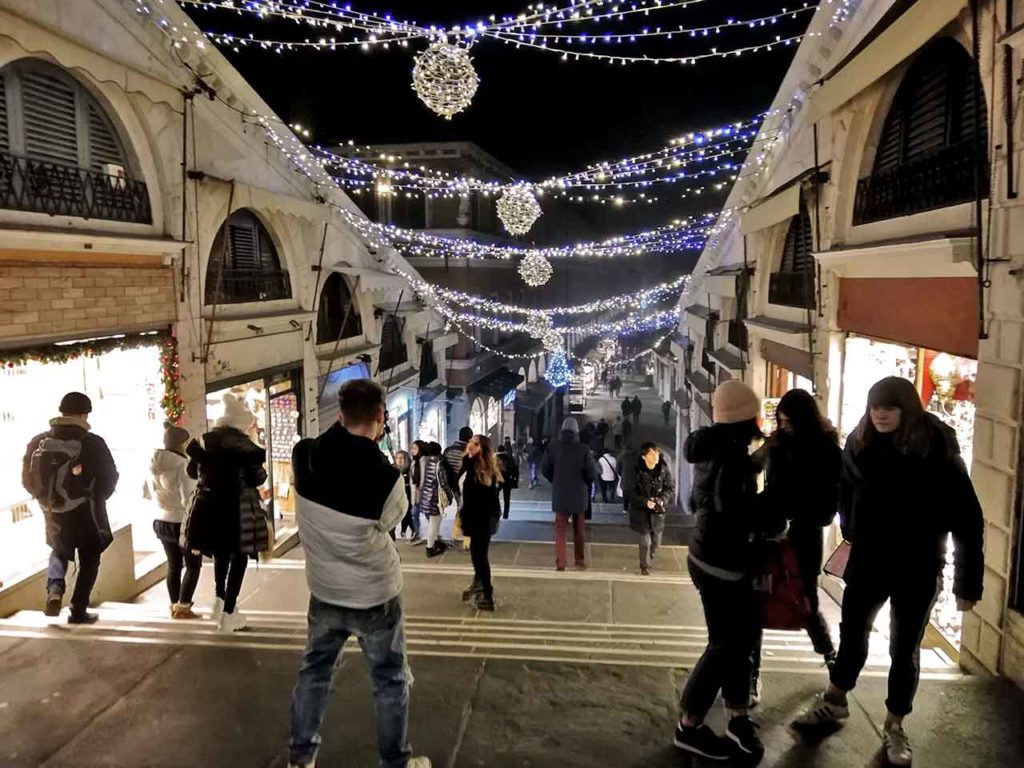 Glitter, glamour and sparkling fairy lights like in the main streets of Paris or London are not to be found here. As in many other cities in southern Europe. Nevertheless, there is decorative and atmospheric Christmas lighting on squares, canals, and in the narrow alleys.
A Christmas tree with thousands of lights shines in front of the golden basilica on the world-famous Piazza San Marco. The arcades at Piazza di San Marco also shine with a bright glow. Nowhere you find this extreme, glittering kitsch, which we partly find in our German cities. Everything at Christmas here is more traditional and folksy.
Italian Christmas in Venice
The pre-Christmas period with Christmas markets, concerts, and events for children begins on 8 December 2022 with the introduction of Christmas trees which, as a tradition in many places, will remain in homes until 6 January.
Christmas Eve is also less important to Italians than it is to us. Christmas itself does not begin until the night of December 24-25, when many Italians go to church to celebrate the birth of Jesus. The children also receive gifts on December 25th. In the past, the little ones had to wait until January 6th, when the witch "Befana" brought presents in the tradition of an Italian folk belief.
Christmas markets in Venice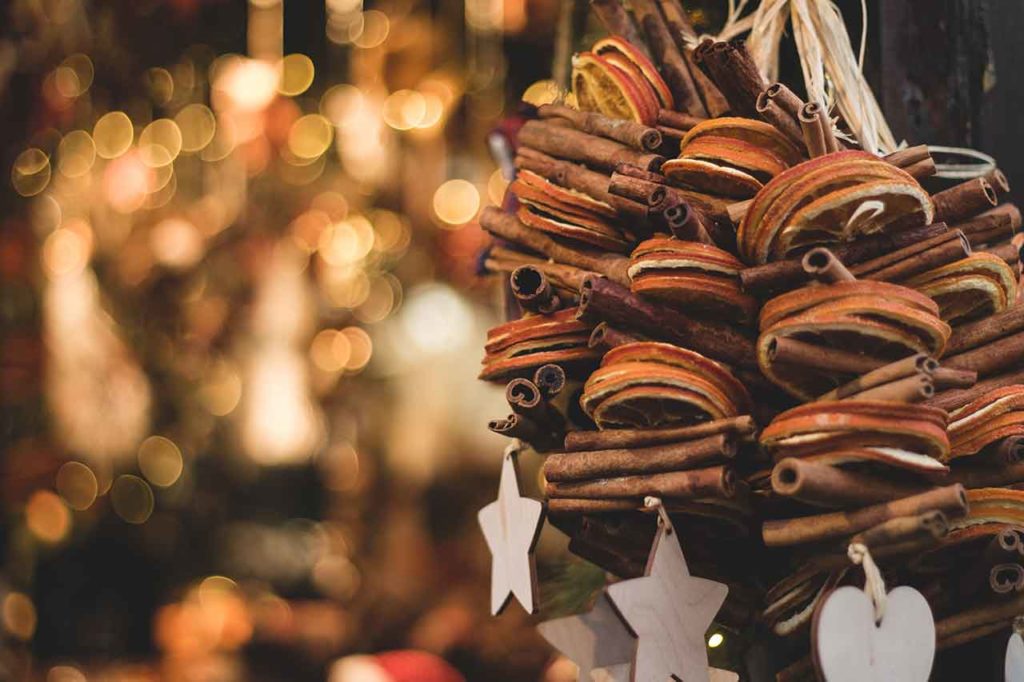 There are some Christmas markets in Venice. To the sounds of Christmas, there are countless regional specialties. In addition, there are the usual delicacies like Santa Clauses made of chocolate, almond biscuits, biscuits, and of course the typical Panettone, a sweet cake with raisins.
The most famous 'Mercatini di Natale' is the annual Venezia Christmas Village in Campo San Polo, right in the center of the city. Unfortunately not as "romantic" as the mulled wine Christmas market! Further smaller Christmas markets are also on the Campo S. Bartolomeo, Campo San Salvador, Campo San Luca, or Campo Manin.
Everywhere now one wishes oneself "Buon Natale", thus translated as much as a "good birthday", in memory of the birthday of Jesus for Christmas. Also the Italian version of Silent Night, in Italian the song is called 'Astro del Ciel', can now be heard from all windows.
Christmas cribs in Venice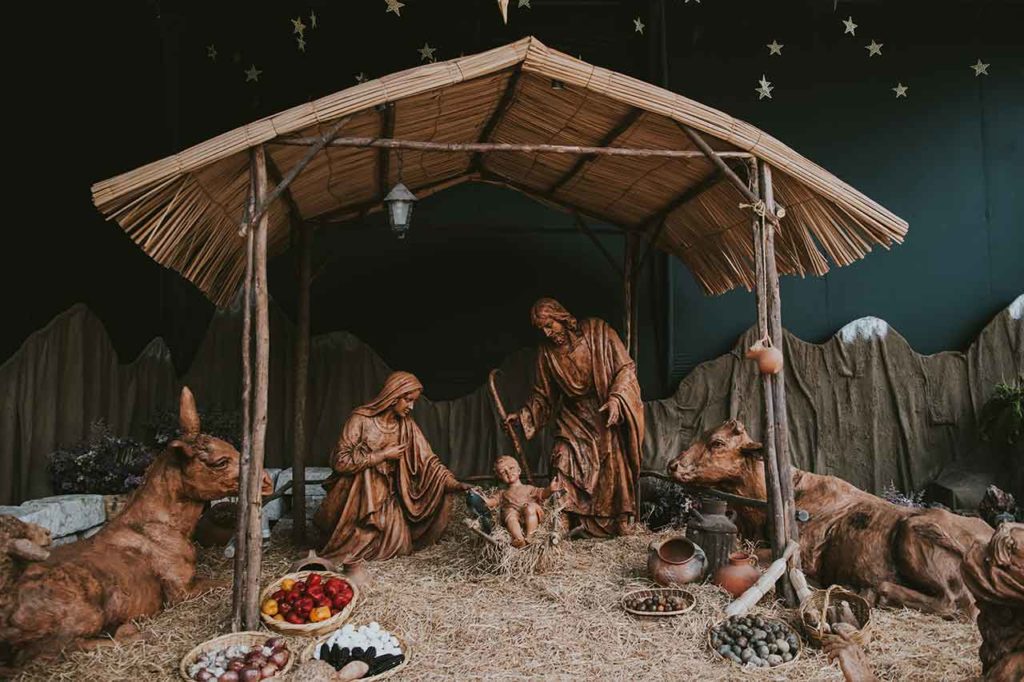 A traditional specialty in Venice is the many Christmas cribs. They are not only to be found in churches but also in the shop windows of shops and hotels. The scenes are rich, affectionate, and detailed.
The nativity scenes in Venice are depicted in a conventional style and, following a custom, new figures are added again and again during the pre-Christmas period until only the Christ Child is missing on Christmas Eve. Although some of the nativity scenes are simple or made by children, they are typical of Venice.
There are cribs in every church. Often they imitate the daily routine or show the everyday life in the village with a variety of figures. Particularly beautiful cribs, although sometimes very simple, have always been found in churches:
Santa Maria Gloriosa dei Frari – San Polo, 3072, 30125 Venezia

San Marcuola – Salita Fontego, 1762, 30121 Venezia

Santa Maria dei Carmini – 30100 Venice

San Canzian – Campo San Canciano, 30121 Venezia

Santa Maria Assunta – Salizada dei Spechieri, 4877, 30121 Venezia
Because of the many church services and the opening hours of the churches, one should postpone a 'crib tour' on 25 and 26 December rather than another day.
Opening times of the most important sights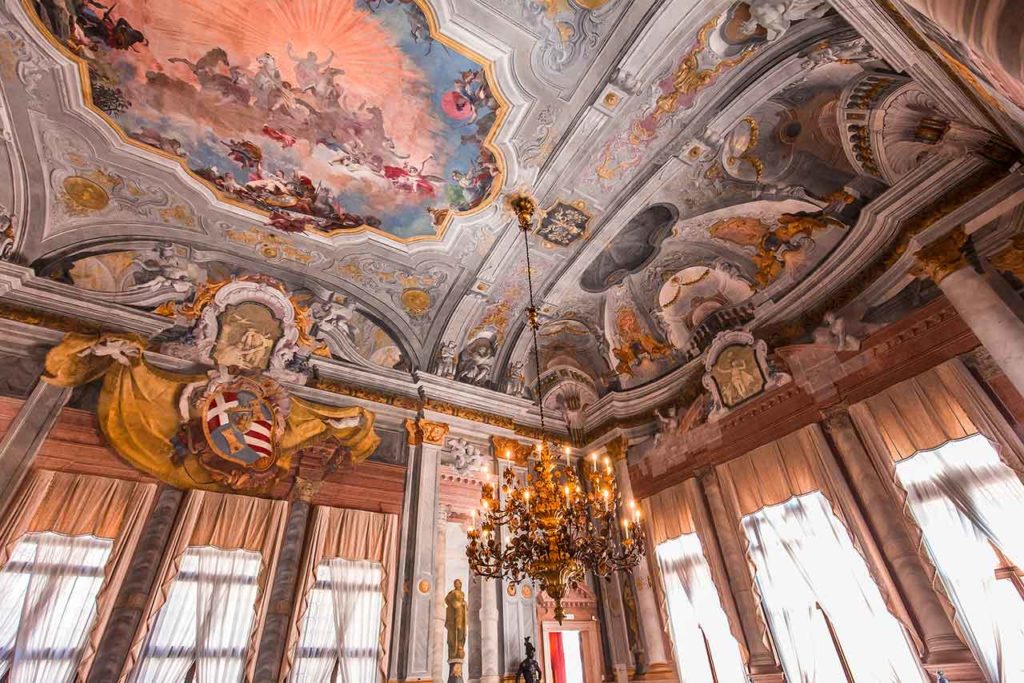 This year's Christmas on 25 and 26 December 2022 falls on a Sunday and Monday, so it's close to a weekend. If you are unlucky and the days are foggy and grey, there are still plenty of opportunities for sightseeing.
Here is a brief overview of which of the major sights are open on Christmas days.
Those who want to spend the end of the year in Venice will find all the important information about the opening hours on New Year's Eve in my separate article Venice on New Year's Eve.
Especially on open days around Christmas, it is very important to get online tickets in advance. Waiting in a long queue before visiting the most famous attractions of Venice can be very unpleasant, especially in winter.
Here there is already the possibility of a reservation for a fast admission to the St Mark's Basilica with English guidance, to the Doge's Palace or however best the in-demand combination ticket St Mark's Basilica and Doge's Palace.
Admission to St. Mark's Basilica is free, but if you want to avoid queuing, you can get a ticket for priority access:
Opening times St Mark's Basilica and Bell Tower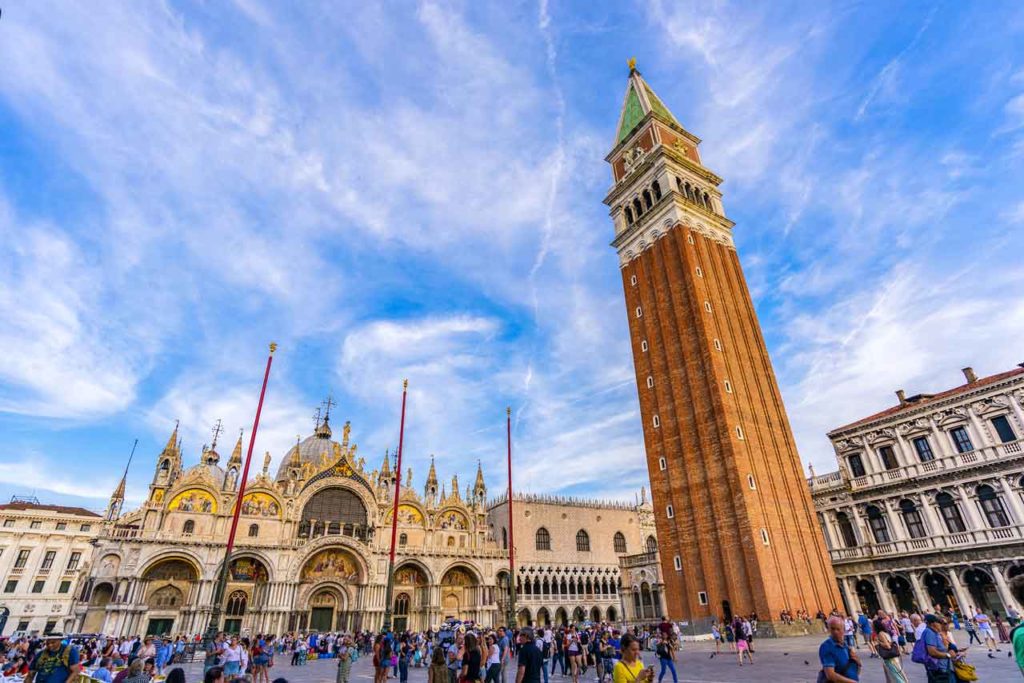 The opening times of the world-famous Basilica on St. Mark's Square mentioned in my article St. Mark's Cathedral are also valid at Christmas. However, please note the holiday regulations. The same applies to the visit of the Bell Tower, the famous Campanile visible from afar. Those who want to see Venice from above should also get tickets with priority access here:
Bell Tower
Price*
Online Tickets
Reserved Entrance
16,00 €
Book online
Children 0 - 5 years
free
Reserved Entrance +
Doge's Palace
51,00 €
Book online
Especially impressive are church services in San Marco in the presence of the patriarch. For this one should note the midnight mass on 24 December at 23:30 clock and the Christmas services on 25 December at 10:30 and 17:30 clock. Please check all the information again on-site.
The offer of Christmas concerts in various churches is spectacular. Always pay attention to the local notices. I also warmly recommend attending church services. For church members and occasional visitors of churches, it is often a surprising experience to experience a rather sober church now in full illumination, with music and incense accompaniment. Many parishioners and the numerous spiritual representatives in their robes spread a special atmosphere.
Opening times of the Teatro La Fenice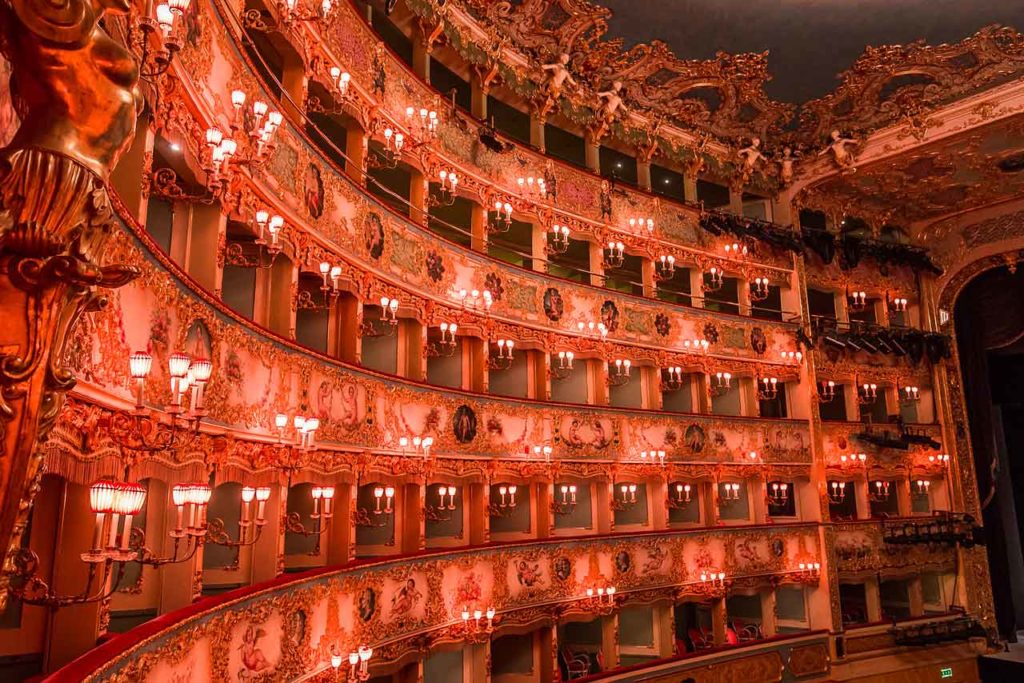 All important information about this can be found in my separate article La Fenice Opening Hours. There you'll also find an official website with the current viewing times for Christmas. There are also performances on Christmas days. But it will be very difficult or almost impossible to get tickets. With the admission prices on the holidays, the Christmas bonus should also be gone.
✓ Further information on La Fenice admission prices.
Tip: For evening entertainment, also take a look at Venice by night.
Opening times of restaurants and shops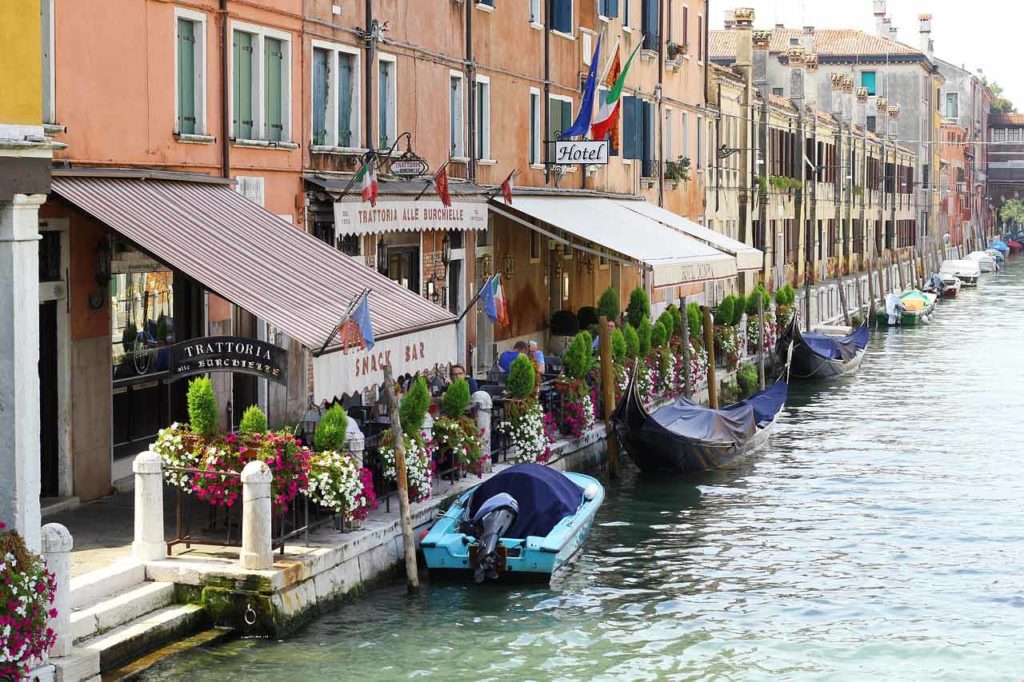 No one goes shopping in Venice at Christmas so the shops are closed on public holidays. Of course, the touristic Venice depends on the interests of its guests, so that at Christmas time, a sufficient number of bars, bars or restaurants are open at any time.
✓ General information about eating and drinking in the lagoon city can also be found in my article Culinary Venice.
What else is there for Christmas in Venice?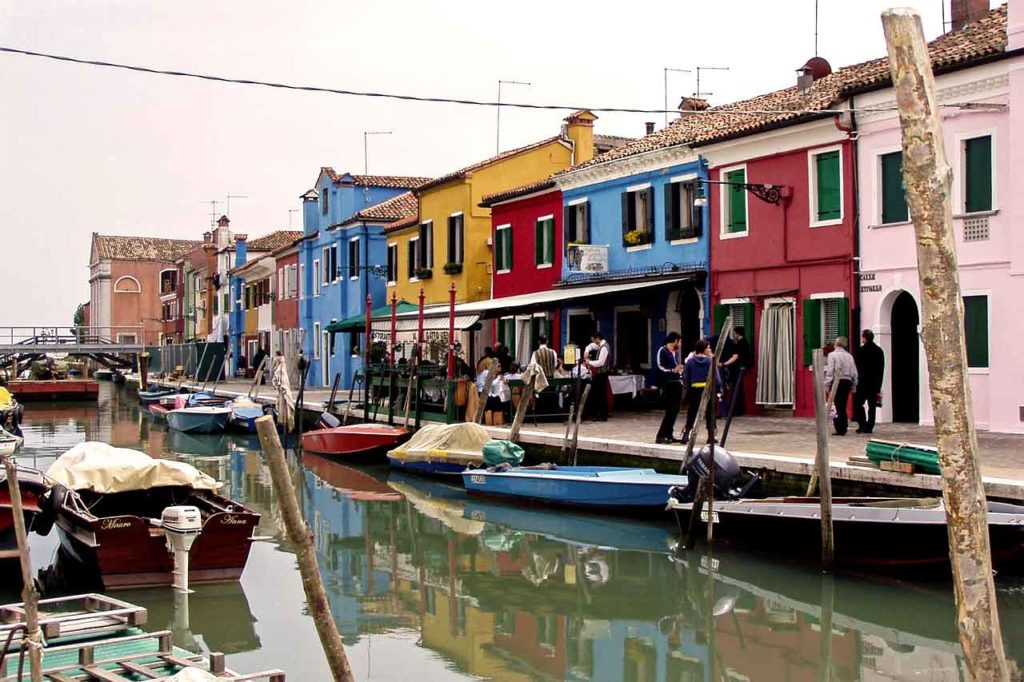 On the gloomy days around Christmas, there is always a gentle touch of melancholy over the city in the lagoon. There is not much spectacular about it.
Those who want to skate in Venice at the end of December will find two ice rinks with real ice, where you can also rent skates. One is on Campo San Polo in the historical center of the city, the other in Piazza Ferretto in Mestre.
A short detour to the island of Murano is also worthwhile. Christmas lighting is very special here. Parts of the fairy lights above the canals are made of Murano glass and conjure up very special reflections in the darkness above the water.
Christmas in Venice: quite different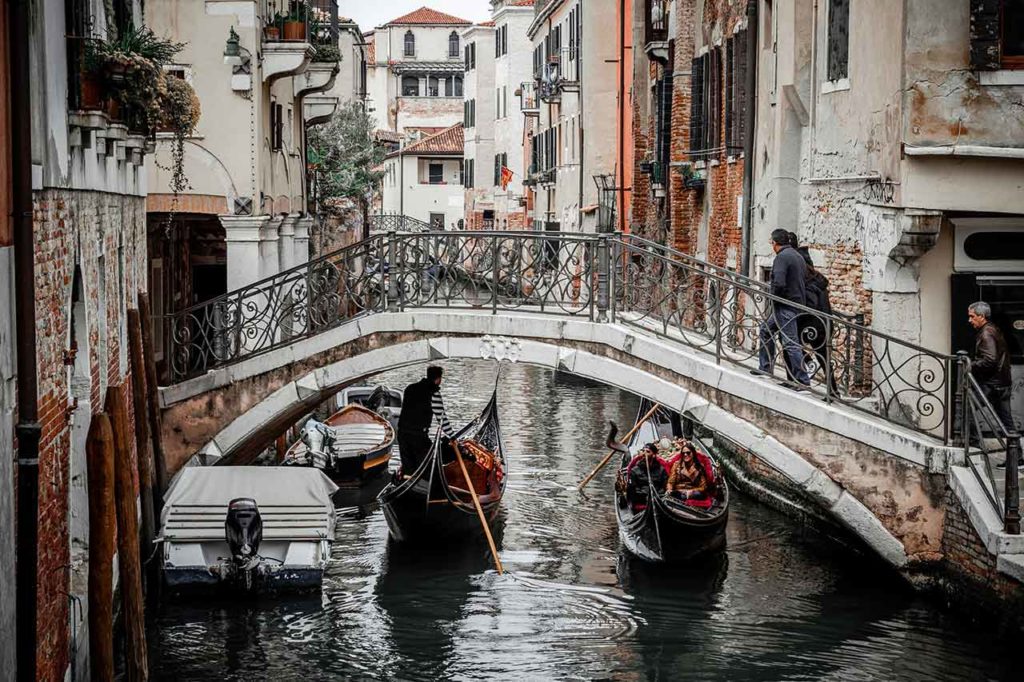 It is the time of dull daylight and humid cold. The city now radiates a very special charm. The gondolas are usually covered along the canals. The famous Gondolieri only rarely drives through the canals to help a hopeful guest from Asia to his luck.
Only a few small water taxis are on their way. But now the boats of the garbage collection, construction workers, craftsmen, postmen, or lifeboats are more noticeable. Here everything has to be transported on the water. The journey with the Vaporetto is also unusual because one gets without problems a place.
Where do you stay in Venice for Christmas?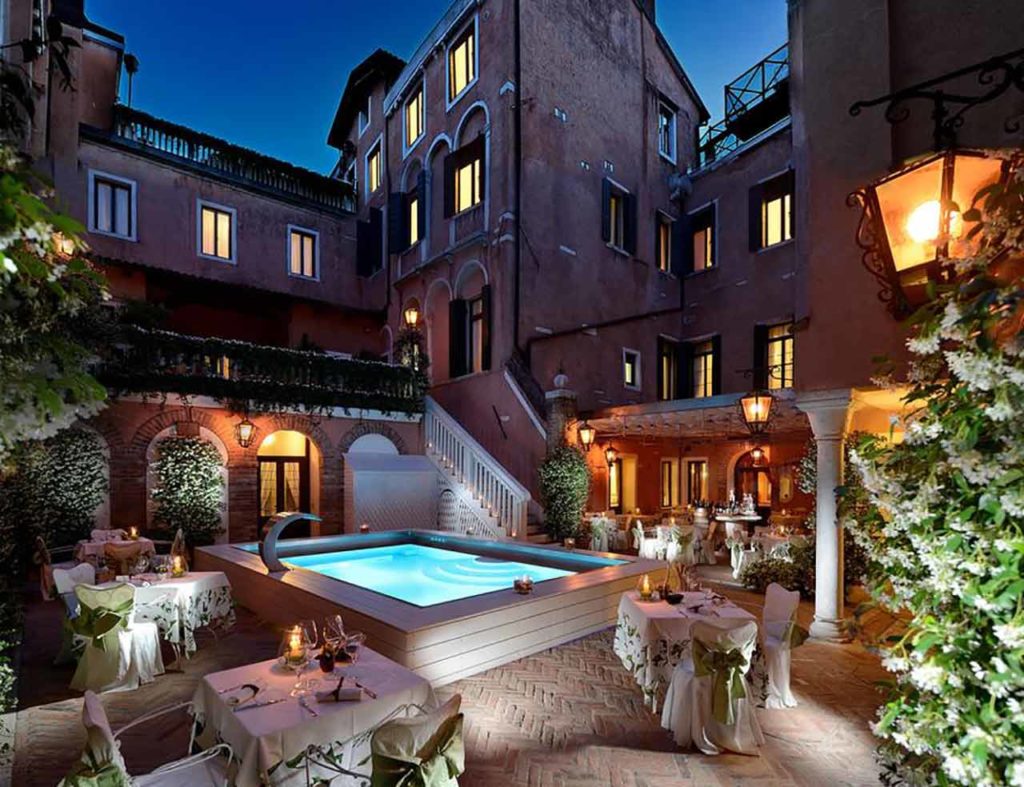 From Christmas to New Year, Venice is as hustle and bustle as in summer. Accommodation is always expensive and should be booked as early as possible in advance.
My hotel tips for the historic center of the lagoon city on the Adriatic coast are among the top 10 hotels. Somewhat more favorable possibilities can be found in my recommendations for hotels outside of the center of Venice.
Suggestions for accommodation on the islands in the lagoon can be found in the individual articles on the islands worth seeing. You can travel to Venice by car, bus, train or plane. All information can be found under Transport by Airport Transfer and Public Transport.
Practical hints
Please do not forget to inform yourself about the annual phenomenon of Aqua Alta, the infamous flood. Information about this in Venice in winter and safety in Venice. Here again, my standard advice is to think about a suitable adapter for Italy, otherwise, the battery of the smartphone remains empty.
✓ Everything about New Year's Eve and around the turn of the year can be found in my separate article New Year's Eve in Venice. Also on New Year's Eve, it's full in Venice, so it's essential to book accommodations and online tickets for sightseeing in advance.